Jesse Stine Memorial Scholarship for Future Paramedics awards first recipient – Stine's best friend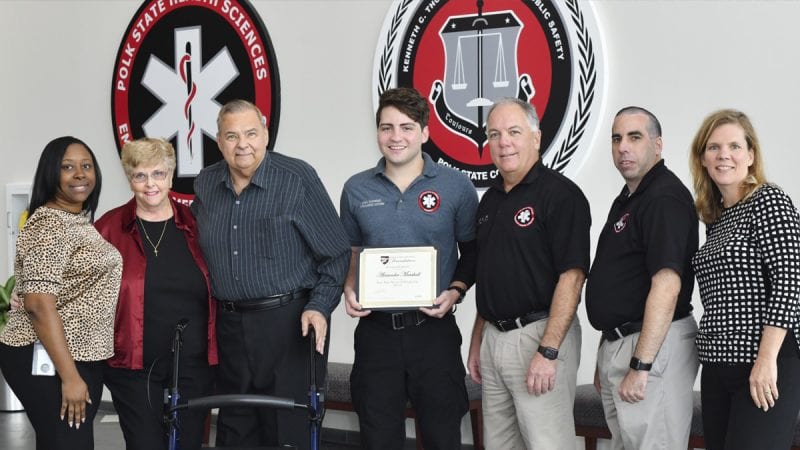 It was difficult for Alex Marshall to pose with his scholarship and smile for a picture Tuesday – just days before the anniversary of his best friend's passing who the award is in memory of.
Marshall received the first-ever Jesse Stine Memorial Scholarship for Future Paramedics from a fund established by Stine's grandparents, Matthew and Victoria Bodaj, to assist aspiring paramedics pursuing their education at Polk State College.
"I would give the money – I would give anything – to have Jesse back," Marshall said.
Stine excelled in Polk State's Emergency Medical Services (EMS) Program and achieved his paramedic certification in 2013. He served Manatee County EMS, where he received the Rookie of the Year accolade for "excellent learning skills, superior performance, and a desire for gaining the skills, knowledge, and education to be a successful and valuable asset."
He was promoted to charge paramedic – the highest-level paramedic at the agency – before passing away Dec. 12, 2017, at 24 years old.
Stine and Marshall met at Polk State while pursuing their EMT certifications.
"I was too intimidated at first to pursue my paramedic certification like Jesse, but watching his success motivated me to continue my education," Marshall said. "I decided to continue for both of us and he is a part of everything that I do."
Marshall currently serves as an EMT in Lakeland Health Regional Medical Center's emergency room. He plans to complete his paramedic certification in August.
He called the $750 scholarship a "bittersweet honor."
Stine's grandparents praised Marshall for keeping their grandson's legacy alive with his commitment to his education and to serving the community.
"It's a rewarding experience to present the first scholarship to someone who was important to Jesse and who was inspired by him to continue on to become a paramedic," Victoria Bodaj said. "Polk State EMS isn't an easy program, but with this scholarship, we hope to motivate aspiring paramedics like Jesse did."
Stine wasn't shy to share about the rigor of Polk State's EMS Program. He told Polk State News in 2015 at the time of his Rookie of the Year award: "When I was a student, I was not necessarily happy with all the requirements of Polk State's EMS Program. But now I see how it all pays off in the end. I can definitely tell a difference between myself and people who didn't go to Polk State."
The Bodajs hope the Jesse Stine Memorial Scholarship for Future Paramedics highlights the success of Polk State EMS in creating highly skilled professionals who are dedicated to serving the community and giving paramedics the confidence to excel in their careers as Jesse did.