Internationally Acclaimed Musicians to Descend on Lake Wales During Polk State's First Jazz Festival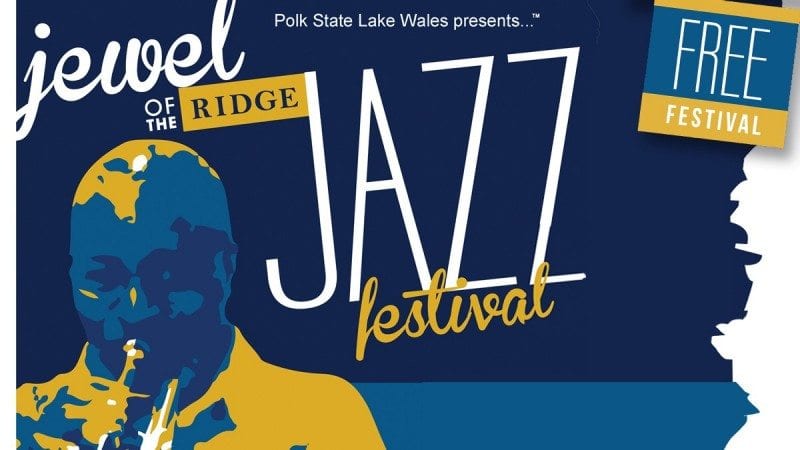 During its first-ever Jewel of the Ridge Jazz Festival, the Polk State Lake Wales Arts Center will host musicians whose performance schedules typically send them to New York or Los Angeles.
But for three days, they'll all be right here, in Lake Wales. For them, the Jazz Festival may be a mere pit stop, but for residents of Polk County, it is a rare opportunity to enjoy internationally acclaimed talent ­ — for free.
"One of the groups that will perform, Orquesta Aragón, they haven't been in America for nearly five years," said Polk State Lake Wales Arts Center Director Osubi Craig, who is organizing the event. "They're going from Miami to New York, but they're stopping in Lake Wales first. That really puts this event into perspective."
Jewel of the Ridge will take place April 9-12. Performances scheduled during the festival include:
April 9
Noon
Polk State JD Alexander Center
John Abercrombie, an accomplished jazz guitarist known for experimenting with instruments and unexpected collaborators, whose career spans more than 40 years and includes nearly 50 albums.
April 10
Noon
Polk State JD Alexander Center
The Randy Corinthian Quartet, led by saxophonist Randy Corinthian, who first performed at Polk State in December. Corinthian trained at Florida A & M University and Florida State University, and has shared the stage with such jazz greats as Ellis Marsalis.
5:30 to 9 p.m.
Polk State Lake Wales Arts Center
Encore performances by the Randy Corinthian Quartet and John Abercrombie.
April 11
5:30 to 9 p.m.
Polk State Lake Wales Arts Center
Jazz guitarist Willie J. Thompson III — also known as TFOXX — whose 40-year career includes performances with Chubby Checker and pre-show performances for George Benson and B.B. King.
Orquesta Aragón, a famed Cuban ensemble that has been performing since 1939, including at such revered venues as New York City's Carnegie Hall. Orquesta Aragón's distinctive sound derives from a front line of flutes and violins, as well as its rhythm section.
April 12
5:30 to 9 p.m.
Polk State Lake Wales Arts Center
Victoria de Lissovoy Ensemble, comprised of popular local talents, including de Lissovoy, jazz pianist and vocalist, Tom Carabasi, drummer, Alvon Griffin, percussionist, David McKenzie, saxophonist, and Jay Mueller, bassist.
Charlie "Topp" Hines, another local talent, who honed his trumpeting skills at Boston's Berklee College of Music and in 1978 earned an induction into the Georgia Music Hall of Fame.
Encore performance by Orquestra Aragón.
Craig said the lineup, location, and timing — April is Jazz Appreciation Month — of the inaugural Jewel of the Ridge Jazz Festival will make for an experience unlike any other in Polk County.
"There are going to be different players, a different feel," Craig said. "It's going to feel like you're visiting a jazz club on the west coast or in New York."
Complementing the musical entertainment will be a reception and exhibit by Gary Gesfford, a Mulberry-based painter, at 5 p.m. on April 10 at the Polk State Lake Wales Arts Center.
Osubi emphasized the events are free, open to the public, and family-friendly. Food vendors, including Chalet Suzanne, will be on-site.
The Polk State JD Alexander Center is located at 152 E. Central Ave. and the Polk State Lake Wales Arts center is located at 1099 State Road 60 East.