Hurricane Irma Recovery Efforts On Campus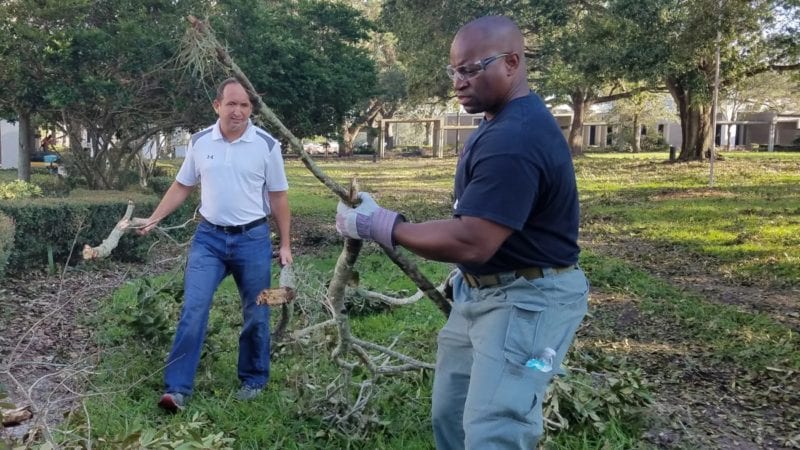 A sunny sky on Wednesday presented a stark contrast to the violent winds and rain from just two days before, as Hurricane Irma tore through Polk County as a Category 2 storm.  With wind gusts of 115 mph and sustained winds of 80 mph, Hurricane Irma left more widespread damage throughout the County than the legendary 2004 hurricanes: Charley, Frances, and Jeanne.
To ensure that the buildings and facilities were looked after, Lieutenant Bobby Neil, Sergeant Bobby Brigman, and members of the College Security Team rode out the storm at the Lakeland and Winter Haven campuses. They were responsible for monitoring and providing updates to Polk State President Angela Garcia Falconetti throughout the storm. Thankfully, overall damage was minor in comparison to the potential threats posed by Irma. Lieutenant Neil had to address some leaks in the Administration Building (WAD) on the Winter Haven Campus early in the storm, communicating by text with Facilities staff and Campus Provost Martha Santiago.
The leaks, which appeared to be coming from the ceiling and rear doors, were addressed using buckets and towels to collect and remove water. Throughout the storm, the Security Team monitored all campuses and centers, ensuring that the buildings were secure and any damage mitigated.
As soon as the storm passed, the College shifted focus to damage assessment and recovery efforts.
"You can't have a storm this large run up US Highway 17 and have the College come out unscathed," said Director of Facilities and Storm Recovery Incident Commander George Urbano. "Fortunately for Polk State, we are mainly dealing with lots of landscaping debris and the normal challenges of bringing building systems back on line after power outages."
Urbano and nearly thirty administrators have been participating in daily conference calls that were organized prior to the storm's arrival. Before the storm, these conferences were about preparation and storm readiness. After the storm, they have included extensive reporting about assessment, damages, and repairs.
John Sheffield and Lyndon Belfon, Facilities Plant Managers for the Lakeland and Winter Haven campuses respectively, have been providing daily status reports on power, air conditioning, water, and repairs at all Polk State locations. Their teams are responsible for coordinating College maintenance workers and contractors to address leaks, shingle replacement, systems repairs, and debris removal.
The College's Technology Infrastructure and User Support Services Team, under the leadership of William DeWitt, is responsible for monitoring and maintaining the condition of the College's information technology network and all computers and equipment. During the recovery, DeWitt's team is responsible for telecom and computer equipment at all locations once power has been restored.
The most visible impact of the storm is in damage to campus landscaping. Tree removal and landscaping teams are working with front-end loaders, rakes, and trucks to remove the fallen debris and ensure that the campuses and centers are safe for students, staff, and faculty to return. At the Winter Haven Campus, clean-up efforts received a boost from AD Morgan Corporation, a construction company that has worked with the College on projects including the Polk State Center for Public Safety and the WLR library, classroom, and office renovations. AD Morgan volunteered equipment and staff on Wednesday morning to assist with removing tree limbs and raking up leaves.
"I appreciate  all of the work of the staff and faculty– first to prepare the College for the storm, and now to address recovery," Dr. Falconetti said. "I am very grateful for the efforts of the Recovery Team. I know that many of the members are still without power at their homes, yet they continue to work to get the College ready for students on Monday. Our employees' dedication to the College and our students is what makes Polk State so amazing. We will get through this because– We are Polk."