Guide to accessing books and course materials in the online environment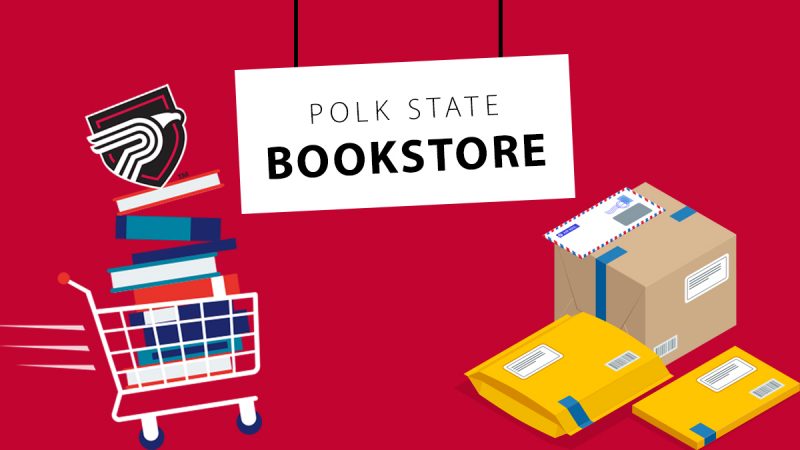 The Polk State College Bookstores may be closed to students on campus, but they are open online for course material selection and delivery.  Students can begin buying books for summer classes on April 27, 2020.
A step-by-step guide that explains how to purchase or rent course material online is available here: https://www.polk.edu/wp-content/uploads/How-to-Place-an-Online-Order-Student.pdf. All dual-enrolled students should follow the same process.
The bookstores have also extended the grace period for rental returns through the first week of fall classes.  There will be no charge to students who could not return books on time. All returns are done free via UPS. More information can be found here: https://polk.bncollege.com/shop/polk/page/rental-book-return.
Here are answers to some commonly asked questions.
Q: When will financial aid be available to purchase summer books?
A: Financial aid will be available for 12-week, Fastrack 1, or eight-week sessions starting April 27, 2020. Financial aid awards will be applied to all Polk State tuition and fees before being applied to bookstore charges.
Q.: When is the last day I can use financial aid to cover the cost of textbooks? 
A: The last day financial aid can cover 12-week, Fastrack 1, or eight-week sessions is May 13, 2020. Please review the College calendar for summer bookstore dates.
Q: Can students with a Polk State College Foundation scholarship buy books online?
A: Yes. Foundation scholarship recipients can access their scholarships for book purchases in the Barnes and Noble online store beginning May 6, 2020. They need to select Financial Aid when checking out.
Q: How do I know if I have summer financial aid?
A: Students should review their awards on Passport. If you are a Pell-eligible student who had 12 or more credit hours in fall (August 2019) and spring (2020) semesters, you need to make sure you have a 2020-2021 Free Application for Federal Student Aid (FAFSA) on file for your eligibility to be determined. If you did not take 12 or more credits each term, your remaining eligibility for the year will be available.
If you are a student loan borrower who attended at least half-time enrollment for fall (August 2019) and spring (January 2020), view your annual loan limits at Federal Student Aid and your awards on Passport to determine if you have received the maximum loans for fall and spring.
If you have questions, please contact financialaid@polk.edu.
Q: When will financial aid be available to purchase Fall books?
A: Please see the fall 2020 calendar.
Beginning April 27, 2020, staff in the bookstores will be available by phone and email if students have questions.
Lakeland Campus | sm8125@bncollege.com | 863.665.8431
Winter Haven Campus | sm8126@bncollege.com | 863.299.3325