Graduating Coach 'Wanted to Make a Difference' — And He Has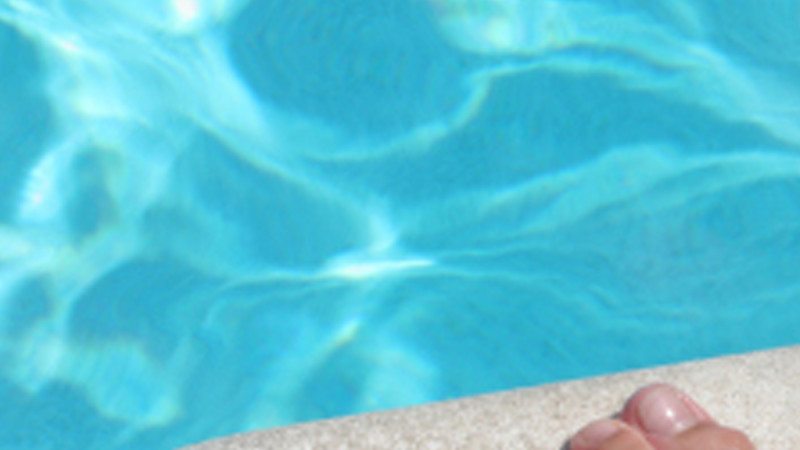 With fatherly affection, soon-to-be Polk State graduate Travis Douglas describes the joy his "little ones" bring to his life each day.
"I always wanted to make a difference in the lives of children," said Douglas, 21, who will graduate from Polk State on May 4.
"Every time we have a swim meet, and the kids jump in and they succeed, and they're smiling, and they're happy and getting along with one another, that's the moment that fills me with pride."
Douglas began competitive swimming at the relatively late age of 14, signing up for the team at Winter Haven High School. At 15, his coaches with the Winter Haven Stingrays, a competitive city swimming league, asked him to spend a few minutes with a 5-year-old boy who was struggling with his freestyle stroke.
"I worked with him for 30 minutes, and he showed a lot of improvement in just that short time," Douglas said. "That was sort of my unofficial job interview."
With that, Douglas fell in love with coaching. In the six years since, he estimates he has coached 120 children for the Stingrays.
"I get to teach my little ones a lot more than just swimming. I get to teach them to have courage when they approach new things, to be nice to their teammates and nice in general, structure and discipline," Douglas said.
Douglas specializes in coaching children ages 5 to 10 and those with special needs, such as autism and ADHD (Attention Deficit Hyperactivity Disorder). The children who are most difficult to train often end up closest to Douglas' heart. He gives the example of two autistic boys who have made huge gains in their speech and ability to interact with others — all while practicing swimming with Douglas.
"Every child has a unique personality but they all want to be loved. You just have to know how to love them," said Douglas, also a lifeguard and volunteer assistant coach at Winter Haven High and a student in Polk State's Honors Program.
While he's already made an impact on the lives of so many young children, Douglas is just getting started. With his Associate in Arts from Polk State completed, he will continue on to the University of South Florida, where he will study elementary education.
He plans to teach children in kindergarten through second grade and, of course, continue coaching. After all, there is nothing better than the feeling of helping someone else, he said.
"Every time you reach out to someone else, you make a difference," said Douglas, who credited his girlfriend, Elaine Hean, as being a constant source of inspiration.
Douglas' mother, Cynthia Douglas, said she will be beaming on graduation night. But then again, with Travis as her son, she does a lot of smiling.
"He's accomplished so much at such a young age. I'm just extremely proud," she said.
The Polk State Honors Program offers smaller, more rigorous classes, field trips, priority registration, and numerous scholarship opportunities.
To qualify for the program, students must meet certain GPA requirements or score highly on tests such as the ACT or SAT. Graduates of the program have completed at least 18 credit hours with the Honors Program designation. Graduates receive the Honors Program designation on their transcripts and diplomas, as well as recognition during commencement.
Travis will graduate during Polk State College's largest commencement ever at 6:30 p.m. on May 4 at The Lakeland Center.
Approximately 840 students qualify to march during the 106th commencement ceremony, the largest number ever for a single term at the College. Two-thirds of graduates will receive Associate in Arts degrees. The College will also bestow approximately 160 Associate in Science degrees; 30 Associate in Applied Science degrees; and 40 Bachelor of Applied Science degrees. The remaining students will receive various certificates that lead directly to employment opportunities.