Graduate pursuing Doctor of Pharmacy got start in research at Polk State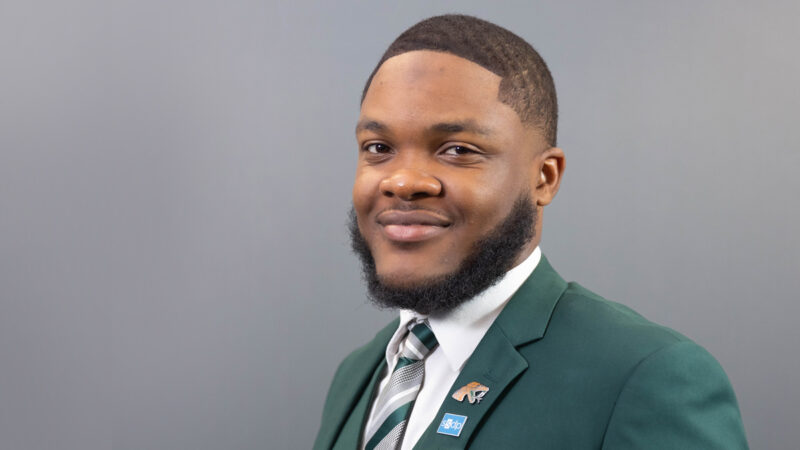 Deandre Smith is pursuing a Doctor of Pharmacy degree at Florida Agricultural and Mechanical University (FAMU). He is an ambassador for the Student Marijuana Alliance for Research & Transparency (SMART), a national organization that aims to encourage education, research, and entrepreneurship within the cannabis industry, and Students for Sensible Drug Policy's Psychedelic Pipeline. He also serves as President of the Literacy, Education & Agricultural Development Society at FAMU and has worked in cannabinoid and terpene cloning and genetics, supervising a propagation unit of more than 10,000 plants.
With a successful career in pharmaceutical sciences and herbalism ahead of him, Smith credits Polk State College with providing him with the foundation and research experience to bring his higher education goals to fruition.
"There are so many resources at Polk State College and people who want to help you grow and be the best you can be so that you can make an impact on the world," Smith said. "I would tell students who want to go to graduate school or who have really high aspirations that are considering Polk State but maybe don't think the two-year school is going to propel them or get them there, I want to dispel that myth wholeheartedly."
"I can assure you that enrolling at Polk State is one of the best decisions you will ever make," he added.
As a student at Winter Haven High School, Smith completed his pharmacy technician license through Ridge Technical College, where he developed his passion for pharmaceutical sciences.
Through Polk State's Science, Technology, Engineering, and Mathematics (STEM) pathway, Smith enrolled at the College and completed prerequisites as well as his Associate in Arts degree which prepared him for transferring seamlessly to FAMU's Doctor of Pharmacy Program.
"Polk State College was more of a home environment rather than going straight to a four-year university," he explained. "I was able to stay local and be with my friends, and the people here really want you to succeed and become the best you can be."
"Polk State gave me the foundational steps I needed to take in my career because I was able to be active, embrace the college life, and let the College embrace me."
Smith served as a founding member of Polk State's Louis Stokes Alliances for Minority Participation (LSAMP) Program, which supports the diversification of the nation's STEM workforce and encourages students to pursue graduate work in STEM-related fields. Through LSAMP, students participate in hands-on research, career exploration, mentoring, internships, seminars and conferences, and more.
"Polk State gave me the foundational steps I needed to take in my career because I was able to be active, embrace the college life, and let the College embrace me."
Smith also served as the Polk State Basketball Team's manager, acting as a bridge between academics and athletics for his peers.
"I had STEM students working on homework with basketball players, and STEM students coming to basketball games," he shared. "It was a really wholesome atmosphere where everyone was learning from each other and growing together."
Smith explained that Polk State fosters an environment where students can have an impact at the College level, which has benefited him through the development of his leadership and communication skills, as well as his ability to explore career paths and network with peers and professionals.
"One thing about the two-year school that is better than the four-year is that it is small, and you are seen," he said. "At the two-year school, you will get that one-on-one connection with your professors and get that help that you really need."
"Whether it's helping you pass a class, writing a letter of recommendation, or giving career advice, everyone goes the extra mile to help you succeed," he added.
As the first generation in his family to attend college, Smith added that Polk State provides support for students to navigate the academic environment and explore career options.
"Now I have a younger brother who is planning to attend Polk State College. It's really nice to chart a path, cut down the grass, create more paths for people, and to be able to say, 'you can do it,'" he said.
At FAMU, Smith is pursuing a minor in Food Science as his studies and research have led him to a specific interest in herbalism, the medicinal use of plants. He works with FAMU's Medical Marijuana Education and Research Initiative which provides research-based information to Florida's citizens about the pros and cons of medical marijuana use.
"I am passionate about helping people," Smith said. "In some instances, herbs, fruits, and vegetables are better [for patients] than pharmaceuticals, and sometimes pharmaceuticals are a better, faster route [for patients] to receive the aid they need to maintain wellness."
"I can't name one person at Polk State who wasn't supportive and who didn't want to see [me] win. Without Polk State, I wouldn't be where I am today."
"It's important that people are able to make informed decisions [about] medication."
Smith also aspires to enter politics and invest in real estate to create educational opportunities for youth so that they can prepare for college and adulthood earlier in life, he said.
"Everyone, regardless of what they've been through or what they were born into, should have the opportunity to make something of themselves and be better than what they came into," Smith added.
He has experienced this firsthand.
"What keeps me motivated is my mother, everything she has done for me, and what I can do for her now," Smith said. "I'm in a position to win because of all that she has sacrificed."
"I can't name one person at Polk State who wasn't supportive and who didn't want to see [me] win," he added. "Without Polk State, I wouldn't be where I am today."