Polk Pianist Gets "Second Chance," Pursues Dream at USF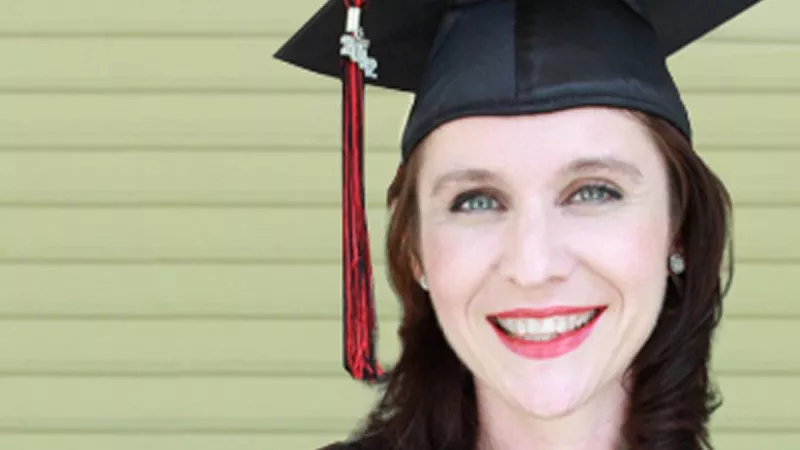 Christy Sallee didn't take a direct route or follow a conventional timetable in studying music at the university level.
But she got there nonetheless, and Polk State helped her along the way.
Sallee is Polk State's first graduate to become a Piano Performance major at USF's School of Music.
Now in her junior year, she anticipates graduating with her bachelor's degree in fall 2014. She then plans to continue at USF to earn a master's degree in Piano Pedagogy.
Getting accepted into USF's School of Music involved a rigorous audition that included performing three different styles of music for faculty members, Sallee said. It was a nerve-wracking process to be sure, Sallee said, but her years studying with Polk State Music proved to be excellent preparation.
"At Polk State, I gained the confidence that I could do this. I don't think I would have been able to step into such a high level at USF otherwise. My time at Polk gave me the confidence I needed to take my music education to the next level and the knowledge that I've already done so much, so I can do this, too," she said.
Sallee, 36, has been playing the piano since she was just 7. After graduating from Lake Gibson High School in 1994, she attended one year at Southeastern University before the twists and turns of life led her to delay her higher education.
She got married and had two children — now ages 15 and 12 — and a few years ago began working for Manzi's Music in South Lakeland.
Manzi's Music is co-owned by Polk State Music Professor Michelle Manzi, who saw in Sallee great talent and potential.
"She has raw talent, piano skills and intellect. She is a very talented and smart person," Manzi said. "I was blown away by her and I feel so incredibly proud and humbled that I got to be even a small part of her success."
At Manzi's encouraging, Sallee enrolled at Polk State in 2010. The back-to-school transition wasn't easy, and her family had to make plenty of sacrifices along the way, but it was worth it, Sallee said.
"It was a second chance to jump into something I had left behind," Sallee said.
At Polk, Sallee said she came to understand music in a deeper way.
"I took theory classes while I was there," said Sallee, explaining Manzi was her Music Theory professor. "I had been completely lost the first time around, but at Polk theory was explained to me in a way it had never been before. My theory instruction was really vital to my continuance."
Sallee said she also grew from the numerous opportunities she had to perform for the public while studying at Polk.
"Polk State's musicians are constantly being requested to play all over the place. That gave me a better understanding of what professional opportunities are out there," she said.
As she continues to work toward her bachelor's and master's degree, Sallee said she hopes her story serves as inspiration for not only her own children but also for anyone with a passion they would like to pursue one day.
"Feel free to always explore a new direction in life. You don't have to pick something at 18 and stick with it. There will always be opportunities worth pursuing," she said.
In addition to Polk State Music, Polk State Fine Arts includes the College's Theatre and Visual Arts departments, all of which enjoy outstanding statewide reputations.