Gateway Graduation Speaker: "I'm Going to Keep Going"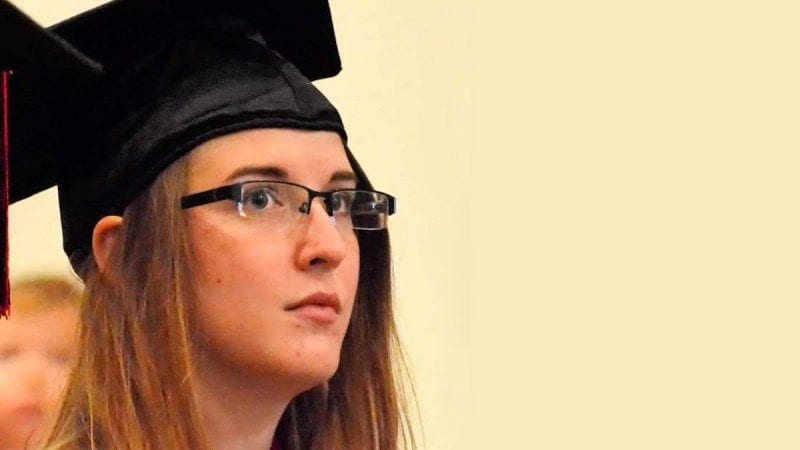 The paths they took to get there were anything but typical, but in the end, Polk State Lakeland Gateway to College High School's first graduating class had all the traditional hallmarks of commencement.
Pomp and Circumstance. A reading of Dr. Seuss' Oh, the Places You'll Go. Teary-eyed parents. Tassels moved from right to left.
They took detours along the way. Some doubted they'd ever reach their final destination. But on Monday night, none of that mattered, and it never would again.
Polk State Lakeland Gateway to College, a high school for students who have dropped out or at risk of not graduating, marked its first-ever commencement with an evening ceremony at the Polk State Lakeland Technology Building.
Outside, it was grey and sprinkling. Inside, the air bristled with that special graduation excitement.
Parents and friends streamed into the auditorium, their phones — which for the night would be used strictly as cameras — at the ready.
In a nearby hall, the nine graduates straightened their caps and smoothed their gowns. They tried to act natural even as a newspaper photographer trained them in his lens.
The one whose nerves needed the most calming must have been Jennifer Gougeon.
At 21, high school graduation had been a long time coming for Gougeon, an aspiring small-business owner who also raises service dogs.
She stopped attending her traditional high school years ago, just before she would have become a junior. She attended two online-based charter schools, both of which closed before she could graduate. Both times her schools' doors closed, Gougeon lost credits. Her diploma, even though she'd spent years working to earn it, seemed to be slipping farther out of reach. She was just months from her 21st birthday, when she'd be too old to attend most schools.
That's when she heard about Gateway.
On Monday evening, a year after she enrolled, her 21st having come and gone, Gougeon was just moments — finally! — from graduating.
In a conference room prior to the ceremony, where her classmates gathered to don their caps and gowns, Gougeon was still having trouble comprehending the magnitude of the event.
"My family has been making a big deal about it all day," said Gougeon, an only child who was expecting more than a dozen family and friends from all over the state to attend the ceremony.
"They've been joking around, telling me how many years they've been waiting for this.  I've been getting cards in the mail. It's a really big deal."
The "big deal" nature of her accomplishment, combined with the fact that Gougeon volunteered to be the evening's keynote speaker, combined for those jumping, pre-ceremony nerves.
When the auditorium doors opened, Gougeon marched carefully and deliberately with her classmates. She exhaled noticeably, no doubt reminding herself that she could do what she had to. She'd already proven she could do anything.
The program began. Director Sallie Brisbane offered her welcome and congratulations. Faculty members took turns reading Seuss' classic, inserting the graduates' names in the final passage, a twist that pushed those teetering on the edge of tears into Kleenex territory.
Then Gougeon rose and made her way to the stage. She bent slightly to the microphone, began to speak, and from her first words, captivated the audience.
She and her classmates had defied odds, stereotypes and statistics, she said. The Gateway faculty and staff had kept them going, even when giving up was so tempting.
"You called our cellphones, asking how our classes were going and this question — 'where are you?'" Gougeon said.
"Gateway saw in us what others couldn't. It saw in us what we could be…
"If we can make it here, we can make it anywhere."
Gougeon ended her speech to rousing applause and returned to her seat. The ceremony ended with diplomas, hugs and refreshments, but also with the knowledge that Gougeon — like her classmates — would never be the same.
On Monday, she was a 21-year-old without a high school diploma. On Tuesday, she would be a high school graduate, ready to start the next chapter.
As she hugged her friends and family post-ceremony, a celebratory barbecue waiting for her at home, Gougeon said she knows one thing for sure: She will wear a cap and gown again one day.
"I'm going to keep going," she said.
Polk State Lakeland Gateway to College High School is currently enrolling for fall semester. For more information, please contact Director Sallie Brisbane at 863.669.2322 or sbrisbane@polk.edu.
Polk State Lakeland is located at 3425 Winter Lake Road.
Polk State College operates three public charter high schools, including Polk State Chain of Lakes Collegiate in Winter Haven, Polk State Lakeland Gateway to College Collegiate, and Polk State Lakeland Collegiate. All three high schools allow students to fulfill requirements for their diplomas while also earning college credits.