Foundation Raising Funds to Send Scholarobotics Students to France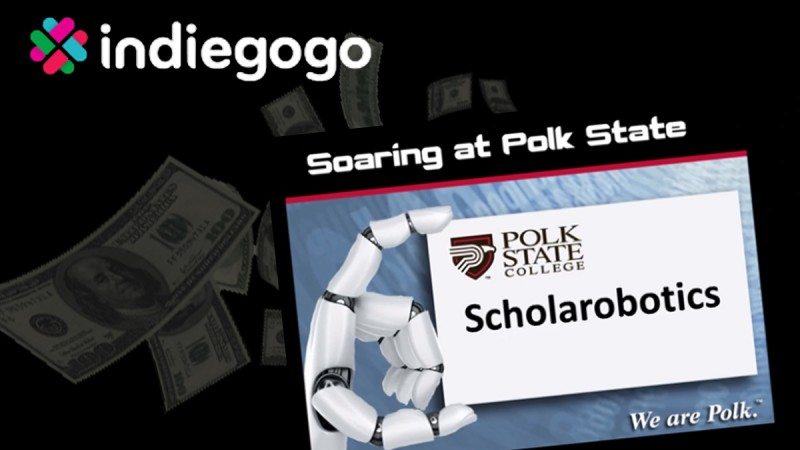 Students who participated in this year's Polk State Scholarobotics Academy have a once-in-a-lifetime opportunity to present their research in France — but they need help paying for it.
Begun two years ago, Scholarobotics is a summer program that the College offers to all high-school students in partnership with Winter Haven Hospital.
Students, who this year represented schools all across Polk County, spend several weeks getting hands-on experience with robotic surgery — using Winter Haven Hospital's expertise and machinery — and earn college credit, too.
This year, students are conducting a variety of research projects, all aimed at advancing the field of robotic microsurgery. One group is building a robotic surgical assistant to transfer sutures and an ultrasound probe out of the surgical field. Another group is building a robotic arm to irrigate the surgical area as needed for the physician's visibility.
It's all groundbreaking stuff that the students will have the chance to share with physicians who gather at the 3rd Annual RAMSES (Robotic Assisted Microsurgical & Endoscopic Society) Symposium, scheduled for November in Strasbourg, France.
But first the 16 Scholarobotics students will have have to fly there and have a place to stay.
It's an endeavor that will cost about $23,000.
To raise the necessary funds, the Polk State College Foundation has established an account utilizing the crowd-funding platform Indiegogo — a first for the Foundation.
"The Foundation is always receptive to unique and creative ways of helping our students," said Polk State College Foundation Executive Director Tracy Porter. "And for the donors, it couldn't be easier — with a click of a button, they can help our students experience this amazing opportunity."
The Scholarobotics students have raised part of the money they need for the trip, but are hoping donors will come through with the remaining $23,000.
"This would give the students an opportunity to present in front of doctors and faculty," said Dr. Sijo Parekattil, director of urology and robotic surgery at Winter Haven Hospital, who also works with Scholarobotics. "It would be really meaningful, a life-changing event."
Added Dr. Ahmet Gudeloglu, a Winter Haven Hospital physician who works closely with the Scholarobotics students: "The trip to France will finish off the STEM education of these students. Who knows, one day one of these students might become a famous robotic surgeon."
Polk State Professor Suzanne Halverson, who teaches in the Scholarobotics program, said because of the collaborative nature of the students' projects, it would be difficult to select only a few students to attend the trip. The goal — because they've all earned it — is for every student to travel to France.
Funds will be raised through mid-November. To make a donation, visit the Indiegogo page.