Former Polk State Baseball Star Will Show Eagle Pride — Forever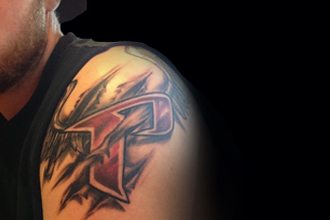 Former Polk State Baseball pitcher Alec Asher just took the College's re-branding to a whole new level.
Asher, who helped lead the Eagles to their first appearance in the NJCAA JuCo World Series earlier this year, recently had eagle wings and the College's "Polktastic P" tattooed on his left shoulder.
"Polk State changed my life and will forever be a part of my life. I have so many memories from the year I played there, plus Polk County is where I'm from. Getting drafted out of Polk State changed my life, and I like getting tattoos that mean something to me," Asher said.
Asher, a right-handed pitcher who was drafted by the Texas Rangers earlier this year, now has three tats.
There are baseball laces on his right elbow, over the scar from surgery to remove a bone spur that ended his first shot to play in the majors as part of the San Francisco Giants organization.
On his right wrist are the words "Nothing can keep you from reaching your goals" — the fortune he got in a cookie from a Chinese food restaurant the day before the bone spur was discovered.
Asher played for Polk during the first year of an identity overhaul that included a new mascot, new logo, and a new black and red color scheme.
His newest body art took six and a half hours to finish, and now Asher can't wait to start showing it off.
"I'm going to have to start wearing more sleeveless shirts," he said.