For Valedictorians and Salutatorians, Polk State Fits Just Right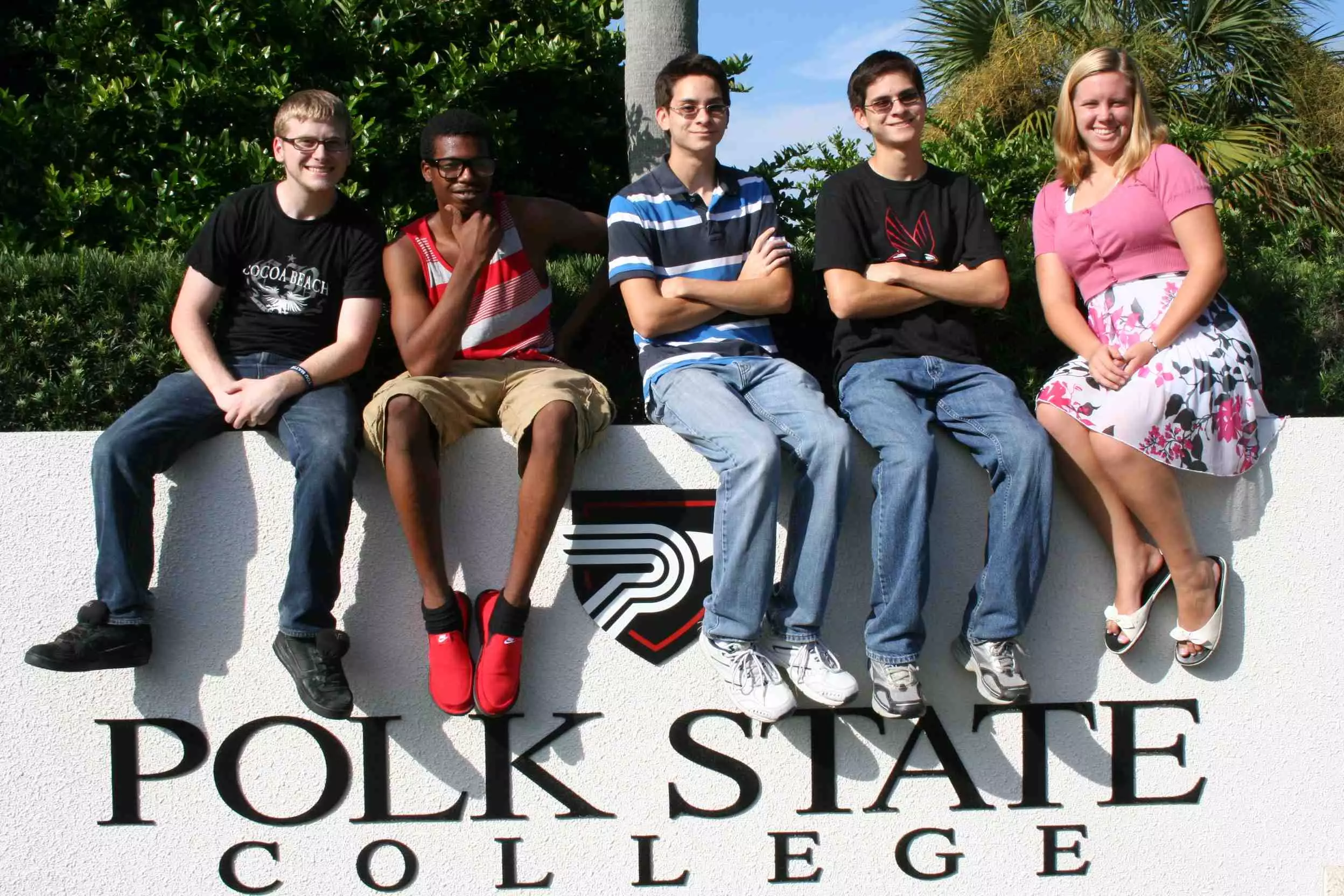 State and community colleges are traditionally thought of in terms of second chances and last resorts, where even students with the poorest academic records can achieve higher education.
But that's just one angle of the story.
Far less recognized is the fact that many students have the grade-point averages to attend top universities, but instead opt for institutions such as Polk State College, choosing their blend of challenging academics and affordability over all other options.
These high-achieving, stereotype-breaking students — and the crucial role community and state colleges play in their education — were recently the subject of the blog, Confessions of a Community College Dean. In an entry titled, "The High End," the anonymous author, who describes himself as an academic dean from the Northeast, writes:
"It is absolutely important for community colleges to give students whose K-12 preparation wasn't the best a second chance. But I can't help to think it's also important to give the gifted-but-not-wealthy student a shot at the same caliber of education that she'd get in the first two years of a traditional, selective institution."
The author adds that serving the "gifted-but-not-wealthy" is only increasing in importance as the "cost gap" between community and state colleges and other institutions grows.
Providing university-level instruction at an affordable price point has always been the way at Polk State College, and students at the very highest end of the spectrum have taken notice. In fact, six recently graduated valedictorians and salutatorians are currently studying at the College, finding here not only the challenging academics they crave but also the affordability that even top grads must consider.
"Going to Polk State has really helped me build my resume and become a better person, and it's inexpensive," said Jacob Wilson, 2012 valedictorian of Oasis Christian Academy.
Wilson began dual enrolling at Polk State as a junior, getting a jumpstart on his higher education and earning college credits that pushed him into valedictorian territory.
Now, post-diploma, Wilson has elected to continue at Polk State to finish his associate's degree before transferring to the University of South Florida to study biomedical science and become a physician's assistant.
His decision to remain at Polk, he explained, had much to do with the unexpected academic experiences he's had here, as a participant in the College's Honors Program.
Polk State established its Honors Program in 2005 to challenge high-performing students just like Wilson. To qualify, students must have a high school GPA of 3.5 or higher, or a college GPA of 3.2 or higher. They must also score highly on tests such as the SAT or ACT. Once accepted, Honors Program students take part in smaller classes and field trips, and receive priority registration and numerous scholarship opportunities.
Selective as the program is, it has grown significantly each year since it was established, with nearly 700 currently enrolled.
"Not only are the numbers increasing, but the quality of the students is getting better. That shows that we're attracting really good students who want to learn in a different way," said Professor Ana Maria Myers, director of the Honors Program on the Winter Haven campus.
Lakeland campus Honors Program Director Brad Massey said he's been pleasantly surprised by the growth of the program. No matter how large it becomes, Massey said, the Honors Program remains committed to delivering high-quality instruction and "building a learning community" for participating students.
Wilson said the Honors Program classes are intellectually stimulating, and he enjoys their small-group discussion.
"I really like the Honors Program because the classes give me a chance to actually talk about what I know instead of just hearing a teacher talk to me. I get to hear the students' world views instead of everything from the point of view of the teacher," he said.
Like Wilson, Lance and Logan Lebanoff, co-salutatorians at Lake Region High School and twin brothers, dual enrolled at Polk, earning college-level credits that pushed their identical GPAs to 4.578.
The Lebanoffs had planned to head straight to the University of Florida, but as they soon discovered, even those at the top of their class have to worry about the bottom line.
"When we saw the price tag, we decided to stay at Polk State for a year to finish our associate's degrees. By doing that we could stay at home and we wouldn't have to pay hardly anything," said Lance Lebanoff.
At $110 per credit hour, Polk State is the county's most affordable higher education option, and nearly 90 percent of its students graduate without student-loan debt.
But particularly relevant to students like the Lebanoffs is the value the College delivers at that low price point. The College leads the state in terms of the first-year GPA its transfer students earn at the state university system, with 88 percent of students who do not require academic remediation earning a GPA of 2.5 or higher.
The Lebanoffs said the ability to be conditioned for higher-level work — free of financial strain — was something they couldn't resist. Their schedules this semester include Calculus II, Physics, and Chemistry II.
"We like the challenge," Logan Lebanoff said.
The brothers still plan on heading to UF after they graduate from Polk State next year. They are both interested in studying computer science or engineering.
While Wilson and the Lebanoffs were well acquainted with the College through dual enrollment, their fellow academic standouts are just starting at Polk. For them, in addition to its affordability, there were other aspects of the College that made it the perfect place to begin the futures they have planned.
Omari Haughton, salutatorian at Gause Academy, landed his first job at McDonald's two years ago and has since worked his way into management. He enjoys the work, and sees plenty of opportunities ahead — possibly even his own franchise one day.
In considering his post-high school options, Haughton' first priority was convenience. He needed a location central to his home in Winter Haven and his work in Dundee, and he needed class offerings that would fit around his shifts.
Polk has campuses and centers from Lake Wales to Lakeland, and it offers early-morning, evening, weekend and online classes to cater to students' scheduling needs.
"Polk was the best option," he said. "I was able to build a schedule that allowed me to do both — school and work."
Danielle Lewis, salutatorian under Wilson at Oasis, is also balancing work and education at Polk, fitting in her duties at a local citrus packinghouse around her class schedule. In addition to convenience, however, Lewis viewed Polk State as a comfortable transition to college life — after all, college is a big step, even for those at the top of their class.
"A lot of my friends came to Polk, and I knew it was a great school and less expensive than a university. Plus, I wasn't really sure what I wanted to do after high school, so I figured I'd start smaller and stay close to home," Lewis said.
Lewis, who said her first few weeks at Polk have been the biggest academic challenge she's ever faced, is considering a career as a veterinarian.
Morgan Macey, valedictorian at Geneva Classical Academy, echoed the sentiments of all her fellow valedictorians and salutatorians. She works with community theaters throughout Polk County as well as the theater program at Geneva, and has found Polk complements not only her life now but also what she has planned years down the line — to earn a bachelor's degree, teach and remain involved in the performing arts.
"I'm happy at Polk State because there is low tuition, small class sizes, and most of the classes that are offered are also found at a large university," she said.
President Eileen Holden said no matter where they fall on the academic spectrum — whether their GPAs are off the chart, they barely made it through high school, or they fall somewhere in between — student success is at the core of everything the College does.
"There really is a misconception that state and community colleges are institutions of default, that you end up here when there are no other options. In reality, colleges such as Polk State deliver outstanding instruction that readies all our students, no matter their personal circumstances, for success at the next level of their education or in their new careers. We do this while maintaining our stance as the most affordable option for higher education. We're a high-value institution, and value matters — no matter who you are, where you came from or where you're going," she said.
Polk State College is Polk County's largest postsecondary institution, serving approximately 20,000 students annually through its bachelor's and associate's degrees and an array of workforce training options. Established in 1964, it serves the farthest reaches of Polk County, with locations in Lakeland, Winter Haven and Lake Wales.