For Sonni Blake, Graduation a Tribute to Her Dad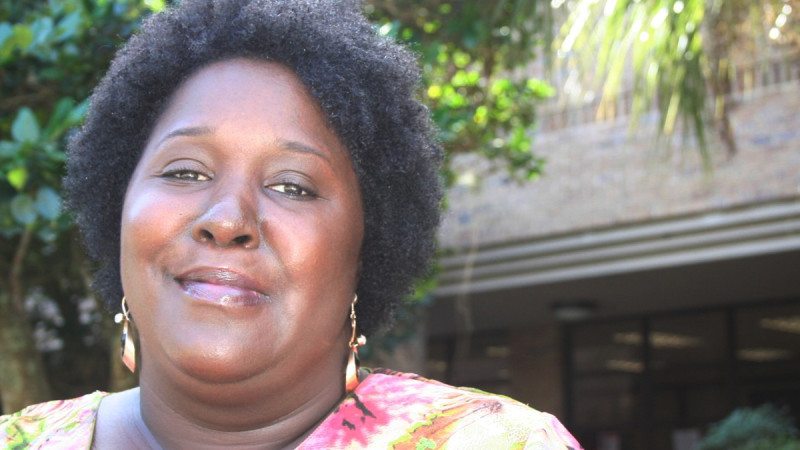 For Sonni Rojuana Blake, the most important person at Polk State College's recent commencement ceremony wasn't in the rows of graduates or audience members.
He was in her heart. Just like always.
Blake graduated with her Associate in Arts degree at Thursday's commencement, fulfilling a goal long in the making and one her father, Robert Hall, missed seeing in person by only a few months.
"I don't know what heaven is like, but I believe God allowed my daddy to see me walk across that stage," said Blake.
Blake, a resident of Lakeland, first attended Polk State in 1992, a feat that made her parents, neither of whom had attended college, so proud. Two years later, she transferred to Bethune-Cookman University, a move that proved confusing.
"I wasn't used to being away from home, and I wasn't really sure what I wanted to do with my life. I got there and pretty much just started to party," she said.
After just a year, Blake left Bethune-Cookman, deciding to enter the workforce. She worked as a housekeeper, and as a cashier. Eventually she made her way back to Lakeland and got a job working at a call center.
All the while, her unfinished college education weighed on her mind. She'd let herself down, and even more painful, disappointed her parents.
In 2008, with a maturity that only comes with age and, she said, with a newfound faith in God, she reenrolled at Polk State. Her parents, Robert and Edythe, were thrilled.
"The only thing my parents ever wanted me to do was make something of myself," she said.
Her first semester back on campus, she took an Algebra class, a subject that had always been difficult for her. She failed, but remained undaunted.
"I came back the next semester and took it again. This time, I got an A," she said.
Passing the course provided her with a sense of confidence and gave her pursuit of higher education new momentum.
She went to class, studied and worked, each day bringing her goal of graduation a little closer. Her dad, Robert, was a constant source of support along the way.
"Every day, he asked me if I was studying, where my book for class was. He used to quiz me on what I was learning," she said.
Her studies brought her closer to her dad. He would help her study and share with her tidbits of his life she'd never known. Like the fact that he wanted to be a lawyer before he became a mechanic. That he used to be in a writing club.
In June, with Blake's degree just six months away, Hall was diagnosed with bile duct cancer.
"It was on Father's Day weekend. He went to the hospital and stayed there the entire weekend. His cancer was very rare and very aggressive," she said.
Doctors said Hall had about three months to live. Blake prayed that they were wrong, that her dad would live to see her graduate.
In September, it became clear that he wouldn't live that long. He passed away at his home, with Blake by his side.
By this time, Blake had decided to pursue a career in nursing. She plans to apply to the Polk State Nursing program in 2013.
The last thing Hall said to Blake was to never give up on that goal.
"My dad told me that he knew I was going to be the best nurse and that he loved me so much. He said it takes a special kind of person to be a nurse and that he knew I had the right spirit for it," she said.
Blake hopes to eventually earn a master's degree in Nursing Education. She knows it will be a long, difficult climb, but she'll get there. And when she does, she knows her dad will be looking down on her, beaming with pride.
"This is for you, Daddy," she said.