For Polk Respiratory Care Alumna, A Cough Inspired a New Career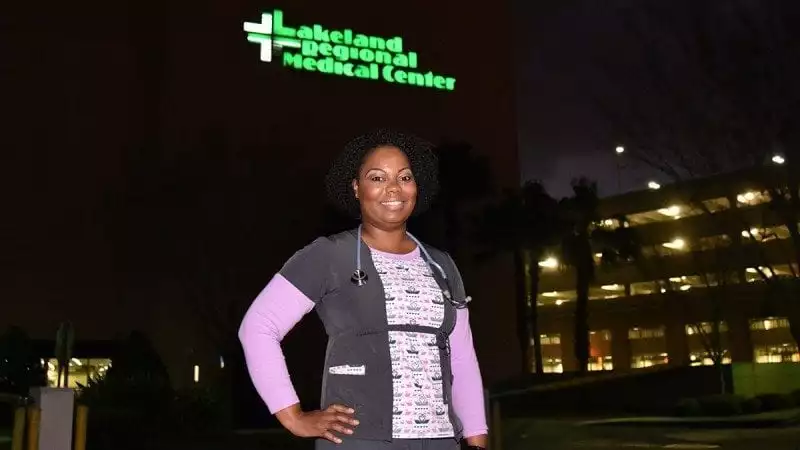 Terri Dixon remembers the exact moment — or rather, the exact cough — that changed the course of her whole life.
She was working as a phlebotomist, performing another routine blood draw, when a patient suddenly started coughing so violently that she was gasping for air.
"Then she started apologizing, apologizing to me," said Dixon. "She said she was sorry and that she had throat cancer."
Dixon couldn't get over the fact that the patient felt the need to use her precious breath to apologize. She also couldn't forget the expression of relief she saw on the patient's face as her coughing subsided and, finally, she was able to fill her lungs with air.
"I became very intrigued," Dixon said. "Breathing is something most of us don't think about until we can't do it. We don't know what a luxury it is."
Her interaction with the patient came just as Dixon was doing some personal reevaluation. She liked her job as a phlebotomist, but she wanted a more hands-on role in patient care. She also had promised herself years earlier that she would get a college education.
Growing up, Dixon watched as her mother worked her way up from a certified nursing assistant to the manager of an Alzheimer's clinic — working doubly hard because she didn't have a degree.
"That really motivated me to get that one thing no one can ever take away — education," she said.
Dixon enrolled in Polk State College's rigorous Respiratory Care program, embarking on two of the most challenging years of her life. She worked an overnight shift as a phlebotomist, went home for a few hours of sleep, and then entered what she called her "bomb shelter" — a bedroom with the door shut tight against all distractions
"I had no time for anyone. I decided that if I was going to do it, I couldn't play around. If I wasn't working or in a class, I was studying in my bomb shelter," she said.
Dixon graduated in May 2014, and now works as a respiratory therapist at Lakeland Regional Medical Center. She specializes in pediatrics and adult acute care. Apparently a born night owl, she still works the overnight shift, administering breathing treatments while the rest of us are sound asleep.
"It's still a large workload overnight, but there are less interruptions," she said. "I feel like I get to really connect with my patients."
Though she loved her role as a phlebotomist, being a respiratory therapist has brought Dixon newfound satisfaction.
"I really feel like I'm doing something that is so important to the survival of the person," she said. "I feel more appreciated and I feel I'm taken more seriously."
Personally, Dixon has gained a new sense of confidence. She's overcome a lot in her life: She grew up in Jamaica, speaking the Jamaican dialect Patois. Coming to America when she was a child meant both a new culture and a new language. Being raised by a single mom made for a tough childhood, too.
Now that she's defied those odds, achieving a college degree and a career she loves, she's reveling in her success. Even her email address contains the word "suxess."
"I feel like I'm finally adult," she said.
As for others who may be sitting in their own "bomb shelters" right now, wondering if all the hard work is really worth it:
"Just keep your eyes on the goal. Remember what brought you to the point of going to school in the first place," Dixon said. "And remember that if others have done it before you, it is not impossible."
In addition to Respiratory Care, Polk State's Health Sciences Programs include Cardiovascular Technology, Diagnostic Medical Sonography, Emergency Medical Services, Nursing, Occupational Therapy Assistant, Physical Therapist Assistant and Radiography. Students in these programs regularly outperform their peers in the state and nation on required licensing exams.
Polk State College's history is rich with stories of alumni who have gone on to make impacts, whether in the classrooms and laboratories of prestigious universities, the rough and tumble of commerce, or the halls of political power. Over the years, thousands of Polk State graduates have leveraged their education and experiences at Polk to transform their own lives and the lives of others. This transformation is the essence of what it means to "be Polk." Whether in big ways or small ways, Polk State alumni embrace the challenge of living lives that matter. News@polk regularly profiles these alumni. Their story is the story of Polk. They are The Pride of Polk.