Florida College System Renews Articulation Agreement with Independent Colleges and Universities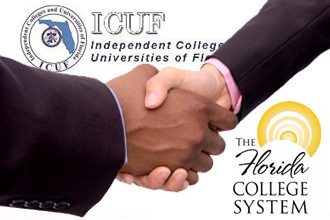 The Florida College System has renewed a key partnership that allows students to seamlessly transfer credits to the state's independent colleges and universities.
On Monday, the FCS — which encompasses 28 state and community colleges, including Polk State College — renewed its partnership with the Independent Colleges and Universities of Florida for the 2+2 articulation agreement.
Under 2+2, FCS students who earn an Associate in Arts degree may transfer to the upper division of a bachelor's degree program without losing credits.
The ICUF is an association of 31 private, not-for-profit educational institutions. ICUF institutions serve more than 153,000 students at 12 sites around Florida.
Polk State Vice President for Academic and Student Services Ken Ross hailed the renewal of the 2+2 agreement.
"The renewal of the 2+2 articulation agreement is important in two key ways: For one, it means our graduates will continue to have the option of continuing their education at any of the 31 ICUF institutions. Secondly, it shows that the ICUF recognizes the high-quality of education and preparation the FCS provides to its students," he said
Representatives of both the FCS and ICUF also lauded the renewal:
"The Independent Colleges and Universities of Florida initiated this agreement with the Florida College System in 1992. On its 21st anniversary, we want to recognize the importance of transfer opportunities and demonstrate our ongoing commitment to the ideal of cooperation between public and independent sectors of postsecondary education," said Randy Hanna, chancellor of the FCS.
"Renewing this agreement is evidence of the Florida College System's and the Independent Colleges and Universities of Florida's shared commitment to promoting access and opportunity to Florida students. We expect this agreement will continue to serve Floridians for the next 20 years and beyond."
Added Ed Moore, president of the ICUF:
"I am pleased to reaffirm our commitment to Florida's students through the 2+2 Articulation Agreement," he said. "Our valuable partnership with the Florida College System highlights our shared educational priorities. Florida is a national leader in the development of continuing education programs, like 2+2, and students in the Sunshine State will continue to benefit from our high-quality postsecondary system for years to come."