Florida Artists Hall of Fame Inductee Brings Lessons to Life for Polk State Environmental Science Students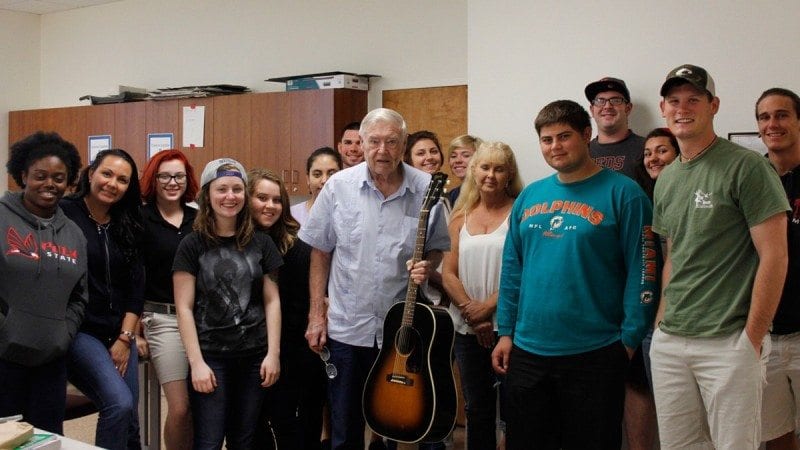 On a recent weekday afternoon at the Polk State Lake Wales Arts Center, revered Florida folk musician Frank Thomas sang about a simpler time in the state's history, before Disney World, interstates and strip malls.
His aim, as it is every time he performs, was to entertain. But for this audience in particular, comprised of students studying Introduction to Environmental Science, he also hoped to educate.
"I hope it instills some love for this state and a desire to protect what's left of it," he said. "If I do that, I've accomplished something. If you think about it, their generation will the one that has to take care of what's left of Florida. It's up to them."
Thomas, 72, is a Clay County native who now lives in Lake Wales. A lifelong musician, Thomas has performed across the country and at the Grand Ole Opry, and written more than 500 songs about Florida. In 2013, he was inducted into the Florida Artists Hall of Fame. Also inducted that year was Grammy winner Gloria Estefan.
Polk State Earth Science Professor Natalie Whitcomb invited Thomas to perform on Oct. 28 to give her students an entirely different take on the effects of urbanization on Florida's environment.
"When you can bring the arts into the lesson, it adds emotional depth that you can't get with just a lecture," Whitcomb said. "This helps students to learn and build an appreciation for the uniqueness of their state."
During his 90-minute stay with the students, Thomas sang a handful of songs, including his "Rivers and Rainbows," about the redirecting of the Kissimmee River:
"Rainbows and rivers weren't meant to be straight … when man intrudes on their natural state, tries to improve on what nature designed … we'll lose our pure water and our rainbows won't shine."
And  "Old Cracker Cowman," about the clash between Florida's agricultural heritage and booming tourism industry:
"Interstate highways have taken the place of old Mr. Flagler's rails … and condos rise from the land … and space shuttles fly … and the old cracker cowman doesn't know how it all passed him by."
Joining Thomas for his afternoon at Polk State was Charlie Cook, an environmental specialist at the Florida Department of Environmental Protection. Cook interspersed Thomas' songs with recollections about the now-extinct dusky seaside sparrow, whose habitat was lost to development.
"In my lifetime, I've seen many areas of Florida disappear to development and a lot of wildlife become rare," Cook said. "For me, the dusky sparrow is emblematic of what's happened in Florida."
Cook added that it pains him to see neighborhoods and shopping malls bear names like "Eagle Ridge" and "Heron's Landing."
"It's almost like they've taken the place of the nature that was there," he said.
Cook also encouraged the students to experience Florida's natural environment for themselves.
"One of my favorite sayings is, 'What you know, you love, and what you love, you protect,'" he said. "In Florida, so many things go by that are unknown. The wildflower is weed and mowed. The little frogs are viewed as a nuisance and poisoned. Get in touch with nature and people and history, because that what makes our state and country wonderful."
Student Brookie Murkerson so enjoyed the class with Thomas and Cook that she stayed around afterward to ask additional questions.
"I've never had a class like this before," said the Babson Park resident. "Mr. Thomas has seen so much and how things have changed in our state. I feel like I kind of experienced it through his songs."
Murkerson hopes to eventually work in forestry, helping logging companies identify what trees can be cut down without harming wildlife.
"From today, I'll take away a better sense of the responsibility of that job," she said.
Inviting Thomas and Cook to speak to her class is just one of the creative ways Whitcomb strives to teach her students about the environment. In recent years, she's had students plant rain gardens on the Winter Haven campus, and earlier this semester, her students took part in a community-based learning project at Crooked Lake in Lake Wales.