Five Questions With Pairris Jones: How "My Plan" Is Helping Students Pick and Prepare for Their Careers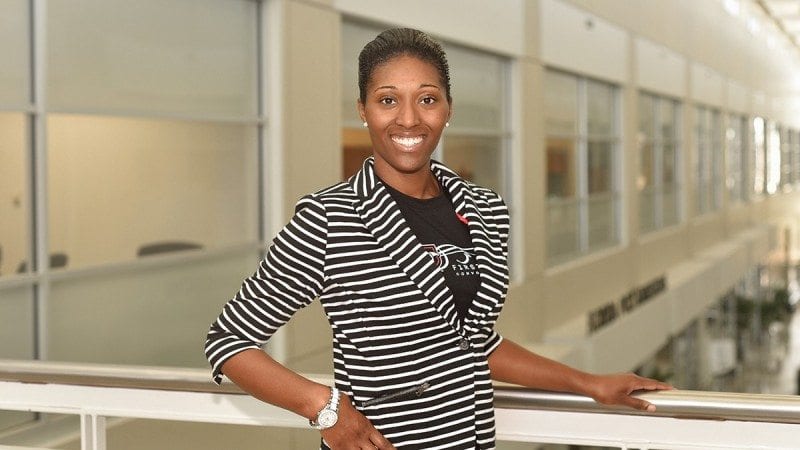 "What do you want to be when you grow up?"
For kids, answers to that question come easily. Firefighter, teacher, policeman, astronaut, princess, rock star. Anything is possible, and there are no consequences for making bad decisions.
But by the time children become college students, answering that question can be difficult. And stressful. And sometimes even frightening. After all, princesses don't have to choose a major and pay bills. The rest of us do.
At Polk State's Lakeland campus, Career Development Services Coordinator Pairris Jones helps students through the daunting career-selection process. She listens, offers advice, and relates. Jones herself switched majors several times before finally settling on communications.
Another big part of Jones' job is guiding students through My Plan, a resource that helps students explore careers that mesh with their personalities and interests. Here, Jones tells News@Polk more about My Plan, and explains how it is helping students get — and stay — on the right career track.
1. What is My Plan and how does it work?
My Plan is a free computer-based assessment that takes approximately an hour to complete. It evaluates each student's personality, interests, and skills to determine his or her best career paths. A comprehensive list of career options are developed and tailored to the student's profile. Additional information such as credentials required, regional salary ranges, and job demand helps students select their best careers.
2. How does My Plan help students? What difference have you seen it make for students?
My Plan provides a guide that students can utilize to successfully transition into a career. One great aspect of this tool is its ability to empower students with insight about themselves. At times, it serves as a virtual mirror, showing students the greatness in the person staring back at them.
3. What would you say to students who don't know "what they want to be when they grow up"?
If you don't know what you want to be when you grow up, I would ask you, "What is it that you love?" I'm a firm believer that we are driven by what moves us, and our careers are direct indicators of that. Also, I would like to reassure the students that they are not alone, and Career Development Services is here to help. It's important that each student envisions his or her future success. Then, it's just a matter of students utilizing their resources to help them obtain their aspirations.
4. What about students who think they know what they want to do professionally? Would you still suggest they take My Plan? Why?
I would most certainly recommend My Plan! Any information that can add to a person's success is worth it — especially when it's free. This tool will show each student possible career paths that coincide with who they are and map out a way for them to get there.
5.After a student completes My Plan, what happens next? Are there services available to help students progress with their plan?
Once a student completes the My Plan assessment, additional research is done to help develop obtainable short- and long-term goals that will lead to his or her career. If a student needs further assistance with building a cover letter or resume, or even with developing interviewing skills, Career Development Services can also assist with that.
Polk State has Career Development Services offices on the Lakeland and Winter Haven campuses. Career Development Services can assist students in securing internships, writing their resumes, looking for jobs, and preparing for job interviews.