Five Questions With Veterans Services Coordinator Byron Loyd: Making the Transition to College Life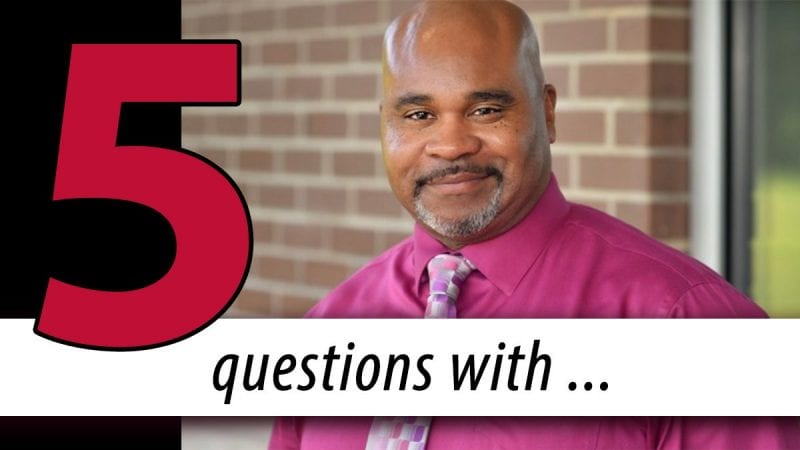 For the men and women of the armed services, the transition from military life can sometimes be a challenge. When it comes to their educational pursuits, however, those challenges are mitigated by the strong presence of the Polk State College Veterans Services Office.
As a retired US Army Command Sergeant Major, Byron Loyd, Coordinator of Veterans Services, knows first-hand what it takes for military veterans to pursue a college education. Loyd recognizes the strength veterans display and the unique perspective they provide for the greater collegiate community. For this reason, he has committed his time to ensuring that each student-veteran has the resources and support for success.
Loyd's long-standing military career has proven his loyalty, commitment, and dedication to America's service personnel. As he pledged in the Army to leave no man behind, he now lives this mantra for the veterans who call Polk State College their home.
In today's interview, he shares some information about the Veterans Services Office and what he hopes for the future at Polk State:
When it comes to college life, what do you think is the biggest challenge for student-veterans?
If a veteran has never experienced a college setting while in the military, it can be very difficult to assimilate to traditional college life. In the military, structure within the environment is fairly uniform, with very little deviation from duty station to duty station. In contrast, in a collegiate setting, things can change from class-to-class, and program-to-program. The challenge becomes how to develop similar types of personal bonds that veterans have experienced in their military settings. Most importantly, Polk State must ensure that veterans know there are groups and individuals who advocate on their behalf with a true understanding of their previous and current circumstances.
What services does Polk State offer to student-veterans, and how do these services make a positive difference for them on a day-to-day basis?
Polk State has Veterans Services offices on the Winter Haven and Lakeland campuses. Each office houses staff members dedicated to providing a safe and comfortable place for student-veterans to relax during the school day. These locations provide a great way to support veterans and make a positive difference.
You are an Army veteran. What do you use from your own experience of transitioning from military service to college life to support and encourage student-veterans at Polk State?
A majority of veterans exit the military without proper planning. When they enter the civilian sector it can be overwhelming. My own experience has taught me to "never rush to failure." I strive to teach Polk State's veterans the same ideal. For these students, who understand mission-critical planning, I encourage them to have a plan of attack aimed at their proposed mission.
What advice would you give to veterans who are struggling with the decision to enroll in college?
Think, think, get counsel. The Veterans Administration provides incentives for financing a college education. Veterans have earned this incentive, but it requires good planning to ensure that one has all the facts about the process. The incentives are there to help, but once the decision is made, the person has to be "all in" on the educational journey.
 What is on the horizon for Polk State's Veterans Services?
As the College's veteran-population continues to grow, I would like to increase their "voice" on campus and in the community. Veterans have a lot to offer their fellow students and community members. I am also excited about starting a Veterans Club within the College to increase connectedness and to provide an opportunity to educate fellow classmates on life perspectives outside of the classroom.