First Responders Get In-Person, Hands-On Training During EMS Week at Polk State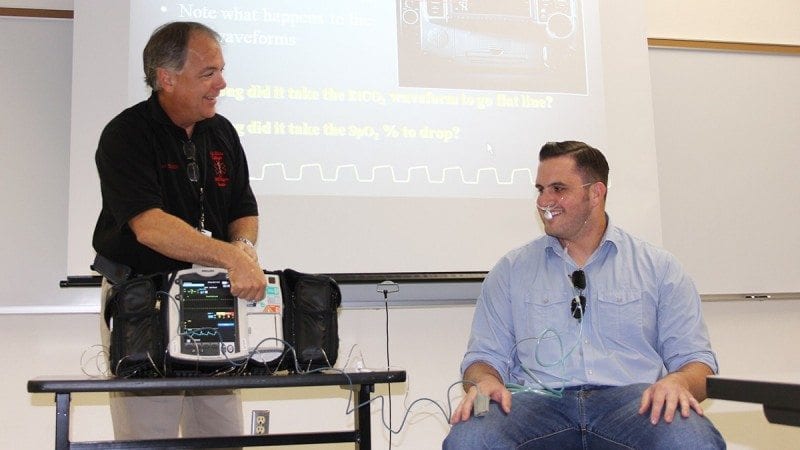 Hundreds of first responders visited Polk State Winter Haven this week during Polk County Fire Rescue's first-ever EMS Week Symposium.
Over the course of the three-day event, paramedics and emergency medical technicians (EMT's) from across the county participated in lectures and discussions on topics ranging from sepsis to burn care to spinal cord injuries.
"There are many benefits to providing in-person training," said Polk County Fire Rescue Deputy Chief of Medical Services Raf Vittone.
Vittone explained that Polk County's paramedics and EMT's are required to complete continuing-education courses every year, but most of the time they do so online.
"By doing this on-site and in-person, the participants get to network with one another and their instructors. They get hands-on practice with the skills. With the instructor right there, they can ask questions and get answers. The video-based training doesn't provide that level of interactivity."
A prime example of interactivity was Polk State EMS Director Don Guillette's session on capnography (EtCO2), or for the layman, the measurement of carbon dioxide in a patient's breath.
During his 90-minute presentation, Guillette discussed the depth of information capnography provides about a patient's condition. The capnography readout can help EMS professionals determine if they need to apply harder chest compressions, ventilate faster or slower, or give additional treatment to expel carbon dioxide. Capnography can also predict the return of a pulse seconds before it can be felt by touch or detected by other equipment.
"It's the sixth vital sign," Guillette said.
"It provides extensive medical knowledge that we can use to provide better care before the patient reaches the hospital."
To help illustrate capnography's usefulness, Guillette applied a nasal capnography device to attendee Derek McBrayer, a Polk State alumnus who is now a paramedic at the Lakeland Fire Department. Guillette instructed McBrayer to hold his breath. The capnography readout instantly showed that McBrayer had stopped breathing. Other measurements, like pulse oximetry, which measures oxygen saturation in blood, would have taken several additional — and crucial — seconds to register that McBrayer was no longer breathing.
McBrayer said Guillette's presentation was informative and immediately applicable to his work.
"I had this epiphany moment when I realized that capnography can give us so much more information," he said.
McBrayer and his colleagues, emergency medical technicians Clay Geiger and Joe Allison, said they appreciated the chance to come to Polk State and learn directly from Guillette.
"He has such a wealth of knowledge. He knows this like the back of his hand," McBrayer said.
Vittone said he views the Polk State-hosted EMS week as the beginning of a new relationship between the College and PCFR.
"PCFR is a huge organization, one of the largest in the nation. We strive to be the premier EMS system in Florida," he said. "Right in our backyard, we have a premier EMS education provider. By combining our forces, we can provide the best possible system to our citizens."
The field of EMS has three tiers, with paramedics at the top, above emergency medical technicians and emergency medical responders. Polk State EMS offers training options for those seeking to work at any level of the EMS ladder, and an associate's degree in EMS for paramedics interested in career advancement. In addition to EMS, Polk State Public Safety offers associate's and bachelor's degrees in Criminal Justice, and an associate's degree in Fire Science. In addition to EMS, Polk State Health Sciences programs include Cardiovascular Technology, Diagnostic Medical Sonography, Nursing, Occupational Therapy Assistant, Physical Therapist Assistant, Radiography and Respiratory Care.