Father, Son Began at Polk, Achieved Statewide Success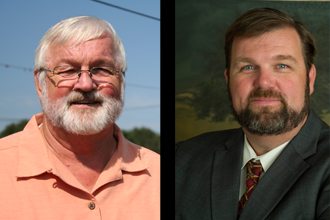 Chuck Reed and his son Emmett Reed have many things in common.
Mutual affection for Polk County. Tenacious work ethic. State-level success in their totally different lines of work.
And education from Polk State College.
The degrees the Reeds earned from Polk State proved to be stepping stones for careers neither could have anticipated all those years ago, and considered together for this edition of Pride of Polk, are examples of the multigenerational impact the College has made in its nearly 50-year history.
Agriculture In His Soul
Chuck Reed grew up in a Florida that fades a little more with each newly erected billboard and high-rise resort.
His childhood was spent in a "cracker style" house in Live Oak that lacked running water until he was 16. Generations of his family before him had made a living off the land, sowing tobacco and watermelon.
For himself, however, he dreamed of a life driving a patrol car, not a tractor. He became a state trooper, accepting a post in Polk County.
Soon after he arrived, he enrolled at Polk, determined to advance his career and provide as much as he could for his wife and three young children. He stacked his schedule with criminal justice courses, and earned his associate's degree in 1978. (Polk State now offers associate's and bachelor's degrees in Criminal Justice and operates the Kenneth C. Thompson Institute of Public Safety.)
With time, however, his interest in law enforcement waned. Agriculture, he realized, was simply in his soul.
"I'd been raised on ag. I always figured agriculture would be my career," he said.
His transfer to Polk County had planted him right in the heart of the state's citrus industry. He and his brother, Lawrence, bought a nursery in Dundee, establishing Reed Bros. Citrus as a small seed supplier.
Over the years, the business evolved into a major greenhouse operation that shipped hundreds of thousands of citrus trees throughout the state every year.
Then came the hurricanes of 2004 — Charley, Frances, Jeanne — and with them Canker, a highly contagious bacterial disease that affects citrus. Canker can be spread by wind and causes premature leaf and fruit drop.
Reed Bros. itself didn't have Canker, but nearby operations did, and a resulting quarantine ended Reed's run in the citrus nursery business. Nothing could enter or leave the operation for two years, so it made more financial sense to let his trees die rather than wait the quarantine out.
As the trees wilted, Chuck Reed retooled his business.
Blueberries now grow just outside the skeletal remains of his greenhouses. He's in his third year of growing the berries, a crop he describes as "high-maintenance but high-value."
"You don't need a lot of acreage to grow a good crop," he said.
Chuck Reed also sells seeds to growers around the world, and is an in-demand consultant for citrus nursery operations across the state.
Agriculture, as he realized all those years ago, will always be part of who he is.
"They're going to have to clean the dirt from under my fingernails when I die," he said.
Though he dramatically changed his professional course, Chuck Reed said his time at Polk has proven eternally relevant.
"Any time that you become more highly educated, it is to your benefit. It improves you and helps you, even if you don't end up in the field you studied," he said.
"In college, you develop habits, things like writing, that you always need."
A Father's Influence
The elder Reed's commitment to work, and refusal to give up even in the direst of circumstances, is never far from Emmett Reed's heart, and has guided him along the upward trajectory of his own career.
"I think it's rare to find someone with the work ethic and high integrity that I see in my father. He's always coached me and taught me my entire life how to do things well and treat people fairly," Emmett Reed said.
Emmett Reed earned his Associate of Arts from Polk in 1989, capping two years he said provided him with new, invaluable insight into the business world.
"Polk State was so good for me on so many different levels. When I went to Polk, I started to think about what I really wanted to do with my college education," said Emmett Reed, executive director of the Florida Health Care Association, the state's largest advocacy organization for long-term care providers and the elderly they serve.
"My time at Polk gave me two key opportunities, both of which taught me that whenever you start somewhere, you start on the bottom, and you have to get through that to get where you want to go," he said.
One of those two "key opportunities" for Emmett Reed was an internship at a commercial studio in Lake Alfred that he secured through his studies at Polk. While on the job, he painted sets and did other manual jobs for national advertisements that were shot at the studio, including a Nike commercial featuring athlete Bo Jackson and musician Bo Diddley.
The other important experience he had while at Polk, Emmett Reed said, was interning at Polk County's University of Florida IFAS (Institute of Food and Agricultural Sciences) Extension Office. His work at IFAS was also manual in nature, including cleaning test tubes for shelf-life trials on a new Bacardi product.
"Those two internships taught me a lot about work ethic and understanding there is a process to everything in business — there are a lot of lab tests that go on before you buy a product on a shelf, and a lot of little steps along the way before you see a commercial on TV," Emmett Reed said.
Through the internships he had while at Polk State, Emmett Reed's career path began to reveal itself.
"I decided I definitely didn't want to be a chemist. I also knew I had good communications skills already, so I decided to focus on that and carve out a niche," he said.
Emmett Reed went on to earn a bachelor's degree at Florida State University, and landed his first job at the Lakeland Area Chamber of Commerce, working as membership director. He went on to work for the Florida Home Builders Association, helping its membership nearly double in the course of eight years and ascending to the position of chief executive officer and executive vice president. He left the FHBA to join the FHCA in 2009.
Emmett Reed, a Certified Association Executive (CAE) through the American Society of Association Executives, is also director of the FHCA's advocacy partner, Our Florida Promise.
Though Emmett Reed's work long ago took him and his family to Tallahassee, he still feels very much connected — and proudly so — to Polk State.
"The growth of the College has been phenomenal. When I was there, it was on the verge of becoming something bigger than it was, but it was still relatively sleepy. Now it's very competitive and a great option for higher education. It's been incredible to watch."
Now, separated by a few hundred miles, both Reed men remain united in their love of family, community, hard work…and a shared alma mater.