Family Sees Third Generation Graduate from Polk State College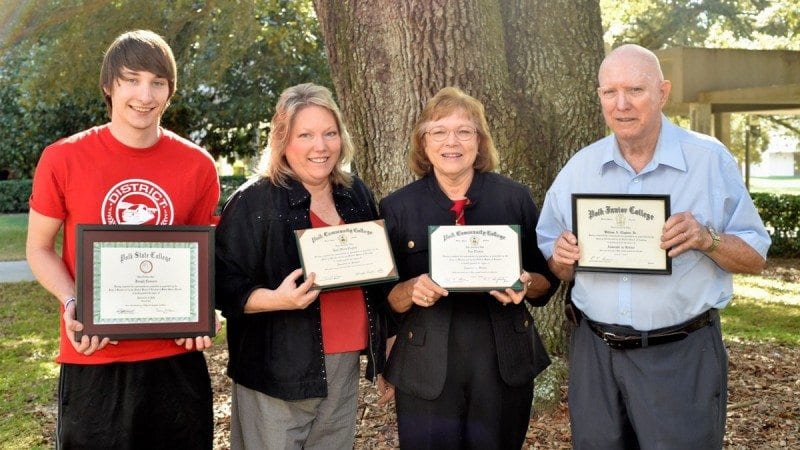 For the Clayton-Connors clan, Polk State is a family tradition.
This week, Joseph Connors, 19, graduates with his Associate in Arts degree. In doing so becomes the third generation of his family to graduate from Polk State College.
His mother, Joan Connors, graduated from Polk with her Associate in Science in Nursing in May 1982, just seven months after her mother, Ann Clayton, graduated with an AS in Horticulture.
Beginning the tradition for the entire family, however, was Bill Clayton, Joan's father, who graduated with his AS in Instrumentation in 1969.
Each of the family members chose to attend Polk State because it offered an affordable, convenient path to their goals.
For Bill, it led to a 30-year career in the citrus industry.
For Ann, it helped her advance her career in education. Having started as a paraprofessional, she went on to become director of a program for adults with developmental disabilities.
For Joan, it provided high-quality nursing education that opened doors to the workforce and advanced degrees. After nearly 25 years in nursing practice, she earned her master's degree in nursing from Florida Southern College in 2010 and is now pursuing her doctorate at Southeastern University. She came to work as a professor in Polk State's Bachelor of Science in Nursing program a year ago.
For Joseph, it has served as a stepping stone to his bachelor's degree. After graduation, he will continue at Florida Polytechnic University to study mechanical engineering.
That Polk State has met the needs of three generations of her family says a lot about the institution, Ann Clayton said.
"it's a great place to learn," she said.
Joseph takes a more practical stance. Polk State is local and the most affordable higher-education option in Polk County. Choosing to attend Polk State, for him, wasn't about continuing tradition.
"It just made sense," he said.
For Joan, seeing her son graduate from her alma mater will give her a sense of what her own parents felt when she walked Polk State's commencement stage.
"It's a feeling of accomplishment. It's coming full circle," she said.