Family Forges New Bonds While Taking Holocaust Literature Course at Polk State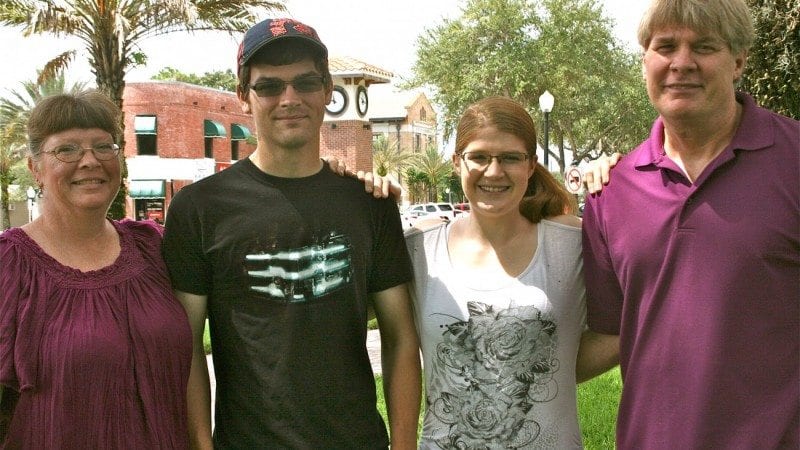 Think "family bonding" and things like dinners, board games and movie nights probably come to mind.
The Wright family of Polk City bonded in a more unusual way, during Literature of the Holocaust at Polk State College.
"I would definitely recommend taking a class with your family," said Tiffany Wright, 23. "I didn't expect it to affect us this way, but it's really changed our lives."
Polk State Professor Howard Kerner developed Literature of the Holocaust and has been teaching it since 2009. During the course, he delivers a review of Holocaust horrors, as well as the stories of virtually unknown Holocaust "rescuers," those who risked their lives to spare others from Hitler's wrath. The course doesn't just introduce overlooked players in history; it also forces students to face tough questions about their own morality.
Tiffany, 23, had taken other courses with Kerner, including his ever-popular Interpersonal Relationships. When she heard about Literature of the Holocaust, she knew it would be an experience that her whole family would enjoy.
Getting her brother, Michael, 21, signed up was easy. He and Tiffany are both pursuing their Associate in Arts degrees at Polk. They try to coordinate their schedules as much as possible so they can drive together, share textbooks, and help each other out with homework.
Tiffany's best friend, Rachel Powers, who lives with the Wrights, was also easy to convince. Powers graduated from Polk with her Associate in Arts degree in 2013, and has taken a few extra classes since then just for fun.
Cheryl, mom of the brood, was a little more challenging. She has been taking classes for several years, slowly chipping away at her AA degree, but between her work as office manager at a property management company in Auburndale and her many family responsibilities, making time for school isn't always easy.
The big trick was the dad, Doug. Doug, a retired police officer, earned an associate's degree and a slew of credits years ago, but registering for Literature of the Holocaust meant applying to the College, getting his transcripts, jumping through all the new-student hoops.
"It took a while, but Tiffany stayed on him," said Michael.
Tiffany's prodding paid off last spring when — finally — her family and best friend all settled into Kerner's classroom.
In the months that followed, they progressed through the syllabus. They did the readings and watched the videos. They cried over the material and grappled with questions about good and evil.
They also — to their surprise — grew closer than they've been in years. Even after living under the same roof for decades, Literature of the Holocaust revealed things they never knew about one another.
"We would read each other's journals from class," Cheryl said. "I realized that Tiffany and I would react to situations almost exactly the same way. She and I share a very similar mindset and approach to life. It's so easy for me to see how we're different, but through those journals, I saw how much we're the same.
"And Michael, usually it's really hard to get him to talk about anything, but he opened up in the class discussions and journaling. He really shared what he was thinking and feeling."
The family would gather to watch films for the class. Most nights, after they were dismissed, they would go out to eat and talk about what they'd learned. Those class discussions morphed into conversations about life in general. Soon, the very dynamics of the family had changed.
"One thing that I've noticed is that Tiffany and Dad talk a lot more. Usually she would get angry when he asked her what she did in school or how her day was," Michael said.
"Now, she still might get kind of annoyed, but within a few seconds, she starts talking about her day, and she gets happy and excited because she's telling him all these stories about her life."
Michael said he and Tiffany found new common ground as siblings, too.
"We used to argue a whole bunch more," Michael said. "We still argue sometimes, of course, but the class really helped me realize that a lot of what we argue about is pointless."
Tiffany and Michael also made interesting discoveries about their parents during the class. Cheryl is intensely competitive. Doug is a terrible procrastinator.
"He would wait until the very last minute," Michael said. "Mom would turn in a whole journal even when the assignment was just for a page and a half."
For Doug, the class and the family togetherness that came with it were also helpful in coming to terms with the death of his oldest daughter, Megan, who was killed in an auto accident in August 2013.
"I know now how much life is worth, and how much life really is a gift," said Doug, a real estate agent who works at the same property management company as his wife.
"We had one of our family's gifts taken away from us, but during the Holocaust, a lot of entire families were taken away.
"It helped me process a lot of things. I had to face the reality of Megan's death, but also that other people have gone through even worse catastrophes than we have, and they've come through on the other side to be wonderful citizens with wonderful lives that really matter to the world."
The class came to an end in May, but the family's new closeness has endured. They have dinner together several times a week, gathering around the table instead of heading off to their separate rooms. They talk and share the highlights of their days.
"During the week, it's pretty easy not to really spend time with each other," Powers said. "But that class, it's really unified everyone."
Kerner's LIT 2174 Literature of the Holocaust will be offered on Thursday evenings this fall at the Winter Haven campus. Fall classes start Aug. 18.