Exude Confidence, Competence: Associate Vice President Naomi Boyer Shares Tips for Dressing Professionally at Work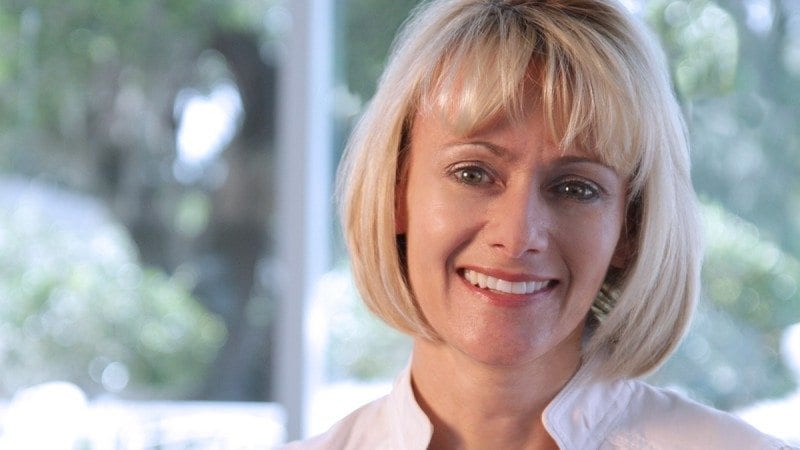 As Polk State's associate vice president for strategic initiatives and chief information officer, Naomi Boyer oversees a range of programs, from international study to information technology — and she manages to do it all in style.
Whether she's meeting with government officials while wearing a perfectly tailored suit, or giving an interview to a communications intern while wearing a snappily accessorized dress and heels, Boyer is always dressed to the nines.
"In the professional world, whether you're dressed up or down, presentation is everything," Boyer said.
Recently, News@Polk sat down with Boyer, and while we spent most of the meeting envying her outfit — where did she get that bag?! — we came away with several tips to help Polk State students make their best personal presentations.
Here's what we learned:
Tip 1: Dress for YOUR Body
Boyer can't stress this enough: Fashion, no matter what the labels say, is not "one size fits all." It's important to style yourself based on your unique body type. Clothing should be fitted for your frame, meaning no baggy material or boxy cuts; look for shapes that accentuate your shape. Boyer, a fan of the store White House Black Market, suggests finding a store whose clothing fits well. Once you do, and you learn your sizes in tops and bottoms, shopping is a cinch.
Tip 2: Dress for the Day
When selecting your outfit, consider the day's events. Got a meeting with your boss? Probably not a good idea to wear jeans (even if they're tailored … see Tip 1). Going to a company picnic? Probably a good idea to leave the suit in the closet. Being fashionable isn't just about dressing right — it's about dressing appropriately for the occasion. Boyer's key to looking spot-on every day? She selects her outfits at night, when she has time to think through the next day's schedule.
Tip 3: Keep Your Underwear to Yourself
It should go without saying, but we all know it doesn't. In a professional setting, undergarments should never — ever — be visible. Avoid clothing with holes and rips, and ladies keep in mind the dangers of low-slung clothing; is there enough material to cover your unmentionables when you drop your keys and have to bend to pick them up?
Tip 4: Unless You Work at a Surf Shop, Forget the Flip-Flops
It's Florida. We know it's hot. But even when the mercury soars past 100, it is never appropriate to wear flip-flops to the office. Just. Don't. Not even when you just have to make a quick stop by the office. You never know who will see you.
Tip 5: Be Sparing With Denim
Jeans are only appropriate on casual Fridays. But again, it depends on your particular work setting and the day's activities. See Tip 2.
Tip 6: Make Your Style Your Own
Your style tells people about you. It is possible to dress appropriately while still expressing yourself — Boyer does it every day. Does that statement necklace make you smile? Wear it. Does the tie with the pink diamonds bring out your skin tone? Tie it on. The key is not to let your style choices become an office distraction. Remember, you're there to work, not to work the runway. Value who you are, but also what you bring to your organization, and it will show in your appearance.
Tip 7: Need a Style Shakeup? Layer!
Boyer's schedule is always busy, and often has her working from morning to evening, rushing from board meetings to social events. Her tip for making such transitions without sacrificing style? Layers. To make your black skirt suit evening appropriate, lose the jacket and add a beaded necklace. To make a casual dress work for the office, add a crisp cardigan.
Tip 8: Be Confident
Confidence is always the best accessory. Wear clothes that make you hold your head up high and pretty soon you'll be the one dispensing fashion advice, Boyer said.
Boyer works in the 610 Building in downtown Winter Haven and can be reached at nboyer@polk.edu