Eagles Finish at No. 10 in National Volleyball Tournament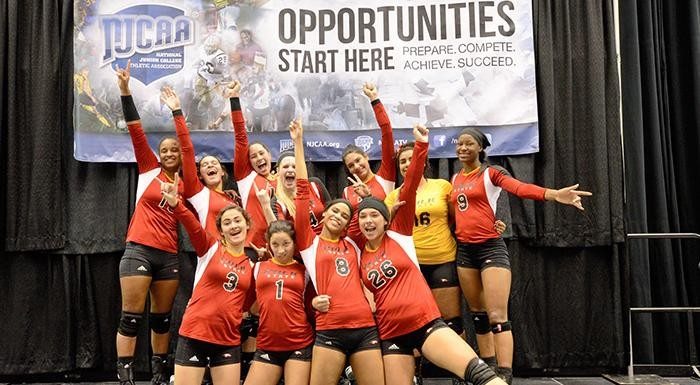 Polk State saw its season end today with a 3-1 loss to Salt Lake Community College in the consolation bracket of the NJCAA Division 1 Volleyball National Championship in Casper, Wyo.
The Eagles entered the 16-team tournament seeded 12th and finish at number 10.
Salt Lake came in ranked No. 6 in the nation. Polk State played in the national tournament for the first time in school history.
After dropping the first two games (14-25, 18-25), the Eagles won game three 25-22. They played strong in the fourth game. Trailing 7-14, they rallied to 22-24 before Salt Lake got the final point to win 25-22.
"The other team played real well today, and we had a slow start," said Head Coach German Del Valle.
"We picked it up in the third game. We came back to the fourth game but they were faster and had good discipline.
"In this tournament you have to play the best. Everybody's talented, and everybody wants to win. We're excited to be here, and it was a great opportunity."
For the Eagles today, Shatorreia Edgecombe made three kills and one block.
Ana Karine Cavalcante had four digs and an ace.
Elisabeth Piroli recorded eight assists and two digs.
Laina Blanton and Genesis Castillo each made two kills and a block.
Rossana Ramos had four digs and Suheily Colon made two.
The Eagles end the season with a 21-24 record.