Duke Energy Foundation Supports the Polk State College STEM Classroom Learning Lab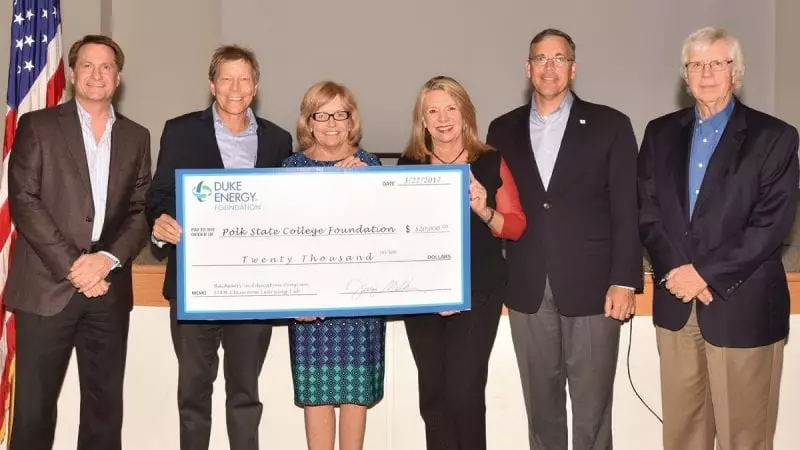 On Monday, March 27, the Polk State College Foundation recognized Duke Energy Foundation for their contribution of $20,000 for the Bachelors in Education Program STEM Classroom Learning Lab. Duke Energy is a committed College partner and generously supports Polk State Foundation annual events and other initiatives. This is the first time Duke Energy Foundation has specifically selected and designated a College program to support through their annual grants initiative.
"Duke Energy has been a proud supporter of Polk State College for many years," said Jerry Miller, manager of government and community relations. "We were so excited to find a fit that pairs our focus on STEM initiatives with filling the gap for teachers. This lab not only educates existing students, but also prepares them to continue using what they have learned to educate the next generation. I could not be more proud to share in this initiative."
The Duke Energy Foundation powers vibrant communities by focusing on projects that support Duke Energy's core initiatives in kindergarten-to-career education, the environment, and community impact. The kindergarten-to-career initiative focuses on effective education programs that focus on STEM skills, childhood reading proficiency, workforce development, and projects that foster a growing interest in the STEM fields. In this regard Polk State's Education programs are a perfect fit. Funding for the lab will provide students with hands-on STEM experiences using technologies and tools that broaden their ability as they prepare for a career in teaching. The lab provides tools that enable future educators to creatively present a variety of STEM subjects including biology, mathematics, physics, geometry and more. These tools enhance learning capability by bringing these subjects to life for children in the classroom.
"I love using these tools because they refresh my own knowledge of the subjects," said student Sarah Marden. "You can use the manipulative tools to create lesson plans that are more exciting and visual, and help students understand these difficult concepts."
"I like how the lab allows us to understand how a student feels when working with these different educational options," said student Crysta Guillette. "It gives me the opportunity to learn new ways to teach content that is both relevant and fun."
With a 75-inch SMART Board®, robots, LEGO®, Styrofoam cups, and a human-body floor-map, the lab provides access to a broad array of innovative tools and approaches that teachers can integrate into the classroom. The lab is just one example of Polk State's commitment to building programs that address local community needs.
Indeed, the new education baccalaureate degrees that launched in the fall of 2016 were a direct result of the College working with Polk County Public Schools and Lake Wales Charter Schools, Inc. (the two largest employers of elementary education teachers) on education pathways. This communication revealed a critical need for K-6 teachers.
The Polk State Bachelor of Science in Elementary Education degree program prepares students for state certification. The STEM-related focus of the program means that students complete coursework designed to prepare them to teach STEM subjects (i.e., those related to science, technology, engineering and math) and integrate material from these subjects within their instruction.
The Bachelor of Science in Early Childhood Education degree program prepares students to earn the required state certifications to teach children between age three and the third grade. Like the BS in Elementary Education, the BS in Early Childhood Education addresses local workforce needs. Surveys of Polk County employers found that job openings for highly trained early childhood educators in Polk County also exceed prior Florida Department of Education projections. The need for the degree is critical with the institution of a new federal requirement that at least 50 percent of Head Start teachers have a baccalaureate or advanced degree in Early Childhood Education.
The District Board of Trustees, Polk State College Foundation Board, College employees, and the many students who will ultimately benefit from learning in the STEM Lab provided through this generous donation, are grateful to Duke Energy Foundation for their tremendous support of education at Polk State College.