Dreams Realized and Memories Made: Polk State Students Study Abroad in Ireland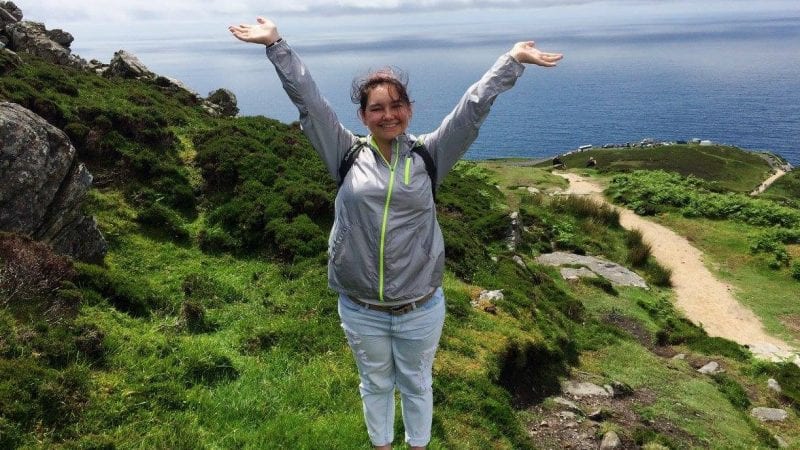 In June, a group of Polk State students visited Ireland to study English and photography. The group sent this dispatch describing their adventures in Dublin, Sligo, Ballyshannon, Derry, and Bundoran. 
"I fell in love with Ireland," said Polk State student Shannon Caswell.  "I really enjoyed learning about Irish culture and history, and meeting new people whom I'll never forget."
On June 5, Caswell joined fellow students Michelle Eady, Susan Fallows (along with her husband, Rob Raff), Rebeka Hall, Michele McClendon, Christopher Miller, and Bailey Sheetz, who traveled to northwest Ireland as part of Art Professor David Woods' photography course and English Professor CR Junkins' basic composition course.
During their travels, the students not only explored Ireland, they also made new American friends.  Students and faculty from Fox Valley Technical College in Appleton, Wis., and Pitt Community College in Winterville, N.C., joined the Institute of Study Abroad Ireland's hosts, Niamh Hamill and John O'Connell, for the Irish adventure.
"I felt that the group got along very well," said McClendon.  "I don't think anyone felt self-conscious, and therefore we felt free to ask pertinent questions without risk."
Students and faculty explored such sights as the Hill of Tara, seat of the ancient high kings of Ireland, Donegal Castle, Fanad Lighthouse, the cliffs of Sliabh Liag, and the ruins of Donegal Abbey.  Local historian Seamus O Huitachain led a guided tour of Cavan Burren, a Neolithic site, pointing out ancient rock carvings and portal tombs.
While in Letterkenny, students had the opportunity to explore an Irish college campus.  Site Manager Patrick Donaghey introduced the group to the Letterkenny Institute of Technology's CoLab, an entrepreneurial incubator that allows innovators to take their ideas and create industries for the Donegal area.  Students met Ian Harkin, one of the designers of Lottie Dolls, a series of dolls designed to inspire young girls.
More importantly, the group met local leaders, artists and innovators.  Mary Daly, town clerk at the Ballyshannon Town Council, introduced group members to the artists currently working in the Donegal Craft Village.  Rosalind Young, investment manager for Derry,  met with the group to discuss the economic development of Derry and Strabane District, especially the growth possible because of the Good Friday Agreement, signed on April 10, 1998, which led to the end of The Troubles, a period of conflict and violence in the region that began in the late 1960s.
Also in Derry, students were given a personal tour of the Peace Murals, painted on housing units in the Bogside district, also known as The People's Gallery. The students' guide, Kevin Hasson, member of the Bogside Artists and one of the muralists responsible for The People's Gallery, not only discussed each mural's history, but he also explained what it was like growing up during The Troubles.
"The trip to Derry was the most valuable experience I had during the trip," said Hall.  "Hearing the stories that happened in Derry from someone who lived through it made me think about that after everything that he (Hasson) went through, he and his friends painted murals for the people.  These murals spoke volumes to me, and that is the most valuable experience that I will never forget."
Hall wasn't the only one moved by the murals.  Sheetz saw the same murals on her first Polk State study abroad trip to Ireland in 2014.  On this return trip, she brought her personal copy of Kevin Hasson's mural, the dove- and oak leaf-inspired "Peace Mural,"  which she has tattooed on her forearm. On seeing the tattoo, Hasson said, "I am truly, truly honored."
Each morning, Hamill provided lectures on Irish history and culture to prepare students for the experiences they would encounter during the day
"I liked the lectures before going to each location," Eady said.  "I got a better understanding of the location, and I had more appreciation of where we were visiting."
From surfing off the coast of Bundoran, to rope and trapeze training, to celebrating in a Dublin pub the Irish soccer team taking on Sweden in the UEFA Euro 2016 tournament, Polk State students experienced excitement as well as scenery.
"I have learned to trust myself and be more confident," said Sheetz after returning home. "I now know that my dreams and bucket list are achievable. I also know what it means to be joyous."
Polk State College's international initiatives include a growing selection of study abroad and internship opportunities.