Dallas Brass to Polk State Music Students: Follow Your Passions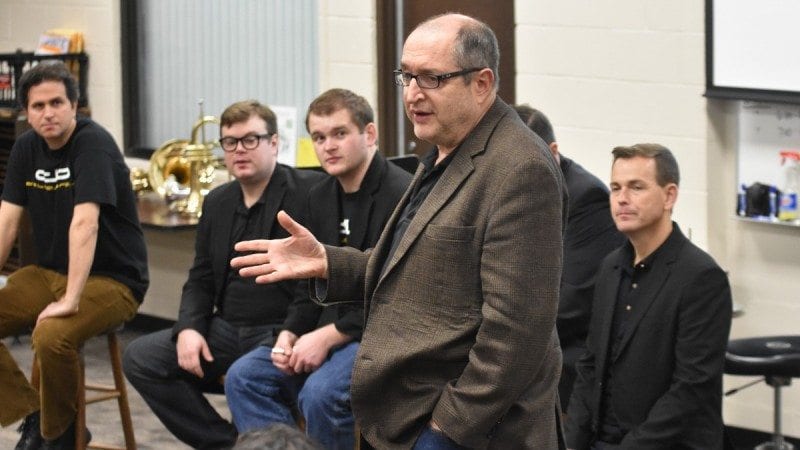 Dallas Brass, a professional musical ensemble that teaches and performs throughout the country, spent Tuesday morning encouraging Polk State Music students to pursue their passions, even as those around them may be telling them otherwise.
"It makes me feel like I'm not going to fail," said Andriana Chavez, who is planning to become a music teacher.
"What I do does have an impact on people. It matters."
Founded in 1983, Dallas Brass has performed at the nation's most prestigious venues, including Carnegie Hall and the John F. Kennedy Center for the Performing Arts in Washington, D.C., as well as throughout Europe and for two U.S. presidents. When Dallas Brass isn't on stage, its members are usually found in the classroom, helping young musicians to hone their talents.
For the past two days, Dallas Brass has been based at Polk State, where its members have given masterclasses and workshops to area music students. Their visit culminated with a concert Tuesday evening.
During Tuesday's masterclass with Polk State Music students, members of Dallas Brass shared their personal stories of how they decided to pursue careers in music, as well as practical tips for those in the room aspiring to do the same.
Tuba player Paul Carlson explained that he studied engineering before ultimately deciding to focus on what he had loved since childhood — music.
"If you start working in your 20s, your career will 40 to 50 years long," he said. "We better like our jobs."
When he made the switch from engineering to music, he had his detractors, those who warned him how hard it would be to make a living in the arts.
"But, I thought, 'Can I like it? Can I get out of bed every day and say, 'This is OK?'" Carlson said. "There is no perfect paradise, but we need to have jobs that we're cool doing."
Dallas Brass founder Michael Levine advised the students not to think of music as an "all or nothing" proposition. In sports, there are professional athletes, but also those who play only as a hobby. Polk State Music students should feel free to carve out the place in music that suits them.
"There are so many ways to incorporate music into your life," he said.
For those who do plan on making money in music, members of Dallas Brass said versatility is key. Each of the members is involved in other aspects of music, from teaching at the college and high school levels to giving private lessons to repairing instruments.
Horn player Juan Berrios suggested that students seek the feedback of professional musicians before they attempt to get paying gigs themselves.
"Find people who are working. Pay them for a lesson and have them assess where you are as a musician and where you need to be," he said.
Levine also shared with the students his latest project, Harmony Bridge, which connects music students with the elderly.
Polk State Music student Jade Perry was inspired by the mention of Harmony Bridge. She plans to become a music therapist and currently works with the elderly.
"There have been times when I thought I can't have a career in music, but today reminded me I can," she said.
In addition to Music, Polk State's arts programs include Theatre and Visual Arts, all of which enjoy outstanding statewide reputations.