Congressman Soto recognizes Polk State President Falconetti nationally for Women's History Month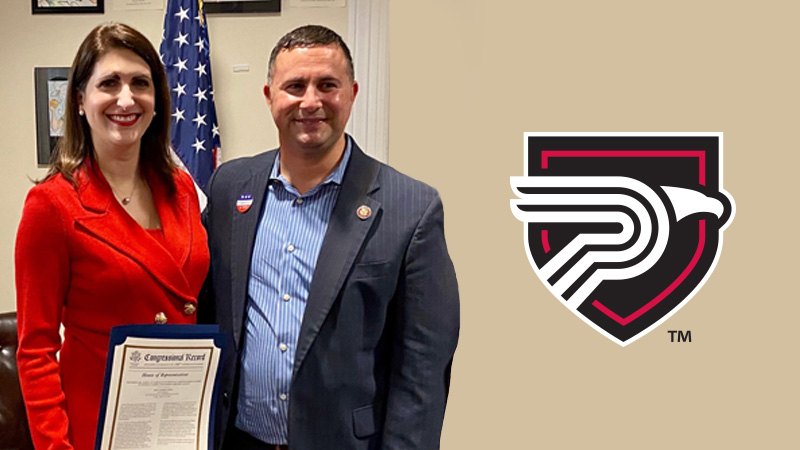 Congressman Darren Soto recognized Polk State College President Angela Garcia Falconetti on the U.S. House of Representatives floor and during a reception at his Kissimmee district office in honor of Women's History Month.
Falconetti's accomplishments and service to the community were celebrated alongside 9 honorees, including leaders in business, multicultural affairs, and social services.
"I am incredibly grateful to Congressman Soto for recognizing me and, more importantly, Polk State College," Falconetti said. "This recent recognition among several successful women who are dedicated to Central Florida is truly humbling."
In addition to Friday's reception, Congressman Soto read Falconetti's biography into congressional record Feb. 28 on the U.S. House of Representatives floor. Her biography will be entered into the U.S. Library of Congress.
"As we celebrate Women's History Month, we honor the extraordinary accomplishments made by trailblazing women, like Dr. Angela Garcia Falconetti," Congressman Soto said. "Future generations of Floridians will look up to her and be inspired to also achieve great things for our state, and for our nation. We thank Dr. Falconetti for her many contributions to our Central Florida community."
Falconetti was named Polk State's fifth president in May 2017 and has dedicated her career to opening doors of opportunity for students. A native Floridian and the daughter of Cuban exiles who completed their degrees at Florida colleges, Falconetti has a personal commitment to the Florida College System and to ensuring all students have the chance to receive a quality education.
Her two decades of service in three states include extensive experience in all aspects of higher education administration. At the national level, she served as Special Assistant to the first Deputy Assistant Secretary for Community Colleges in Washington, D.C. Prior to being named President of Polk State, she served as Vice President of Institutional Advancement at Virginia Western Community College and as Executive Director of the Foundation.
Falconetti continues to serve as an active leader in national, statewide, and local organizations, including the American Association of Community College's Commission on Institutional Infrastructure and Transformation, the Florida College System Council of Presidents' Steering Committee, the Florida Association of Colleges and Universities, and the Florida Chamber Foundation Board.
"This recent recognition serves as a shining example for our students as well as for my daughter about the importance of hard work, perseverance, and service," Falconetti said. "I dedicate this recognition to Polk County, Polk State College, the District Board of Trustees, and most importantly, our faculty, staff, and students."