Community Honors Holden With Key To City Of Lakeland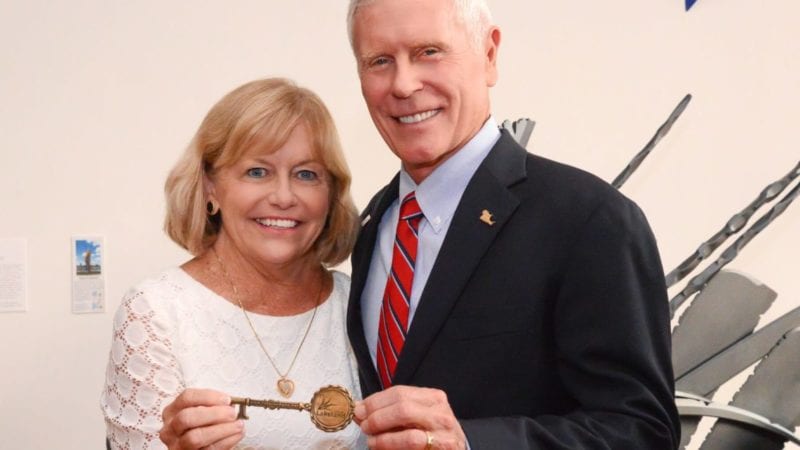 After a day of art and education, community members came together for a special reception honoring Polk State College President Emerita Eileen Holden with kind words from fellow leaders and a key to the City of Lakeland.
The reception concluded Polk State College Day at Polk Museum of Art at Florida Southern College, which celebrated the institutions' partnership to bring the Rembrandt's Academy exhibition to Lakeland from the Netherlands – a relationship Holden was responsible for co-developing with Florida Southern College President Anne Kerr.
Seventy students from both colleges participated in Polk State College Day at the Museum on Tuesday, Sept. 19, with several Rembrandt's Academy presentations, discussions, and a painting demonstration by Polk State and Florida Southern professors.
Kerr welcomed guests to the reception "post Hurricane Irma and post Hurricane Eileen Holden."
"Dr. Holden's impact on higher education is felt throughout the state of Florida," she said.
Polk State College President Angela Garcia Falconetti added, "There may have been a Hurricane Holden, but there is no need for recovery."
Citing her experience working with the deputy assistant secretary for community colleges in Washington, D.C., Falconetti said she can attest that Holden is not only a state leader, but also a national leader in higher education.
Falconetti added that it is Holden's leadership that led her to seek the position as president only at Polk State College.
"I put all my eggs in the Eagle basket because of Dr. Holden," Falconetti said.
Holden accepted a key to the city from Lakeland Mayor Howard Wiggs for her contributions to higher education and bringing arts education to the community.
"She is a former Polk Museum of Art Trustee, and Polk State College and the Museum have enjoyed a strong relationship for many years," said Museum Executive Director Claire Orologas.
"This partnership not only makes sense – it strengthens art education for all college students and the community," Orologas said.
For Holden, the partnership was a no brainer.
"When Dr. Anne Kerr called me about Rembrandt's Academy, she said, 'I have an idea.' I said I was in because her ideas are always great," Holden said.
"Art teaches creativity, critical thinking, and problem solving, and is the catalyst for learning," she added. "Thank you for this partnership."