Commencement Countdown: They Traveled Thousands of Miles to Be One Step Closer to Their Dreams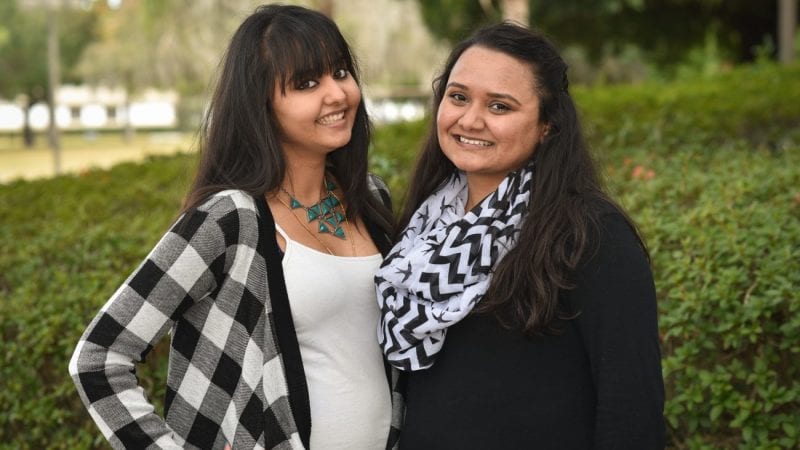 Polk County might seem like a strange place to find natives of Tanzania and India. However, on December 14, two young women will cross the stage at The Lakeland Center, miles from where they were born, and will be one step closer to their dreams.
Priya and Zarna Barot, sisters by marriage, will graduate from Polk State College with baccalaureate degrees in Supervision and Management and plan to pursue careers in healthcare. And while they will walk across the stage together, their paths to get to this point have been very different.
Priya immigrated to Polk County in 2009 with her parents and younger sister. She completed high school in her native Tanzania, and her family made the move to ensure better educational and economic opportunities. Priya enrolled at Polk State in 2010 but soon transferred to Rasmussen College in Tampa to pursue a degree in computer science. She graduated with an Associate in Arts degree from Rasmussen in 2014.
After graduation, Priya worked for a food service business, opening delis in cities throughout the Southeast. The work, while lucrative, took her away from her family. When she had the opportunity to open the Tampa store and stay on as store manager, she took it. Unfortunately, the store failed and in August 2015, Priya found herself out of work.
Priya looked for work unsuccessfully for three months and realized that she needed to complete her baccalaureate degree to be competitive in the workforce. She was already paying student loans so she needed a program that was affordable. She turned to Polk State after hearing friends talk about the affordability and convenience of the programs.
"While many colleges offer online courses, most still require students to attend face-to-face sessions on campus," she said. "At Polk, I have only had a few courses on campus and the rest were online – making it much more convenient for my situation."
Convenience was critical because shortly after starting the bachelor's degree program in January 2016, Priya found full-time employment as a staffing specialist with a healthcare agency in Tampa. Her work, to match patients with development disabilities with healthcare providers, gave her a new goal.
"I want to use my education to continue helping people with different kinds of disabilities. Maybe open my own business to do this kind of work," she said. And with her bachelor's degree from Polk State, this goal is within reach.
Zarna Barot came to the United States from India in 2008. She had always wanted to study abroad, and followed her older brother to Polk County. He had graduated from the College of Central Florida and had moved to Lakeland to work. Zarna enrolled in Polk State College and earned an Associate of Arts degree in 2013. She thought she wanted to pursue work as a nurse and began the process of initiating the prerequisites for Polk State's Bachelor of Science in Nursing. She soon found that nursing wasn't her passion, but she still had a keen interest in healthcare. She decided to pursue the Bachelor's in Science in Supervision and Management at Polk State and focus on the specialization in healthcare administration.
When asked about what was most significant for her about the program, Zarna talked about a speech class that she took as an elective. Under the guidance of Professor Christina Gesmundo, Zarna said, "speaking in front of others has always been a challenge, but now I don't get as nervous." Her confidence in speaking will serve her well in her chosen profession.  Zarna is looking for work in a hospital or clinic in the Tampa Bay area.
Priya and Zarna both intend to pursue master's degrees, but first they would like to get started on their new careers – careers made possible due to the opportunities they pursued at Polk State.
Polk State College, an open-access institution, was established in 1964, and serves more than 24,000 students annually. Its offerings include the Associate in Arts, which is parallel and fully transferable to the State University System, and the Associate in Science, which is designed to lead directly to the workforce, a growing number of baccalaureate degrees tied to local employer demand, and a variety of continuing education and certificate programs. For more information, visit polk.edu.