Commencement Countdown: Against All Odds, Hannah Williams Will Achieve Her Dream of Becoming a Respiratory Therapist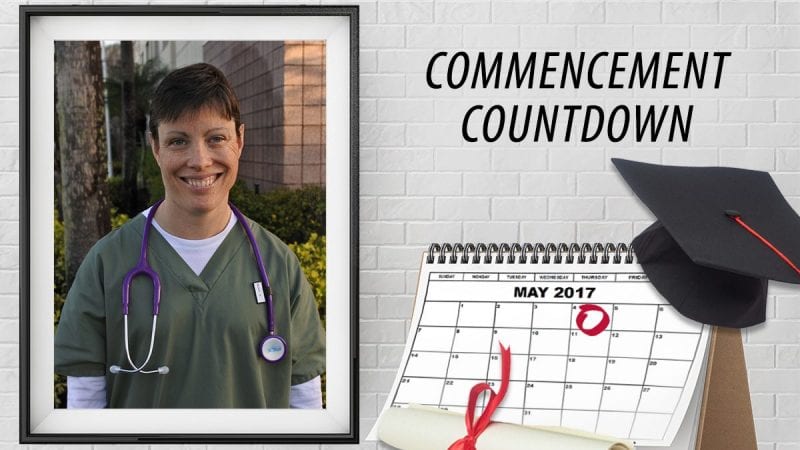 For Hannah Williams, this year's commencement ceremony isn't just about achieving her degree–it is an opportunity to do something she never thought she would be able to do: walk across the stage to receive it.
Only a few years ago, Williams was lying in a hospice bed for the third time with her family and friends, waiting for the ultimate end. Diagnosed in 2006 with spinocerebellar ataxia (SCA), Williams faced a terminal illness despite her youth.
"When I was diagnosed, the disease was terminal," she said. "I was given a short window to live and was told I would lose my ability to walk, write, and even eat. It was a devastating diagnosis."
Spinocerebellar ataxia (SCA), is a progressive, degenerative, genetic disease that leads to muscle atrophy and weakness. There is no known cure. An estimated 150,000 people in the United States currently share this diagnosis.
Facing such challenging news, Williams was not deterred.
"I knew that I still needed to live my life," she said. "I had goals and dreams and I didn't want to give those up, regardless of the pain."
One of those life-long goals was to become a respiratory therapist; however, with the diagnosis and the considerable challenge of dedicating herself to such a rigorous program, Williams opted to earn an Associate in Arts degree with classwork in health sciences. In 2009, already in a wheelchair and working through consistent pain and weakness, Williams graduated from Polk State with her AA degree. While this was a monumental task, the dream of working in respiratory therapy still lingered.
Soon after graduation, her health continued to deteriorate to the point where she was admitted to hospice on three occasions.
"I was in hospice care three different times," she said. "Each time, the prognosis was the same: 'She won't make it.' In 2012, my family was told I had only hours left. But something was keeping me here and I pulled through each time."
Surviving another visit to hospice in March 2013, that May she finally encountered the "thing" that would propel her spirit and give her another reason to live.
"I met my husband, Roger, through a friend," she said. "He had recently lost his wife when we became friends. He gave me the will and spirit to live. Love saved me."
"I had just lost my wife, when I met Hannah," Roger Williams said. "Her spirit and zest for life, even in the direst of circumstances, was amazing to me. Since I had just helped my wife through her terminal illness, I thought perhaps I could shine a light for Hannah and be a friend to her. I knew what death felt like, and I did not want her to be alone."
Roger spent over a year visiting Hannah in the hospital, reading to her, sharing stories with her, and growing to love her. It was this budding friendship that blossomed into a loving and abiding relationship that inspired Hannah to fight for the chance at life.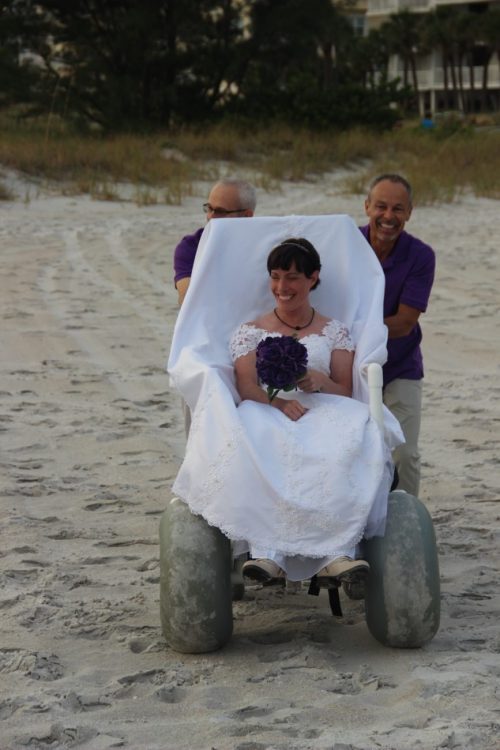 In November 2013, Hannah and Roger said "I Do" in a beautiful beach-side wedding, with Hannah attending in a specially designed wheelchair.
With a renewed vigor and outlook on life, Hannah began the arduous journey to health and wellness. With no knowledge of how long she might live, she invested in long-term therapy and spiritual rejuvenation. Her faith and new love gave her an iron will, and she took every opportunity to grow. She even began walking again in May 2014.
And it was Roger who became her inspiration to return to school as well.
"Roger knew of my deep desire to become a respiratory therapist," she said. "He encouraged me to learn more about the program and determine if I could do it. By this time, I was beginning to feel better and I wanted to achieve some new goals."
Williams quickly called Polk State and inquired about the Respiratory Therapy Program. With only a day left to apply, she quickly filed her paperwork and was admitted to the program. In August of 2015, she began her first class.
"Since my early childhood days, I have spent a lot of time in hospital settings, " Hannah explains. "I have seen how the therapists work so diligently to provide comfort to patients who desperately need it. It is an amazing privilege to help another human being. I have been helped in my life, and now I want to give back just a little of what has been given to me through my own journey."
On May 4, Williams will graduate with her fellow classmates and with her entire family watching. She will physically walk across the stage to receive her degree. Currently, she is interviewing and looking for a place to start her career–she is optimistic it will be the perfect place to positively impact others.
While her condition could rear its head again, so far, she has miraculously come through. Her doctors are amazed by her recovery and feel certain she will continue to thrive.
"I shouldn't be walking across the stage," she says. "Frankly, I shouldn't be alive. But for some reason, I am meant to be here, and I will live every day grateful for the chance to share my story and help others. For all those individuals who are wondering if they can do it too, I say: 'YES, you can! Have faith, and if you get a chance, pay it forward. Live for every single moment!"