Commencement Countdown: Guadalupe Bautista, New Mom Never Gave Up on Her College Dreams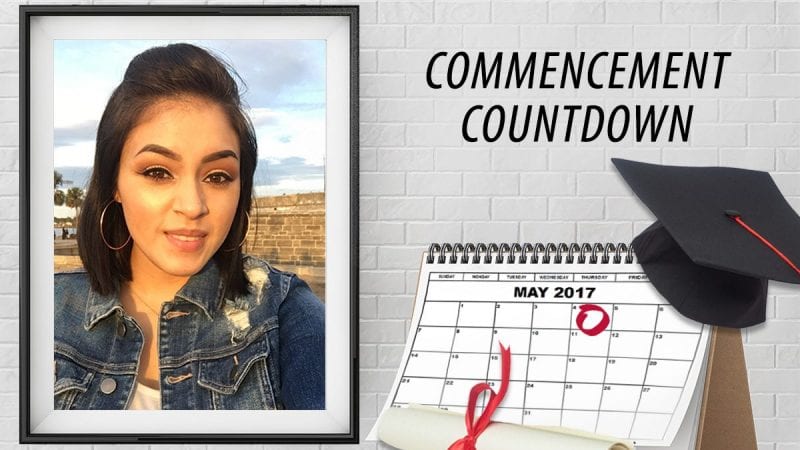 Polk State College will celebrate its 116th commencement ceremony May 4 at 6:30 p.m. at The Lakeland Center. As graduation nears, News@Polk will profile graduates to learn more about the paths they took to the commencement stage, their dreams for the future, and how Polk State has changed them and their lives. To suggest graduates who should be included in these ongoing profiles, please email news@polk.edu
Guadalupe Bautista- Bachelor of Applied Science
Even as a young single parent and new mother, Guadalupe Bautista never gave up on her dream to go to college.
Graduating from high school seven months pregnant and uncertain of her future, Bautista made the choice to attend Polk State College. On August 19, 2010 she gave birth to her first child, a daughter. Just four days later, on August 23, she attended her first class.
"I had a choice to make in August 2010," she said. "Either I would stay at home with my child and go to work full time without a college education, or I would journey ahead and start classes at Polk. I knew that I wanted to give my daughter a fuller, more enriched life. I wanted to get my college degree, and I would have to work as hard as I could to achieve it."
Balancing a full-time job as well as single-motherhood, Bautista would drive from her home in Frostproof to attend classes in Lakeland and Winter Haven. When classes opened at the Polk State JD Alexander Center (JDA) in Lake Wales, she transferred her schedule to this location, making it easier for her to work towards her degree. It took her five years while attending as a part-time student, but in 2015, she graduated with her Polk State Associate in Arts degree. A day before graduation, she also learned she was expecting her second child. Nevertheless, Bautista knew she needed to continue towards her bachelor's degree; she re-enrolled and began coursework toward a degree in Business.
For the past two years, Bautista has taken online classes and traveled between Lakeland, Winter Haven, and Lake Wales to achieve her goal, all while balancing a full-time administrative job with Dole and her role as a mother. She will be the first in her family to graduate from both high school and college.
"It was never easy," she says. "But, I remember traveling with my family to pick blueberries in Georgia, and my mother would say to me 'Lupe, if you don't want to pick fruit forever, you need to get your education.' She was right."
While Bautista currently works as an office manager with Warner University, her bachelor's degree is just one more step in her ultimate goal–to earn her teaching certificate so she can teach History.
"My parents always encouraged me to get my education," she says. "I had moments where I felt like I would never finish, and where I just wanted to give up. But, now, seven years later, I know it was all worth it. I am so proud to achieve this accomplishment, and I look forward to sharing it with my family."