College Mourns Loss of David "Doc" Dougherty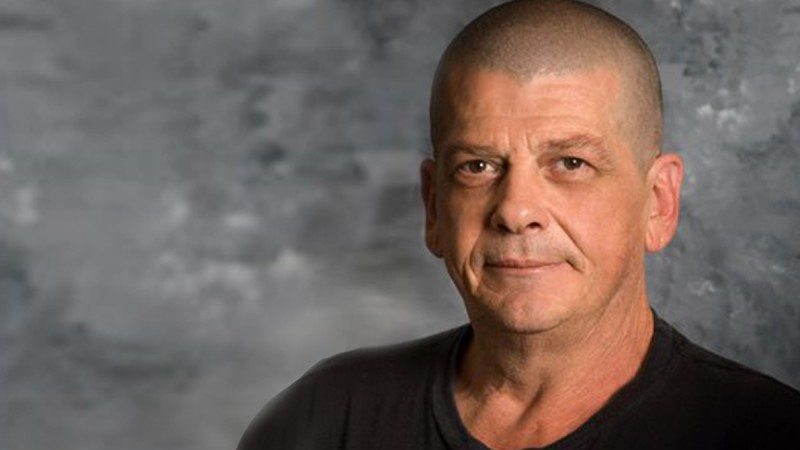 Following his death while working at Polk State Lakeland, friends, family members and co-workers of David "Doc" Dougherty say they will never forget his infectious smile and quick wit.
Dougherty, a maintenance mechanic who had worked at the College since 2008, died Friday evening while repairing lighting in the Polk State Lakeland Student Center. He was 59.
Dougherty was born and raised in Beaufort, S.C. but had lived in Polk County since the late 1970s.
A veteran of the Army, he had worked in maintenance for the former Cypress Gardens theme park and in management for a local building products company prior to coming to the College.
What defined Dougherty was his ability to bring levity to any situation, said fellow maintenance mechanic Bill Eberts.
"I remember we were working one weekend, changing out a motor on an air handler. There was a storm coming through, and we lost power, so we couldn't start the motor up," Eberts said, recalling a favorite example of Dougherty's sense of humor.
"We walk to the elevator, and we're talking and talking, and pressing the button, and talking. We're standing there 15 to 20 minutes before we realize that the elevator isn't coming because there's no power. It was hilarious, an electrician and a mechanic just keep standing there. He turned to me, and said, 'Don't tell anybody about this, Bill.' He could always bring laughter to anything."
Dougherty's humor was just as effective when it was unspoken, said Polk State Lakeland Project Engineer for Planning and Construction Travis Altman.
"Even just his facial expressions were hilarious to me," Altman said. "He was just an extremely friendly guy and always quick with a smile. He would help you do anything you needed, no questions asked, just really personable."
Altman added that just before his death, Dougherty had talked about enrolling at Polk State as a student to earn his first college degree.
"He said he didn't know if he would ever use it but that he wanted to get that education. He said he'd be more focused on school than he was when he was younger," Altman said.
Dougherty's sense of humor was matched by his work ethic, said his supervisor, facilities plant manager John Sheffield.
"He took pride in doing a really good job," Sheffield said. "He'd been a hard worker all his life."
Sheffield said that Dougherty took on the task of clearing 20 acres of overgrown orange grove north of the campus. The area became commonly known among the maintenance staff as "Dougherty Park."
"He was clearing the property, beating it back a little bit at a time, clearing out limbs and debris and old trees," Sheffield said. "It made all the difference in the world. It didn't look like a ragged field full of dead trees. It's a lot safer now."
Sheffield added: "He will be sorely missed, and he was a good friend."
Sheffield's memories of Dougherty are similar to those of District Director of Facilities George Urbano.
"He was a great worker, always friendly, and always wanted to make sure things got done properly," Urbano said. "He had a good sense of humor but always jumped right in to the work."
The loss his co-workers feel is appreciated by his family: the void they feel is enormous.
He had been married to his wife, Mary, for 32 years, and had two children, seven grandchildren and one great-grandchild on the way.
When she first met Dougherty, Mary said, she didn't like him at all — but within days, that changed completely.
"We didn't really like each other at first, because we both wanted to be the center of attention," she said, recalling their first date, a setup by their best friends. "But two days later, I invited him over for a spaghetti dinner, and he never left."
The two married after just seven months of dating, and even more than three decades later were still in love, Mary said.
"He was so cute, so likeable, had such a sense of humor and was just bubbling with life," she said.
Mary said Dougherty loved to give and receive greeting cards and would even make his own cards for her to find around the house. He always included the letters "JAS" — which stood for "just another sign that I love you," she said.
"Our whole last week together, he'd been really happy," she said. "He was so glad it was Friday and time for the weekend."
No services are planned for Dougherty. Mary said it would be fitting for those who knew Dougherty to share their memories via cards mailed to 136 Croton Road, Winter Haven, FL, 33880. Mary said Dougherty would have preferred humorous cards to anything sentimental.
Those wishing to share a memory or sentiment may also do so at the Polk State Facebook page.
Polk State provides counseling services to students, faculty and staff in need. The College's Employee Assistance Plan provider will have a grief support representative available today from 11 a.m. to 3 p.m. in LTB 1295 at Polk State Lakeland, and Wednesday from 11 a.m. to 3 p.m. in WAD 215 at Polk State Winter Haven. No appointment is needed to speak with the EAP representative.