Coach Matt Furjanic Inducted into Florida College System Activities Association (FCSAA) Hall of Fame.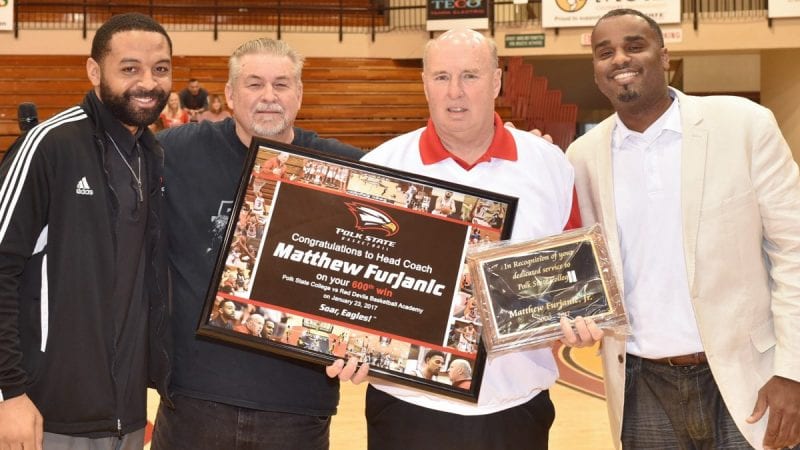 As the epitome of teamwork, loyalty, and Polk State pride, it comes as no surprise that Coach Matt Furjanic would be inducted into the Florida College System Activities Association (FCSAA) Hall of Fame.
Furjanic, in his 17th year as head coach of the Polk State basketball program, has amassed an overall record of 309-192, which includes six Suncoast Conference titles (2013, 2011, 2009, 2008, 2004, and 2003), three Suncoast Conference tournament titles, and six Suncoast Conference Coach of the Year awards.
"Anytime someone receives an award it is a very satisfying feeling," Furjanic said. "However you also realize that you didn't do it alone." He continued, "Basketball is a team sport.  Our success would not have been achieved without the hard work and dedication that my assistant coaches and players have given over the years. It is never about what you accomplished personally but what you have accomplished as a team."
Sixty players have gone on to earn scholarships at four-year institutions during Furjanic's tenure. Polk State is one of only two teams in Florida to qualify for the National Junior College Athletic Association (NJCAA) Region 8 tournament in seven of the past nine years. For Furjanic, this has been one of his greatest accomplishments.
"As a coach, my greatest pride has been the diligence in assisting players to achieve scholarships to four year schools," he said. "These players received the opportunity to pursue their bachelor's degrees while playing a sport they love."
Members of the Hall of Fame have made outstanding contributions as coaches, players, officials, administrators or contributors. Coaches must have been actively involved in coaching at an FCSAA-member college for a minimum of five years or won an NJCAA Championship. Additionally, the FCSAA Hall of Fame recognizes individuals who have made a significant contribution in all co-curricular activities, including athletics.
"During Coach Furjanic's tenure at Polk State College, he has experienced much success with conference titles and State Tournament appearances," said Bing Tyus, athletic director. "But, what has impressed me the most is how he cares for the student athletes who play for him. He has had a positive impact on the life of every student who has come through his basketball program."
Furjanic is one of four inductees who will be recognized during the men's semifinal round at the FCSAA Tournament on Friday, March 10 at the College of Central Florida in Ocala.