Club Rush Begins Monday; Membership Makes the College Experience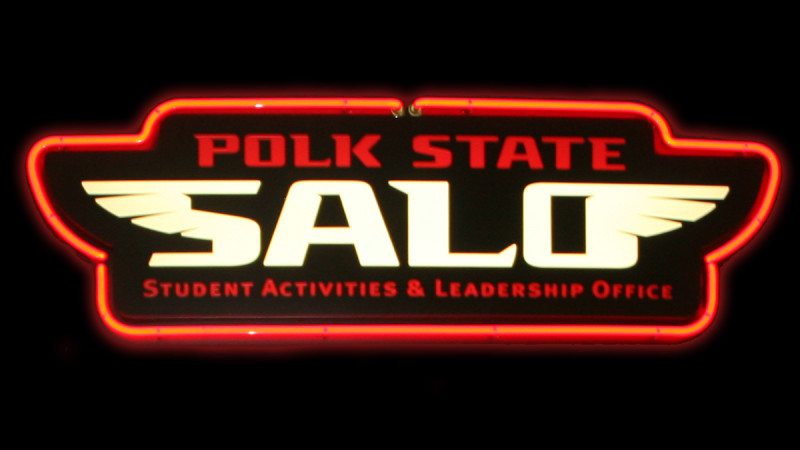 Polk State's annual Club Rush kicks off on Monday, when students will have the chance to learn about — and join — dozens of clubs and organizations.
College officials have a bit of advice for anyone within earshot: Join whatever clubs or organizations pique your interest, because doing so will totally change your college experience.
"Joining a club makes a night and day difference," said Cate Igo, adviser of SLAM!, Students Living a Message, and an academic success counselor on the Winter Haven campus.
In her work as a counselor, Igo has daily interaction with students who are involved on campus and those she describes as "PCPs" — parking lot-classroom-parking lot students. The difference between the two types of students is striking.
"The students who are involved have an educational home. They really own the campus as a place where they belong and they instantly have a college family, a peer group, something that helps them belong. Students who don't take part in clubs are really missing out on about 90 percent of what the College has to offer."
College-wide, there are nearly 50 student organizations that target a wide variety of interests, from Film Club to the Veterans Student Organization, from the Salsa Club to the Black Student Union.
Each of these clubs, regardless of their mission, presents opportunities for students to grow as people — in ways that are not always possible in a classroom setting, said Reggie Webb, dean of student services at Polk State Lakeland.
"In clubs, you experience the real you. You can be yourself, ask questions, be funny, be serious and all without being judged," he said.
And as far removed from academics as some of the clubs may seem, they all help students foster a deeper connection with the College — and that will ultimately translate to educational success, said Saul Reyes, dean of student services at Polk State Winter Haven.
Students who are involved on campus are more familiar with how the College works and the services it offers — be it scholarships through the Polk State Foundation or tutoring through the TLCC, Reyes said. Awareness of such services means students are more likely to use them to their advantage.
"Plus, they form connections with faculty and staff and they have an advocate on campus, someone they can go to for help or someone to help point them in the right direction," he said.
Another advantage of club membership: the opportunity to develop leadership skills that will come in handy in so many other areas of life — here at Polk State and long after students graduate, said Amanda Paige-Morris, coordinator of Student Activities and Leadership at Polk State Lakeland.
Club Rush will take place from 10 a.m. to 2 p.m. on Monday and Tuesday at the Polk State Lakeland Student Mall and 9:30 a.m. to 1:30 p.m. on Monday and Tuesday at the Polk State Winter Haven WST Lawn.
However, while Rush activities are centralized at the two campuses, students should note that they may join any group they wish, regardless of the campus or center they attend.
Club Rush is part of Welcome Week on both campuses. This year's Welcome Week has a "Superheroes" theme. Other events this year also include an obstacle course, power bungee jumping, and a superheroes costume contest at Polk State Lakeland, and rock climbing, bull riding and spray can art at Polk State Winter Haven. Free food and other items will also be given away daily.
For more information visit polk.edu/salo and click on the Facebook links.
Here's a look at the current student clubs and organizations at Polk State.
Polk State Lakeland
Airside Cardiovascular Club
Airside Radiography Club
Bachelor of Applied Science in Supervision and Management Council
Black Student Union
CauseLife
Creative Writing Club
Eaglez Eye/Student Newspaper
Film Club
Gay Straight Alliances
Golden Key International Honor Society
Honors Program Student Council
Interfaith Project
Intramural Sports Program
International Circle
Math Club
Florida Nursing Students Association
Phi Beta Lambda (Future Business Leaders of America)
Phi Theta Kappa (International Honor Society)
Philosophy Club
Salsa Club
Student Activities Board
Sonography Club
Student Government
Students Working for Equal Rights
Veterans Student Organization
Polk State Winter Haven
Bass Fishing Club
Black Student Union
Chorus/Music
Drama
Eagleteers
Eaglez Eye Online Newspaper
Film Club
Florida Nursing Students Association
Green Club
Honors Program Student Council
Math Club
Occupational Therapy Association
The Open Book Club
Phi Beta Lambda (Future Business Leaders of America)
Phi Theta Kappa (International Honor Society)
Physical Therapy Association
Rotaract
SLAM! (Students Living a Message)
Student Government
Traditional Gaming Club
Visual Arts Society of Polk State College
Wellness Club
Polk State SALO has offices in Lakeland and Winter Haven, offering students opportunities to join clubs and organizations, participate in activities and events, engage in community education, play in intramural sports and serve on college-wide committees.