Class Reunion: For 1967 Grad, Life Changed When He Went to Polk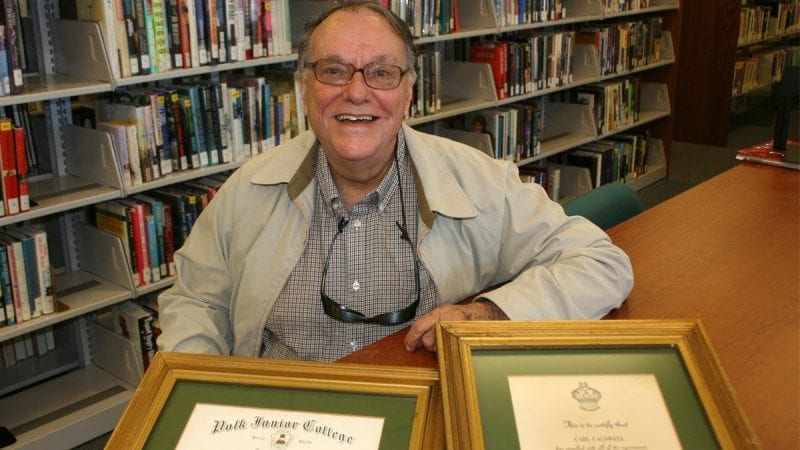 Fifty years ago, Carl Caldwell was working at a citrus packing plant in Dundee.
At the end of his shift, or before his feet touched the floor in the morning, or over dinner, he would stop to think about what his life would be 10 years down the line, or 20, or 30.
No matter how far out he looked, what he could see for himself was always the same. If he stayed at the citrus plant, he'd work long, hard days. Money would always be tight. Providing for a young family would be difficult.
But down the road in Bartow, the doors to what was then Polk Junior College had just opened, and Caldwell was sure if he went there, the course of his life would change.
Now, as Polk State marks its 50th anniversary, Caldwell, like tens of thousands of other alumni, is celebrating right along with it. Because his life did change when he went to Polk, and in more ways than he could have imagined.
"Oh, my life would have been dull," said Caldwell, now 80. "If I hadn't gotten my education, I wouldn't have traveled like I got to. I wouldn't have been able to make a life for my two adopted sons. Things would have been much different, that's for sure."
Caldwell grew up in Dundee. He was one of eight children. His parents both worked in the citrus industry, his dad in a nursery and his mom in a canning plant.
When he was just barely a teenager, Caldwell said, he went to work, unwrapping protective material from newly grafted citrus trees. He'd get out of school, go to the groves, and work until the sun went down.
When he graduated from Haines City High School in 1952, going to work was the only option.
"I always wanted to go to college and to better myself," he said. "But we didn't have many options here in Polk County, and not everyone could afford to go to Gainesville or Tallahassee."
He put in 10 years in citrus, working in the shipping and sales departments. He got married and began to think about a house and fatherhood and all that comes with domestic life.
By the time Caldwell was 32, Polk Junior College had opened at was once the Bartow Air Base, and suddenly public higher education was something to be had right here in Polk County.
"The opportunities for education hadn't presented themselves to me up until that point, but now I had a way," he said. "I decided to make a break. I had to do it now that Polk Junior was there."
Caldwell enrolled, returning to the classroom more than a decade after high school. He was a little nervous, a little worried, but deeply determined to get his degree.
It took some time to adjust to student life — especially considering Caldwell was a decade older than most of the others students.
Eventually, though, he settled into a rhythm. He cut back to part-time work. He earned high grades, high enough in fact to gain entry into the College's then-fledgling Xi Pi chapter of Phi Theta Kappa, the honor society of two-year schools.
In 1967, Caldwell graduated from Polk with his Associate in Arts degree and — just as he'd hoped — a new direction for his life. He went on to the University of South Florida to study Business Administration.
The education he began at Polk made way for a decades-long career accounting. Caldwell worked in the citrus industry — this time in an office, not in the grove — for a dealer of agricultural equipment, and for a company that made prefabricated building components. His career allowed him to travel the country, and better yet, provide for his then-wife and their two adopted sons.
"We were able to give a life to our boys," he said. "If I hadn't gone to school, I wouldn't have been able to do that for them."
Caldwell is now retired. He spends his mornings at the Dundee Public Library, reading the newspaper and visiting with members of the library staff who have become friends. He's taken an interest in genealogy and is often found at the Polk County History Center in Bartow, tracing his family roots.
He also spends a weekend a month at Polk State Winter Haven, attending meetings of the Polk State Archeology Club. It never fails to amaze him, when he strolls through campus after the meetings adjourn, just how much the college that gave him a chance change his life has changed itself.
"It has all these locations and it's grown so much," he said. "But it's still about giving students an opportunity, and giving them quality education."
Caldwell even thinks he may take a class or two at Polk some time soon. He'd like to try an art class, maybe something to do with technology.
"I'll be the oldest person in the class this time, too, but I've gotten over that," he said.
Polk State College opened its doors in 1964 to offer the students of Polk County accessible, affordable higher education. Since then, it has awarded nearly 40,000 degrees. Class Reunion is a recurring series to highlight the life-changing, generation-spanning difference Polk State has made in the lives of its graduates. Send your Class Reunion story suggestions to news@polk.edu.