Clark/Nikdel/Powell Gives $20,000 to Polk State Foundation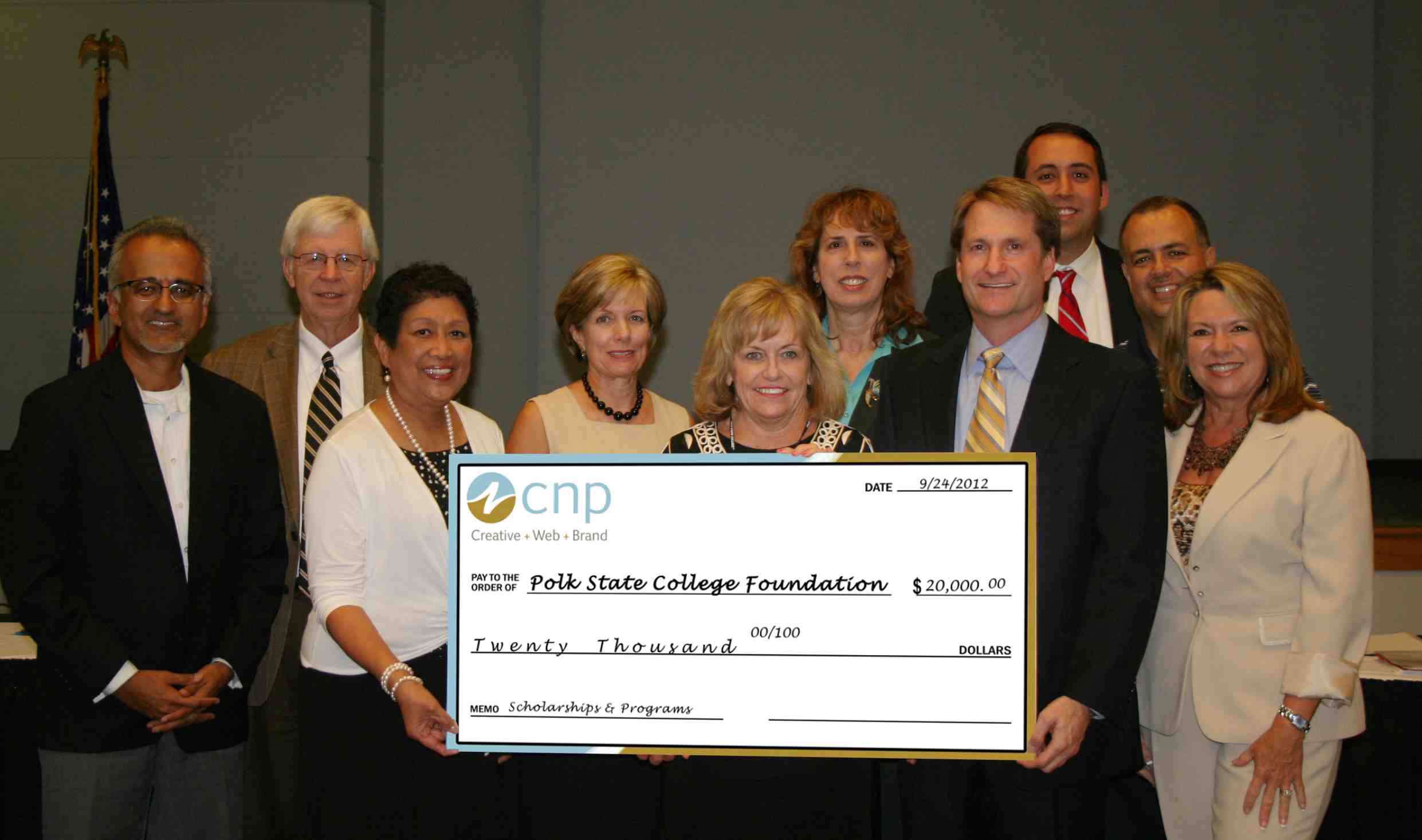 At a recent check presentation, the Polk State Foundation honored Polk County-based marketing firm Clark/Nikdel/Powell, Inc. (CNP) for its donation of $20,000 in cash and in-kind contributions.
"I've lived in a lot of places and I've really never seen such a great, community-integrated college," said CNP Principal and Creative Director Chris Nikdel during the presentation at Polk State's District Board of Trustees monthly meeting on Sept. 24.
Founded in 1991, CNP is an integrated marketing agency that offers advertising, design, public relations, brand development, Web and social media services. Among its staff of 16, three are Polk State graduates, three have taken classes at the College, and two participated in Polk State Kids at College, a summer enrichment program for children.
For the past five years, CNP has worked closely with the Foundation, creating materials for fundraising appeals and events, as well as the Foundation's website, foundation.polk.edu. (CNP also created the www.polk.edu website.)
According to the Foundation, more than $750,000 in support can be partly attributed to CNP's work.
Nikdel said CNP admires the work of the Foundation and the mission of the College to provide affordable, life-changing higher education to anyone who seeks it. In fact, that mission strikes a personal chord with Nikdel, who began her higher education at a community college before transferring to the University of Massachusetts; she also has a master's from the University of Florida.
In addition to her appreciation of the College's mission, Nikdel said the commitment to nonprofit organizations that Polk State President Eileen Holden demonstrates is also inspiring. Holden is currently campaign chair for the United Way, but her list of community involvements is long and varied.
"She's been a dynamo and we want to be a part of all that she and the College is doing," Nikdel said.
CNP's commitment to nonprofits is equally impressive. Among the numerous organizations it supports in addition to the Foundation are the Polk County Humane Society, Women's Resource Center, Guardian Ad Litem, and Imperial Symphony Orchestra.
"We thoroughly enjoy working with the Foundation and other members of the College staff. Soar Eagles!" Nikdel said in her closing remarks at the check presentation.
Foundation Executive Director Tracy Porter reiterated her appreciation of CNP following the check presentation.
"The Polk State College Foundation Board of Directors and team are grateful for the talent and generosity CNP provides for the benefit of Polk State students. Their work and support has been critical to our success and we are most grateful," she said.
The Polk State College Foundation Inc. is a tax-exempt corporation whose purpose is to provide Polk State College with resources for the advancement of the College, its students, faculty, staff and other constituencies in fulfillment of the College's mission.