Black History Month Exhibits to Feature Collection of African Masks, Cloths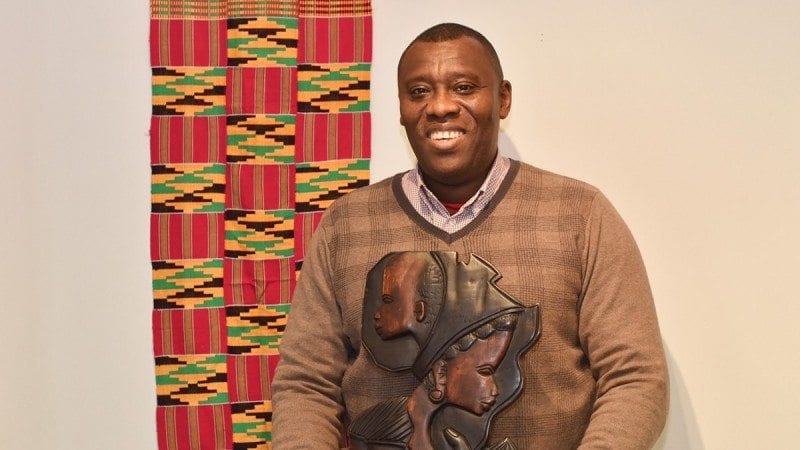 Growing up in Ghana, John Fynn took for granted the tribal carvings indigenous to his homeland. They were everywhere. In schools and markets, homes and the airport. Fynn saw these works of art, but for their ubiquity, hardly saw them at all.
Years later, after living in London and starting his life in the U.S., Fynn returned to Ghana, and could finally see the beauty and meaning behind the artwork he'd so long overlooked.
On that trip, when he was 18, Fynn purchased a tribal mask to take home with him to America. He's returned to Ghana every couple years since, amassing a collection of more than 200 masks that he will display in February as part of Polk State's annual Black History Month celebration.
"When I returned to Ghana, the artwork took on new meaning for me. I saw the first piece I bought be transformed from a stump of wood. There were six people who carved it together and they explained the meanings behind the mask for me," said Fynn, a TRiO academic advisor at Polk State Lakeland.
"I can't explain the feeling, but I realized that these are treasures. Each piece depicts something about the culture of Africa."
In addition to his wooden masks, Fynn will display several Kente cloths, the brightly colored, interwoven fabrics that are used as festive dress in Africa. One of Fynn's cloths belonged to his grandfather, who died in 1977.
The cloths, and all the pieces in the exhibition, represent for Fynn a connection to his heritage. He hopes they will serve the same purpose for others.
"For many African-Americans, I think these pieces will create a sense of connectivity, a link to a past that they may not understand, a sense of pride and joy in their roots," he said.
For others, Fynn said, the exhibition will, he hopes, spark their imaginations and interest in Africa.
Most of all, Fynn said, he hopes the exhibition will start conversations.
"For us to understand each other, we have to learn about our cultures," he said. "Learning about different people and where they come from, that is an education in itself."
Fynn's collection will be on display Feb. 1-18 at the Polk State Lakeland Art Gallery, 3425 Winter Lake Road. Hours are Monday-Thursday from 10 a.m. to 2 p.m. A reception will take place from 5 to 7 p.m. on Feb. 18.
Fynn's collection will also be on display at Polk State Lake Wales Arts Center, 1099 State Road 60. Hours are Monday-Friday, 8 a.m. to 5 p.m. A reception featuring a performance by the Tampa Spiritual Ensemble will take place from 5 to 7 p.m. on Feb. 11. This exhibit will also include pieces owned by Fynn's friend Joel Ilesammi, who owns Jibac Gallery in Tampa.
The exhibitions and receptions are free and open to the public.
For more information, visit polk.edu/the-arts, call 863.298.6883, or email LWAC@polk.edu.