Bartow High Students Visit Polk State's Airside Center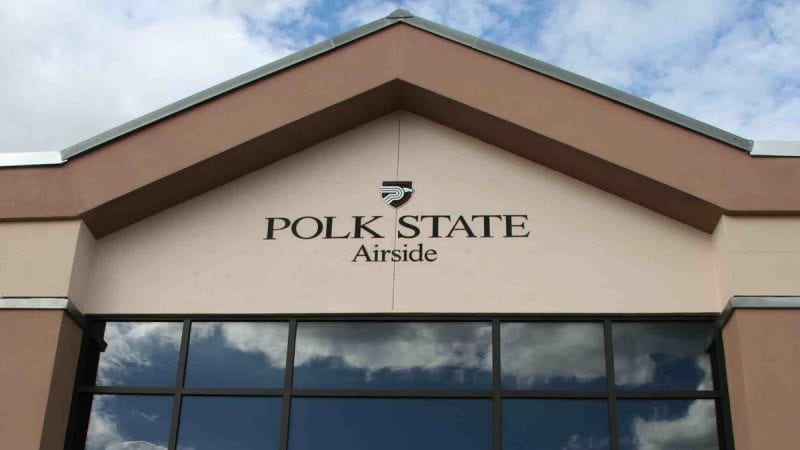 Forty students from Bartow High School's Medical and Fire Academy recently visited Polk State's Airside Center, where they received an introduction to the College's Health Sciences, Fire Science, and Business programs.
The goal of the April 13 visit was to provide students with a glimpse of the opportunities available at Polk State, as well as information that will help them make future decisions about their education and career choices.
The tour included information and hands-on sessions in all of Polk State's Health Sciences programs, including Cardiovascular Technology, Diagnostic Medical Sonography, Emergency Medical Services, Nursing, Occupational Therapy Assistant, Physical Therapist Assistant, Radiography and Respiratory Care. Students were also introduced to the College's Fire Science Technology and Business programs; Polk State's Business program offers associate and bachelor's degrees with a concentration in Healthcare Administration.
Polk State has an articulation agreement with Bartow High's Medical and Fire Academy, meaning students may receive college credit for their high school coursework.
"Being able to take the students to meet and see firsthand all of the classes helps the students in making a decision as to where to do their studying. It helps those students who are not university-bound get a great education here at home, which in turn helps Polk's economy," said Bartow High teacher Kozette Hubbard.
The Bartow High visit is one of a handful of similar events the College is hosting to reach out to area high school students. In May, students from Ridge Career Center will visit Polk State's Winter Haven campus, where they will learn about the College's Fire Science Technology program. The visiting students will also see presentations about the College's Emergency Medical Technician and Paramedic programs, as well as a presentation from a local fire chief. Firefighter students at Ridge Career Center are also eligible for college credit upon completion of the Fire Officer program at Ridge.
In November, students from Kathleen High's Criminal Justice Academy visited the College to learn about its Criminal Justice program.
"The tours are a great way of getting students on the campus, especially first-generation students or those who may be intimidated by the idea of college," said Christopher Yannes, career and technical outreach coordinator. "During the tours, they learn about the many options they have after high school, including getting an Associate in Science that will prepare them for a career in just two years."
Polk State's Airside Center, 3515 Aviation Drive, houses the College's Cardiovascular Technology program, Diagnostic Medical Sonography program, Radiography program, and its Corporate College, which provides training for local companies. In addition to the Airside Center, Polk State has campuses in Lakeland and Winter Haven, and the JD Alexander Center in Lake Wales.