Athletic Director Bing Tyus Receives State Baseball Award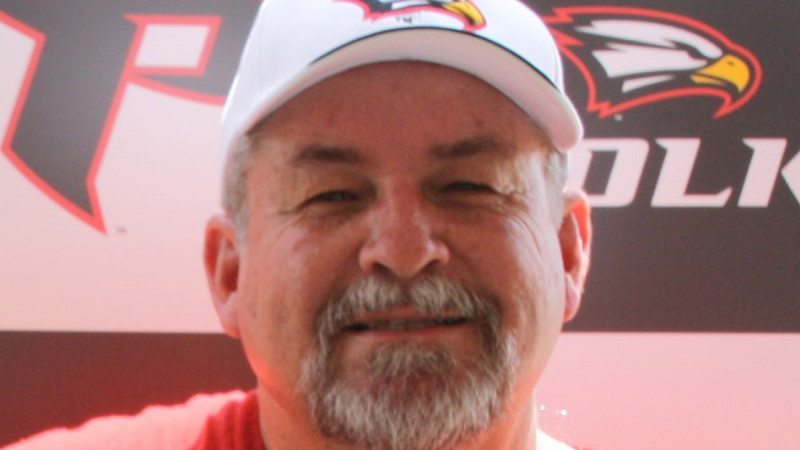 Polk State College Athletic Director Bing Tyus was honored on Thursday for his years of dedication to baseball and the Florida College System Athletics Association.
Tyus received the FCSAA's Baseball Recognition Award before the first game of the FCSAA/NJCAA (National Junior College Athletics Association) Gulf District Baseball Tournament at Joker Marchant Stadium in Lakeland.
"It's always nice to be recognized by your peers," Tyus said Thursday afternoon. "My heart and soul has been in Florida junior college athletics."
FCSAA baseball coaches select the Baseball Recognition Award recipients, said FCSAA executive director Jeb Blackburn.
In the case of Tyus, there were dozens of reasons why he was deserving, Blackburn said.
"Bing does the best things for baseball, but he doesn't ever look to get credit. If he could have given the award to someone else, he probably would have because he doesn't look to honor himself," Blackburn said.
Blackburn said Tyus is always professional and always attentive to details, not only in his work at Polk State but also as chair of the FCSAA Baseball Committee, a position he has held since 2005. Among Tyus' numerous contributions is establishing a webcast of the state tournament, which attracts as many as 1,000 viewers per game.
Tyus is also the behind-the-scenes person who makes sure each year's state tournament runs smoothly, Blackburn said.
"He wants it to be the best that it can be, and he'll do things to make sure that everything is done as professionally as possible," Blackburn said."He's one of the most humble people I've ever met. He gives people a lot of credit for things he's done."
Tyus was Polk State's head baseball coach for 15 years before becoming athletic director in 1998.