At Polk, Kimberly Myers Finds the Fuel for Her Dream of Becoming a Scientist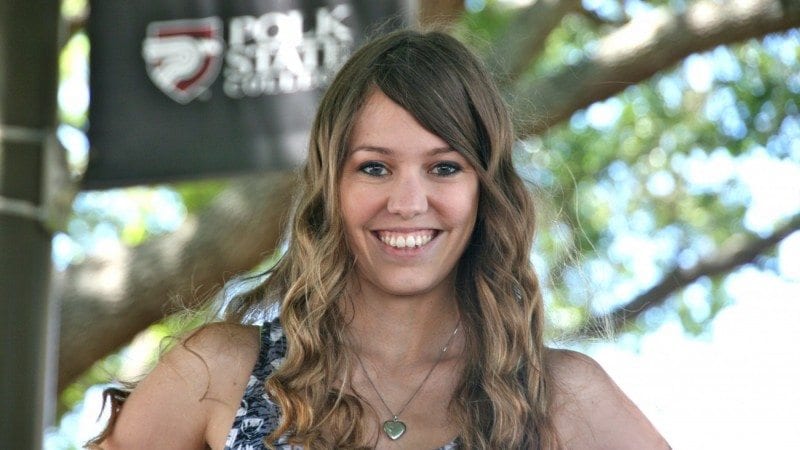 For as long as she can remember, Kimberly Myers has wanted to be a scientist.
For nearly as long, she has heard the many reasons why she'll never be one.
She's not smart enough. She's taken too many detours in life and it's too late. She should have gone straight to a research university.
Etc. Etc. Etc.
Then a little over a year ago, she was inducted into Polk State's Chapter of Phi Theta Kappa, the international honor society of two-year colleges, and the constant "you can't" drumbeat of her life was replaced with "you will."
And nothing has ever been the same since.
"PTK is like a family," said Myers, a resident of Auburndale. "The other members and the advisers made me see that I had already succeeded in life by making it into PTK. They push me and believe in me."
Myers' interest in science traces all the way back to when she was a little girl growing up in Polk County. She used to dig in her grandparents' gravel driveway, imagining that one day she'd become an archaeologist who would travel the world in search of ancient artifacts. With the help of her mother, Myers nursed injured animals back to health, reveling in watching them grow and gain strength.
While attending Auburndale High School, however, she veered away from her interest in science to enter the working world. During high school he worked for Domino's Pizza, and quickly moved up the management ladder.
"After two months, I was a shift manager, then an assistant manager. The day after I graduated high school, I became a general manager," she said.
Myers entered a corporate training program, planning to become a franchisee.
Then, in 2008, the great recession derailed all those plans. She lost her job. After four-plus years with Domino's, she had to start all over.
Around the same time, Myers was also coming to terms with the death of her dad, Anthony Myers.
He had been in a motorcycle accident in the 1980s, and contracted HIV from a blood transfusion during his treatment. When Myers was little, she remembers her dad taking a long time to recover from a cold, but he was still a "normal dad."
"He loved to draw," Myers said. "I remember him teaching me to draw unicorns, and he was always drawing little cartoons for me."
As time passed, though, Anthony Myers' HIV became AIDS, and his health declined more and more. By the time Myers was in high school, he was in and out of hospital and then one day, he was gone.
"That's when I knew I had to become an epidemiologist, to help fight epidemics like AIDS," Myers said.
"Finding a cure may not happen in my lifetime, but I want to help advance the research so that other daughters don't have to lose their dads like I did."
Myers had her dream — refined to a path that would honor her dad — but still lacked the belief she could make it come true.
At Polk, she was pursuing her Associate in Arts, concentrating in political science to complement her new job as a legal assistant.
"The legal field was something I knew and knew I could do well," she said.
She was bored, uninspired, and just going through the motions of school, getting good grades but not loving it.
Then she got a letter from Phi Theta Kappa, telling her she'd met the rigorous academic standards for membership. To be inducted into the organization, students must have completed 12 college-level credit hours and have at least a 3.5 grade-point average.
Polk State has two chapters of Phi Theta Kappa: Xi Pi at the Winter Haven campus, and Beta Upsilon Upsilon at the Lakeland campus.
With her induction into Phi Theta Kappa, Myers gained new mentors and friends who did what no one else in her life had ever done: encouraged her dream of becoming a scientist.
"Phi Theta Kappa helped Kimberly integrate herself more into the school and make new connections," said Biology Professor and Xi Pi adviser Anthony Cornett. "And I think in the process, she got a big dose of confidence that helped her as she reassessed where she was and what she wanted to do."
Indeed bolstered by the new source of confidence she found in Phi Theta Kappa, Myers, who at the time was just 12 credits from graduating, decided to switch her academic concentration to biomedical science. It meant taking more math and science courses, but for Myers the academic reroute also meant coming to life in the classroom.
"For a while, I was going to school because I had to," Myers said. "Now I'm going because I enjoy it. It's an amazing feeling to be in class and have the light bulbs in my head just start going off, and to be able to apply what I'm learning about in class to other things in my life."
Myers recently took her interest in science to an international level. Returning to her childhood interest in archaeology, she was one of a half-dozen students to participate in the College's first-ever study-abroad trip to Stonehenge, where she participated in an archaeological dig.
"I'm thrilled that Kim had a chance to participate in Polk State's international trip to work on an archaeological dig at the Cradle of Stonehenge," said Biology Professor Logan Randolph, one of the faculty members that led the trip. "Kim was able to bring her background and passion to the field site, and she quickly  became an important contributor to the investigation. By this trip, Kim was able to fulfill one of her lifelong dreams, but really, I think the trip just opened her eyes to a world of possibilities.  We are striving at Polk to literally open the world to our students, and Kim's experience in England is a perfect example of how enriching that can be."
In addition to Phi Theta Kappa, Myers is also a student in the College's Honors Program and vice president-elect of the Student Government Association at Polk State Winter Haven.
She plans to graduate from Polk in 2015 and hopes to transfer to Duke University. She has a lot of school ahead of her, lots of long nights staring into her microscope, but two things will sustain her along the way: the memory of her dad, and the confidence Polk State has given her.
"I love my dad and I wish he could see all I'm doing now," she said.
"And I love Polk State. It gave me a second chance. It's an amazing place."
Phi Theta Kappa is one of more than 50 clubs and organizations offered through the College's SALO (Student Activities and Leadership Office).