After A Long Day of Travel, Polk State Volleyball Team Arrives in Wyoming to Play for National Championship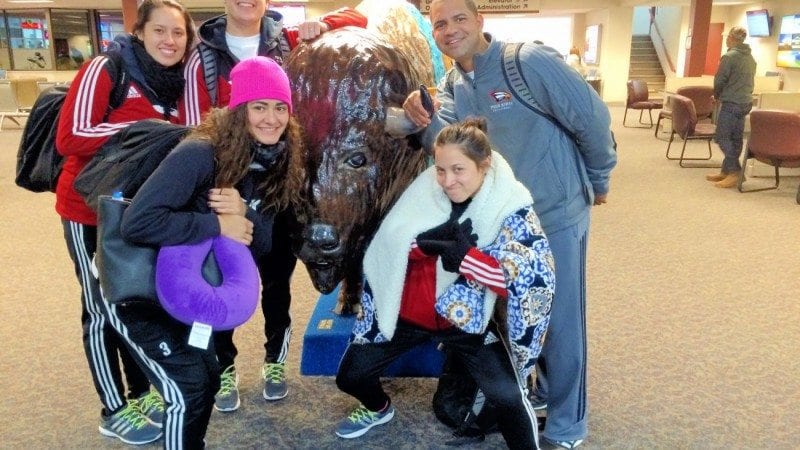 The Eagles have landed.
After several flights to and from different parts of the country, the Polk State volleyball team made it to Casper, Wyo., on Tuesday.
Because the team had less than a week to book flights after qualifying for the national tournament — and given the heavy volume of air travelers as Thanksgiving approaches — players, coaches, and staff members had three separate itineraries.
Some flew from Orlando to Denver to Casper. Others took flights from Orlando to Minneapolis to Salt Lake City to Casper. A third group jetted from Orlando to Newark to Denver to Casper. That group didn't arrive in Casper until 11 p.m. (1 a.m. EST). They were tired, but happy to see the team dining on pizza in the hotel atrium — and even happier that there were still some slices left.
With all but one of the players coming from Brazil, Florida, or Puerto Rico, most had never seen snow or experienced frigid temperatures. The Weather Channel reported a low of 17 and a high of 33 in Casper on Tuesday.
While waiting for a flight in Minneapolis, Elisabeth Piroli from Brazil got her first look at falling snow. She snapped photos to share with friends and family.
When not gazing at snow flurries, however, Piroli and teammate Elizabeth Garcia worked on algebra homework in the airport. Not even the chance to play for a national championship excuses them from their studies.
After arriving in Casper, Alejandra Robles of Puerto Rico jumped off the bus in front of her hotel and made a snowball with her bare hands. "It's so cold!" she exclaimed. A staff member suggested she try donning gloves next time.
With or without gloves, Robles is looking forward to more cold weather. "I hope it snows tonight so we can build a snowman tomorrow," she said.
The players have a practice session scheduled for Wednesday afternoon and play their first game on Thursday at 5 p.m. EST against Miami Dade. All games will be broadcast live on NJCAA TV. Regular updates will also be posted to facebook.com/soareagles and via Twitter, @Polk_Athletics.