Admission requirements change for Polk State Education baccalaureate degree programs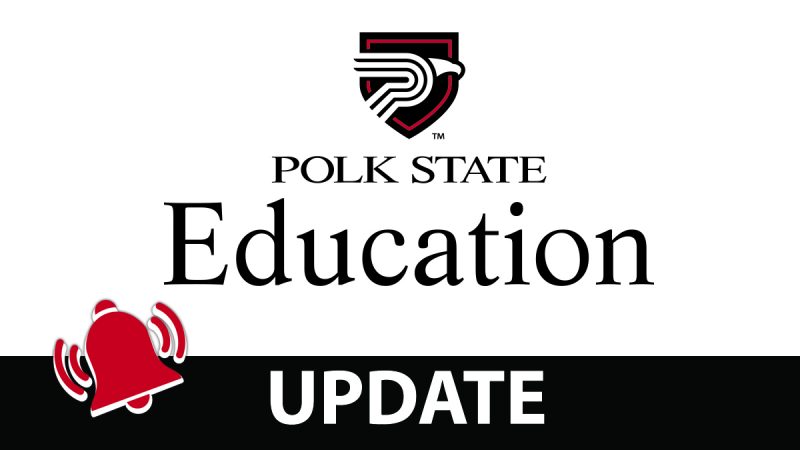 Recent changes in state law have simplified the process for individuals to apply and receive admission into teacher education programs.
Effective July 1, 2021, individuals applying for entry into Polk State's Elementary Education or Early Childhood Education baccalaureate degree programs are no longer required to complete the General Knowledge Test (GKT) of the Florida Teacher Certification Examinations (FTCE). Changes in the law now make successful passage of the GKT graduation requirement, rather than an entrance requirement.
Polk State is adjusting its programs to incorporate preparation and completion of the GKT into its curriculum to ensure that students can successfully complete the multi-part test well in advance of graduation.
Other admission requirements for the Early Childhood Education and Elementary Education programs remain unchanged and can be accessed on the Education webpage.
Polk County is projected to have over 1,800 job openings for elementary school teachers between 2020 and 2028 and the 2019 median wage for these positions was nearly $60,700. With the population continuing to rise in Central Florida, professional educators continue to be in high demand.
Polk State's teacher education baccalaureate degree programs, launched in 2016, have successfully graduated over 100 teachers and boasts a 100 percent job placement rate. Polk State's programs offer affordable, close-to-home education, with the benefit of small class sizes, exceptional faculty, and interactive hands-on learning experiences.
Students in Polk State's teacher education programs benefit from a number of instructional resources and experiences including the:
Steelcase Education Active Learning Classroom, a classroom with a 360-degree design with swiveling chairs, easy-to-move tables, and surrounding technology to allow students and faculty to utilize all areas of the room creatively and interactively, familiarizing teacher candidates with the tools and equipment they may use as teachers in Polk County Public Schools.
STEM Lab, a learning space filled with manipulatives to enhance the learning process.
Polk State College, in partnership with Polk County Public Schools, also created the innovative Establishing Leaders in Teacher Education (ELITE) program, that allows students to earn associate degrees in high school and seamlessly transition into Polk State's Education baccalaureate program. Graduates will be immediately eligible to teach with Polk County Public Schools – Polk County's largest employer. Polk State expects to welcome its first cohort of ELITE baccalaureate students on campus in fall 2022.