Academic Advisor Gives Students Choices About Their Education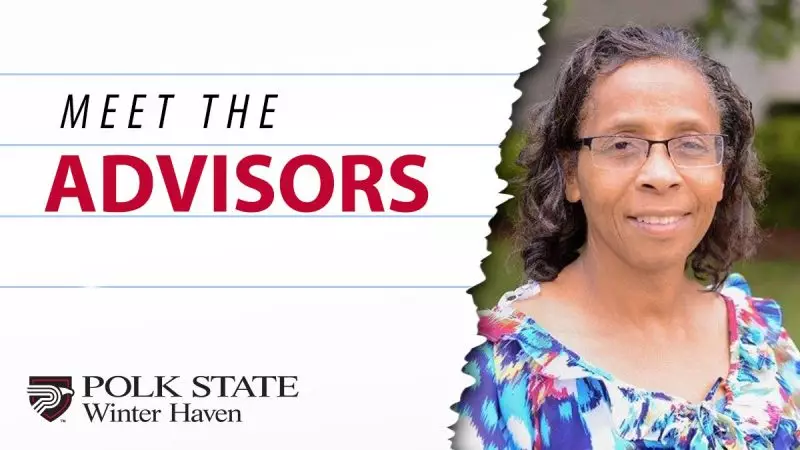 College is incredibly exciting, but can also be difficult to navigate.
Polk State College's academic advisors make huge differences in the lives of students every day, not only by ensuring that they enroll in the appropriate courses and stay on track to achieving their degrees. They also engage in meaningful conversations with students and assist them in figuring out the education and career pathways that are right for them.
Polk State News recently caught up with Felecia Zimmerman – a Polk State alumnus and an academic advisor on the Winter Haven Campus who has been employed with the College for 23 years.
"I did not choose this career – this career chose me!" she exclaimed.
Below, Zimmerman shares the benefits of academic advising and her passion for helping students through their higher-education journeys.
What type of support do you provide students as an academic advisor?
I help students explore their academic interests, identify resources for additional information and support, and develop plans of study appropriate for their educational goals.
They are referred to other campus offices for assistance in academic, personal, and career counseling; academic skills development; and financial aid.
Why would you encourage students to utilize academic advising services?
The key component to student success is meeting their educational goals. If students do not utilize the services, they find themselves enrolled in the wrong classes for their transfer major and exceed the elective error to get into a program at a university.
How do you keep students engaged in their academic planning process and motivate them to see their educational goals through?
First, I figure out what a student's passion is and then use those interests as natural motivators to increase engagement.
Second, I give the student choices about their education.
Lastly, I remain positive with the student and help them utilize all resources needed to complete their educational goals with assurance that I am there with them until the end.
Why did you choose a career in higher education?
I did not choose this career – this career chose me!
A friend who worked in the Advising Department told me about a position in Student Services. I applied, was offered the position, and then the story begins. I enjoy how higher education helps me to develop my skill set, increase my access to cultural offerings, and be a part of something bigger by assisting students with being successful in attaining their educational goals.
I attended Polk State when it was Polk Community College from 1982 to 1994. I transferred to Warner University and graduated in 1997 with a bachelor's degree in Organizational Management. I received a master's degree in Human Resource Management and a master's degree in Management from Webster University, and am currently working on a third master's degree in Human Services. I plan to graduate with that degree, also from Webster University, in May 2019.
What do you enjoy doing outside of your job?
I am a member of the Church of God the Bibleway. I enjoy shopping and spending time with my family. My favorite travel excursion is cruising to the Caribbean Islands. I am married with one daughter and two lovely grandchildren who hold my heart.