A Spectacle of a Show: Polk State Theatre to Perform Original, Challenging Version of "Romeo & Juliet"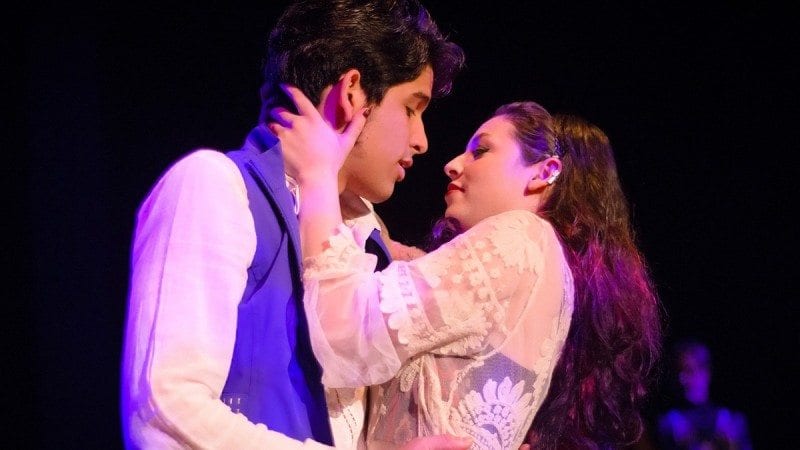 Just two years ago, Polk State Theatre staged its first-ever production of Shakespeare — by far the most advanced, challenging material it had ever attempted.
That first show was a success, the program has performed Shakespeare every semester since, and now, to conclude its love-themed 2013-14 season, Polk State Theatre will present a completely original, technically complex version of Romeo & Juliet.
"We're really stretching ourselves," said Theatre and Speech Professor Paul Carbonell, who is directing and producing Romeo & Juliet.
"We're producing a stage show here that a professional-level company would be challenged to produce. We're throwing everything we can at it."
Romeo & Juliet, a favorite among Shakespeare's works, is by now a highly familiar tale: The Montagues and Capulets have been feuding for generations. Romeo, of Montague descent, meets Juliet, a Capulet. Family differences aside, they fall in love and are married. Romeo thinks Juliet has died, so he kills himself. Juliet wasn't dead, but when she finds out Romeo is, she commits suicide too.
Aside the long-beloved plotline, however, audiences attending Polk Theatre's Romeo & Juliet will recognize little from previous versions they may have seen.
For one, the script has been trimmed by about 20 percent, making for a runtime of just less than two hours.
In addition to condensing the script, Carbonell and students have also made slight adaptations to the language, all carefully aimed at enhancing actors' performances.
"Over the years, editors have made the language more readable, but it's meant to be spoken. We've gone back to the first folio of the play, which most scholars think is the document closest to what was in the actors' hands when they performed Romeo & Juliet close to 500 years ago," Carbonell said.
"From there, we've also made some changes where it felt right. Sometimes, where it says 'thee' and 'thou,' we're going to say 'you' and 'you're,' for examples. We're mostly abiding by the text, but we're jazzing it up a little."
There have also been script adjustments aimed at de-familiarizing the play a bit. Instead of having it set in Verona, the play takes place in "Corona" — yes, like the beer. Other script additions: ghosts to represent that the feud between the Montagues and Capulets has been going on for generations, and a scene early on in which Lady Capulet disrupts a potential reconciliation between the families.
"That might ring a little weird for people who are very close to the material, but we're more interested in getting people who are not excited about Shakespeare to become excited," Carbonell said.
Interesting as the script adaptation is, however, it's not the spoken side of Polk State Theatre's Romeo & Juliet that most people are going to describe as "jazzy."
More likely it will be the unusual costuming — including spandex body suits — and a modern soundtrack sounds more like it should be blaring out of an Ybor City nightclub than the speakers of the Polk State Winter Haven Fine Arts Theatre.
There's also the elaborately designed set that juts into the first few rows of the Fine Arts Theatre and fight scenes choreographed with a nod to Cirque du Soleil, the international acrobatic sensation.
It all makes for a show that Carbonell said will raise the bar for Polk State Theatre and that will have audiences rethinking what they know about Shakespeare.
"It has eye candy and music. My hope is that people forget the end of the play," Carbonell said. "Most people know the play well, but we want them to forget that they do and just enjoy the spectacle of the show.
Romeo & Juliet will be performed April 3-5, 6 and 9-12 at the Polk State Winter Haven Fine Arts Theatre, 999 Ave. H N.E. All shows are at 7:30 p.m., except for a Sunday matinee at 2:30 p.m. Shows are free to all College students, faculty and staff, and all high school students, with ID. Tickets for the general public are $8.
A free preview will be offered at 7:30 p.m. on April 2.
The cast of Romeo & Juliet includes:
Alisha Bermudez, Rosaline, Haines City
Sasha Betancourt, Page, Poinciana
Kaylee Bledsoe, Abraham, Winter Haven
Rico Borrero, Lord Capulet, Poinciana
Yusak Comas, Romeo, Havana, Cuba
Michael DeFelice, Lord Montague, Winter Haven
Tammy Glass, First Watch, Haines City
Patrick Gustave, Prince Escalus, Bahamas
Lauren Huston, Gregory, Winter Haven
CR Junkins, Friar John and Apothecary, Waynesboro, Ga.
Michael King, Paris, Winter Haven
Skyler Knopp, Tybalt, Auburndale
Ashley Kochenburger, Lady Montague, Lakeland
Morgan Macey, Nurse, Lakeland
Tiffany Nystrom, Balthasar, Davenport
Michelle Papaycik, Petra, Little Egg Harbor, N.J.
Samantha Ryan, Juliet, Haines City
Maria Salamanca, Lady Capulet, Lake Wales
Cordell Timmons, Friar Laurence, Lakeland
Ashley Toth, Sampson, Orlando
Jared Waters, Benvolio, Haines City
Kayla Willette, Sarah, Bartow
Ryan Wingfield, Mercutio, Frostproof
Erica Zephir, Princess Escalus, Cap Haitien, Haiti
In addition to Carbonell, the design and production team includes:
Kent Altman, lighting designer
Thom Altman, sound designer
Alisha Bermudez, assistant stage manager, property master
Jenni Berry, dance choreographer
KD O'Hair, hair designer
Mark Hartfield, fight choreographer, production manager
Trey Huddleston, carpenter
CR Junkins, property master
Ana Kargakos, soundboard operator
Henry Lawrence, carpenter
Kadesh Lewis, carpenter
Zax Mascioli, carpenter
Stephen Packard, set designer
Sydney Reynolds, stage manager, light board operator
Byron Seckinger, run crew
Charlie Sigler, spotlight operator
Bonnie Tyer, costume designer
Eddie Williams, carpenter
Lionel Wood, assistant stage manager, run crew, property master
Derek Wyatt, lead carpenter
The technical staff includes Michael King, Orlando Mora, Kaleb Redman, James Sharp.
 In addition to Theatre, Polk State Fine Arts includes Music and Visual Arts, all of which enjoy outstanding statewide reputations.