A First for Polk: All Upward Bound Graduates Headed to College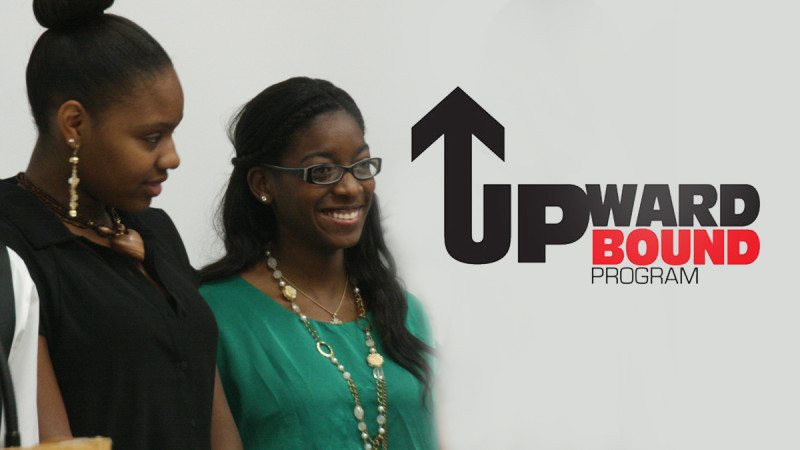 For the first time in its history at Polk State, a program to help high school students prepare for postsecondary education has seen 100 percent of new graduates accepted to college.
Upward Bound is a U.S. Department of Education program that aims to increase the number of students graduating from high school and, ultimately, college, by providing support such as tutoring, academic advising, career planning, and a range of other services.
The program specifically targets those who meet certain income qualifications and families in which neither parent has completed a four-year degree.
Here at Polk State, Upward Bound works with seven high schools — Auburndale, Frostproof, Haines City, Lake Region, Lake Wales, Ridge Community and Winter Haven — providing participants with academic support throughout the school year as well as a summer enrichment program.
On Thursday, Polk State's Upward Bound held its annual Discovery Summer graduation ceremony, an event attended by participants and their families, as well as members of College administration. The guest speaker was Winter Haven City Manager Deric Feacher.
During the ceremony, Upward Bound Director Dann Hazel lauded the graduating class for being the first at Polk State to have every member go on to college; Upward Bound has operated at Polk State since 1998.
"This is a first for the College, a first in my career, and very unusual for any Upward Bound program anywhere," said Hazel, who has directed Upward Bound at Polk since 2006 and previously directed the program at a college in Charleston, S.C.
After the event, Hazel attributed the 100-percent college matriculation rate to a change within Upward Bound that began at the start of the 2012-13 school year. As part of the requirements for its grant funding, Upward Bound participants now receive increased contact hours with academic success coaches at their schools.
"The coaches have been very motivational and have stayed on top of the students, making sure they've taken the ACT or SAT, or reached all the other milestones that come before graduation," Hazel said.
Those academic success coaches also communicate back to Hazel what areas of specific need they're noticing among the students. The program then works to address those needs during its weekend sessions throughout the academic year.
During Discovery Summer, students attend a wide variety of classes; this year's selections included Forensic Science, German and Film Production, among others. Students receive one elective high-school credit for their academic work during the summer.
In addition, Discovery Summer participants visit college campuses and take part in an end-of-session trip. This year, participants visited Walt Disney World, a trip that included leadership skills training taught by Disney employees.
Participants and their parents alike expressed their gratitude for the program and the opportunities it offers for academic and personal growth.
"It helps you to think about your future and how to get there," said Rodajai Burke, who is starting her junior year at Lake Region, who is participating in Upward Bound with her twin sister, Shardajai.
The Burkes' parents — Thelma and Alphonso — said Upward Bound has exposed their children to things it is difficult for them to provide, like tours of college campuses.
Added Alphonso Burke:
"I've seen them develop new maturity. They're able to stand up for themselves in a mature way," he said. "They come home, sit down, do their homework and a lot of reading. This program is preparing them for a whole different life."
Polk State President Eileen Holden expressed her congratulations to the graduates.
"You have reached one peak of a mountain, and although there are other mountains yet to climb, you deserve the opportunity to be proud. I'm proud of you, and you should be as well," Holden said.
Members of this year's Upward Bound graduating class include:
Johnathon Baker, Haines City
Natori Barnett, Winter Haven
Andy Blanchard, Winter Haven
Reginald Evans II, Winter Haven
JaDaisha Hampton, Auburndale
Khadijah James, Winter Haven
Wilshonn Jefferson, Auburndale
Bruno Julien, Winter Haven
Denisse Nantes, Winter Haven
NyKeema DeAdre Radway, Bartow
Octivia Smith, Winter Haven
Sharnae Tarver, Winter Haven
Janasha Thomas, Bartow
Nyree Velez, Haines City
Natasha Walfall, Winter Haven
Darius Ward, Winter Haven
Mariah Zuo, Poinciana
Awards presented during Thursday's event included:
Certificates of Classroom Achievement
German — Daniel Galindo, Davenport; Autumn Johnson, Winter Haven; David Melendez, Frostproof; Marcus Tarver, Winter Haven
English — Nikia Crews, Haines City; Rachelle Dorvilier, Winter Haven; Marcus Tarver, Winter Haven
Algebra II — Marcus Tarver, Winter Haven
Geometry — Devonte Richards, Lake Wales
Advanced Math — Rachelle Dorvilier, Winter Haven
Student Development — Rachel Dorvilier, Winter Haven; Autumn Johnson, Winter Haven; Adrionne Underwood, Winter Haven
Film Production — Celine Dewdney, Auburndale; David Melendez, Frostproof; Marcus Tarver, Winter Haven
Forensic Science — Rachelle Dorvilier, Winter Haven; Trey Fields, Lake Alfred; Marcus Tarver, Winter Haven
Student Advisory Team — Ericka Borders, Lake Wales; Savona Bruno, Winter Haven; Diamond Brown, Winter Haven; Rodajai Burke, Winter Haven; Shardajai Burke, Winter Haven; Sydney Davis, Winter Haven; Brionna Day, Winter Haven; Trey Fields, Lake Alfred; Alyssa King, Winter Haven; Marcus Tarver, Winter Haven; Jakeria Thomas, Bartow
GPA Achievement Award — Marcus Tarver, Winter Haven
Perfect Attendance Award — Marcus Tarver, Winter Haven
Community Service Award — Octivia Smith, Winter Haven, with 330.5 hours
The Producers Film Excellence Award — Jonathan Serrano, Winter Haven
Leadership Excellence Award — Trey Fields, Lake Alfred; Luis Lopez, Winter Haven
Upward Bound Award of Overall Excellence — Savona Bruno, Winter Haven
Upward Bound is one of several youth programs Polk State College offers to support the educational progress of pre-college students.