A.D. Morgan receives award for Polk State Winter Haven Library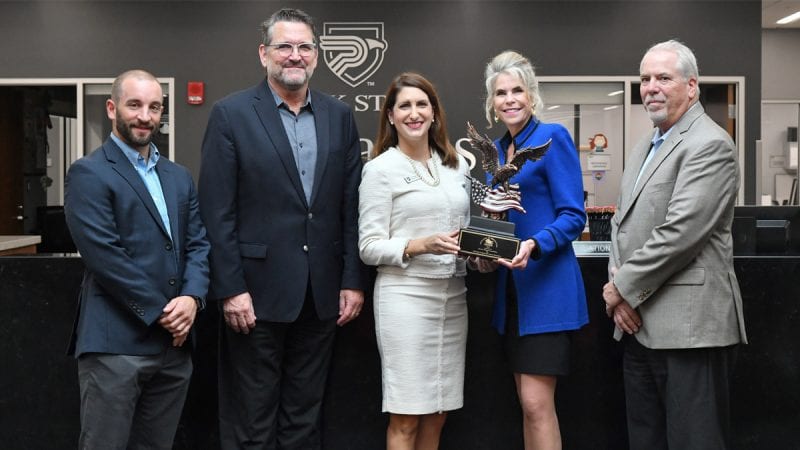 The A.D. Morgan Corporation received an Eagle Award from the Associated Builders and Contractors (ABC) Florida Gulf Coast Chapter for its work on the Polk State College Winter Haven Library – the ABC's highest honor for construction.
A.D. Morgan President and Founder Rebecca Smith presented the award to Polk State President Angela Garcia Falconetti on September 6 amongst colleagues and partners who made the renovation of the Winter Haven Campus Library a success.
"The team here at Polk State is such an integral part of making sure the gears turn seamlessly to create award-winning projects like this," Smith said. "Everyone coming together as a team allows us to achieve extraordinary things. This award represents everyone who created the excellence of this project."
Falconetti echoed a similar sentiment, thanking A.D. Morgan, Rowe Architects, and Polk State's Library and Facilities teams.
"A.D. Morgan has truly embraced the College and our students, providing resources and support beyond their contracted scope of work to improve the experience for the end-users, our students, and faculty and staff," Falconetti said. "We are grateful for their professionalism and partnership, and we are so proud of the work that they have done for the College and our students."
A.D. Morgan's renovation of the Winter Haven Campus Library transformed one of the most heavily used facilities into an inviting, vibrant intellectual hub, configuring more than 17,000 square feet of space to allow for more functional, student-centered use. The project, which was completed in January 2017, addressed several student needs that developed due to increased enrollment, expansion of degree offerings, and advances in technology.
A.D. Morgan has been part of many projects at the College, including the Polk State Center for Public Safety, Chain of Lakes Collegiate High School, and the Winter Haven Campus Chiller Plant. The corporation's positive impact on the College has even extended to support of scholarships and programs through approximately $130,000 in donations to the Polk State College Foundation.
Falconetti also highlighted the significance of A.D. Morgan's in-kind work, including upgrades to the College's baseball field.
"Projects like these are the extras that A.D Morgan brings to the table because of their collegial work style, generosity, and interest in truly meeting the needs of the customer," Falconetti said. "The Eagle Award highlights the quality of the corporation's work and we could not be more grateful to have a partner in A.D. Morgan."