Putting College Within Reach: Polk State Lakeland SALO Hosts 100 Elementary Students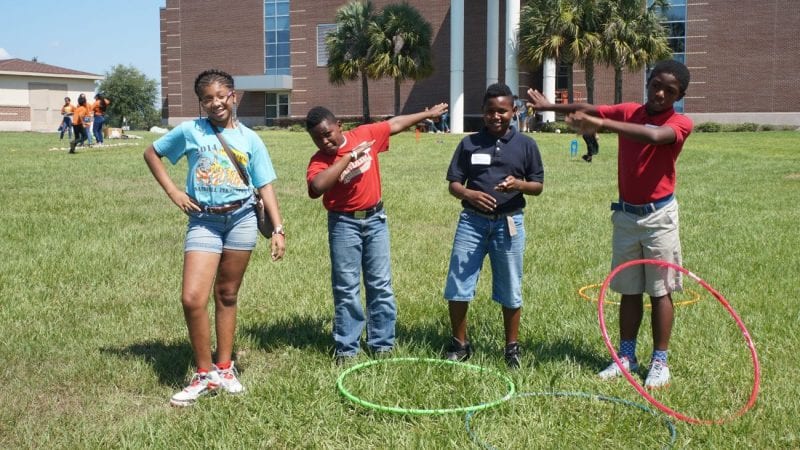 More than 100 fifth-graders from Haines City's Sandhill Elementary recently visited Polk State Lakeland, as part of a program the Student Activities and Leadership Office developed five years ago to get young kids thinking about their college options.
"Having them be here on campus is going to motivate them for the future," said Jeffrey Glasgow, one of the teachers who accompanied the Sandhill students during their visit on May 25.
"This day gives them a good experience to piggyback from what I've already told them about college throughout the years."
The Student Activities and Leadership Office, or SALO as it is more commonly known on campus, began its Kids on Campus program in 2011. SALO Director Melvin Thompson explained the objective of the program:
"With this program, we're making it so that college isn't a far-fetched idea for the students," Thompson said.
During their time on campus, the Sandhill students participated in indoor and outdoor activities, from crafts and board games to foot races and parachute play. Members of the SALO staff also gave students tours of the campus, and Polk State students supervised the activities.
Tiffany Broaders, receptionist for the Lakeland SALO office, explained why she chooses to contribute to Kids on Campus. A former member of Polk State's Eagleteers, a student community service organization, Broaders sees the annual event as a way to inspire and influence the next generation of Polk State students.
"You should always focus on giving back to people, whether they're kids or adults," she said.
More than 50 clubs and organizations are offered through the College's SALO (Student Activities and Leadership Office).