5 questions with Matina Wagner, Coordinator of Internship & Experiential Learning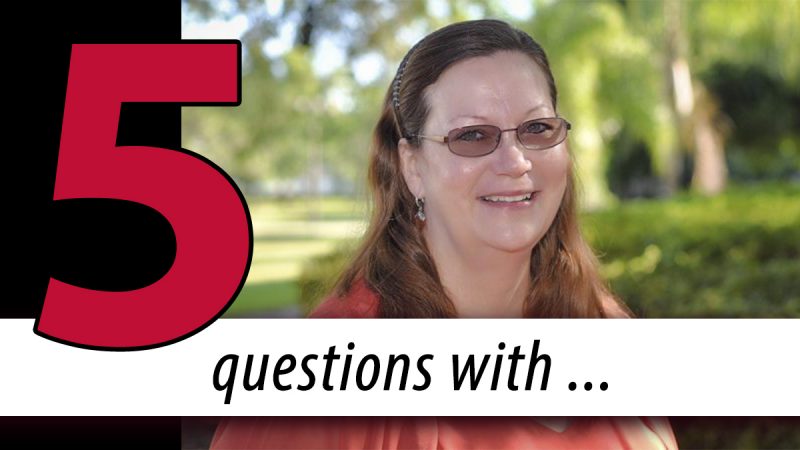 Polk State College is proud to provide enriching and robust internship and experiential learning opportunities that allow students to gain valuable experiences and build skillsets as they prepare for their careers.
Students benefit from Polk State's strong community connections and partners who provide internship and career opportunities including LEGOLAND Florida Resort, Publix, Florida's Natural, and more. The College's virtual career center serves as a hub for internship and job opportunities, and the College's Internship & Experiential Learning Coordinator assists students with developing their resumes and connecting with employers.
Matina Wagner has served as the Coordinator of Internships & Experiential Learning for seven years and is the go-to for students seeking internship opportunities that will level up their skills and resumes. She recently discussed with Polk News the importance of internships and how students can get started.
If there was one thing you would like students to understand about starting their career, what would it be? 
I wish all students were aware that education is only part of what employers are looking for. Most businesses look for candidates who have working knowledge of their field. The experience doesn't always have to come from a job; it can be gained through volunteering, interning, and experiential learning projects. Companies want to hire applicants who can hit the ground running and become productive team members right away. The connections and confidence that these opportunities provide are priceless.
How do internships benefit students?
Students gain real work experience and expand their professional network while they are completing internships. Interns can learn, build, and apply skillsets while improving competencies. Completing an internship provides students with an opportunity to explore different careers, occupations, and organizations. Most internships are paid either by the hour or the project, with a stipend, or by earning a scholarship after successful completion of the experience. In addition, students can practice the skills and apply the knowledge they gain in their classes. Statistically, students who complete internships while in college earn more than students who wait to apply for work until after they graduate. And that is not all; more than half of all interns receive job offers from the companies where they have interned!
What types of internships are available?
There are all kinds of internships — everything from childcare to aerospace, engineering to culinary arts, and digital design to criminal justice. Two areas that may be difficult to find internships in are education and healthcare. There are plenty of jobs in these fields, but to become certified in these programs, there are specific guidelines for required experiences. Fortunately, our healthcare and elementary education programs have these experiences built into the program, so these students will graduate from college with the required practical knowledge. Education and healthcare students should still plan to complete internships but know that they will not be interning as doctors, nurses, or teachers. However, to be successful in most fields, students must develop excellent communication and customer service skills which can be gained through internships.
 When should a student plan to complete an internship? 
The sooner the better. There are even some internships for high school students. I encourage students to start their career development before they start college. Decide what you want to do and how you are going to get there. Think about what knowledge, skills, abilities, and experiences are required and plan to start building yours while you are taking classes. Most students tend to wait until they are almost finished with their college coursework before considering an internship and this is usually too late. I work with students from all levels. Usually, freshmen and sophomores are looking for work experience and skill development. Whereas juniors and seniors generally want to check out companies to see if they are a good fit and to expand their professional contacts. My advice is to start looking in the fall of freshman year for a summer internship.  For most internships, students need to have their resumes polished and be ready to apply at least one semester before their start date.
It is tough for a college graduate with a 4.0 and no experience to get hired even in entry-level positions. To combat this situation, many colleges are now requiring students to complete internships and/or service hours before graduation.  Remember, when applying for a job, there is usually competition for the role.  If most of the other candidates have experience, then who do you think they will hire?
How do you get started in finding an internship?
Students should email their resumes to internships@polk.edu. Students who do not have a resume prepared can request an internship worksheet via email or by visiting Career Services to receive assistance with developing a resume. Once a student's resume is received and finalized, I will ensure that it is uploaded to Handshake, our virtual career center, and schedule an appointment to discuss internship and career goals. There are all types of experiences and internships that can help students build skills. Please note many companies have GPA requirements for internships, so earning high grades is also important.