5 questions with Kim DeRonda: Free to Be Me advisor and LGBT+ ally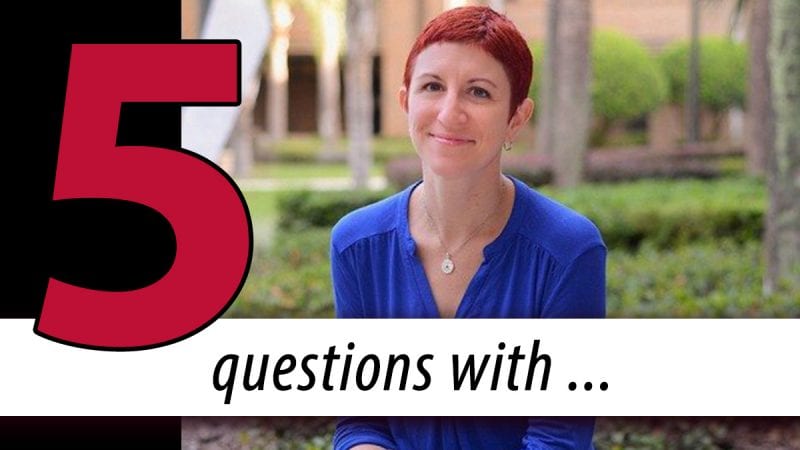 Polk State College is proud to be an equal access/equal opportunity institution that fosters an environment of cultural awareness, social understanding, acceptance, and inclusion.
In celebration of Lesbian, Gay, Bisexual, Transgender (LGBT) Pride Month, Polk State News recently caught up with Kim DeRonda, Free to Be Me Club advisor and Safe Zone Program trainer, to learn more about the College's initiatives to support and celebrate all students, including members of the LGBT+ community.
With the support of DeRonda, the Student Activities and Leadership Office (SALO), and the Office of Equity, Diversity, and Inclusion, opportunities continue to grow for Polk State students as LGBT+ outreach expands across the College's campuses and the greater community. Here's how.
How is Polk State College celebrating LGBT Pride Month?
SALO was a sponsor for this month's Polk Pride events around town and as a result of that sponsorship, Polk State students were able to attend ticketed events for free. At Polk State, the library has put together a display with a variety of books related to the LGBT+ community. It's important that students know about the resources that are available. While we would really love to have more events in June for Pride Month, the decreased traffic on our campuses during the summer makes it difficult. We are super excited about events that are in the works for LGBT History Month in October.
How is the LGBT+ community celebrated and supported at Polk State year-round?
We really try to embody the College's diversity statement by creating inclusive spaces and experiences for all students, with a particular focus on acknowledging the needs of the LGBT+ community. The Lakeland Campus has an LGBT+ student organization called Free to Be Me. The student club, which we chartered in 2012, is open to all students (LGBT+ community members and allies) who want to connect with others in a safe space. The activities of the club vary based on the needs and interests of the students participating during the term. The club focuses on inclusion, dialogue, education, and creating opportunities for students to connect with others who understand the experience of identifying as LGBT+.  We participate in Club Rush/Welcome Week events to get the word out to students about the club and encourage anyone who is interested to check out a meeting.
What are some recent accomplishments of the Free to Be Me Club?
With the support of the Office of Equity, Diversity, and Inclusion, the club participants hosted the College's first LGBT History Month events in 2018. We engaged with students on the Lakeland and Winter Haven campuses with games, trivia, crafts, and information about significant LGBT+ community members past and present. We are looking forward to an even bigger celebration in October 2019.
How can students get involved in the Free to Be Me club?
The club meets every Wednesday at 12:30 p.m. on the Lakeland Campus in LAC 1243. Everyone is welcome to attend. If students have questions about the club, they can email me at kderonda@polk.edu or stop by my office in the Lakeland Campus Teaching Learning Computing Center (TLCC). Even if students are not able to attend regular club meetings, it's great to connect and I'm happy to keep them in the loop as we plan club events.
Where can students go for more support?
The College has made efforts to equip staff and faculty to better support LGBT+ students through the Safe Zone Program. This program started several years ago and offers four-hour sessions to staff and faculty to learn about the community and ways that they can create inclusive spaces in their classrooms and work areas. Presently, Professor KT Moran and I host the sessions, which are offered several times throughout the year on both the Winter Haven and Lakeland campuses.
While we all strive to engage and include all students equally, the goal of the program is to create an additional level of knowledge and understanding. During the sessions, we introduce symbols of the LGBT+ community and needs of the population. We also engage in activities and have open dialogue about bias and personal experiences, as well as language missteps and other behaviors that can marginalize certain groups of people.
Through these exercises and a renewed commitment to inclusivity, we hope that participants can serve as touchpoints for LGBT+ students. Participants receive a Safe Zone certificate, pin, and sticker which they can wear or display in their workspaces as an indicator to students that they are allies.