5 questions with Jeannette Grullon: Get career ready!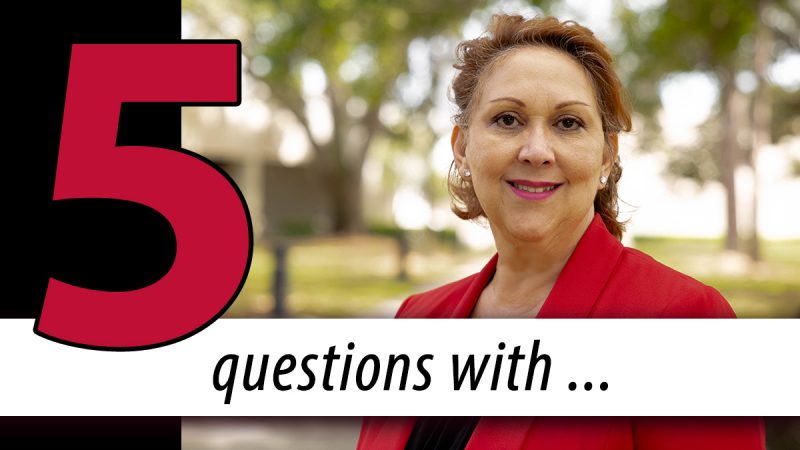 Preparing for a rewarding career includes facets of personal and professional growth that take place beyond the classroom. At Polk State College, there are many free and valuable resources to aid in that development, allowing students to graduate with a competitive edge when seeking employment and, in some cases, a job before they even take to the graduation stage.
Director of Career Services Jeannette Grullon is dedicated to providing students with the guidance and tools they need to become successful in their career endeavors. She has served the College for 13 years – seven within Career Services – and is actively involved in the success of the College's Quality Enhancement Plan, including the Online Career Resource Center and Focus2Career Assessment.
In addition to all of this, Grullon has been instrumental in Polk State's designation as a Hispanic-Serving Institution as a member of the College's Hispanic Task Force and national organization ¡Excelencia! In Education. She serves as the advisor of the Únete Hispanic Club, with her Career Services background shining through as she provides students with opportunities such as attending the Hispanic Association of Colleges and Universities (HACU) Annual Conference where they are able to network with peers and develop as professionals.
Polk State News caught up with Grullon to discuss how students can get career ready.
What does your role as Director of Career Services entail?
As Career Services Director, my main role is to create a comprehensive career services engagement plan that we can deliver to all students, as well as to oversee all program offerings coming out of the department and provide supervision and support to two Career Services Coordinators. Some of the ways that we get to provide these services to our students is by engaging with business leaders and community organizations to coordinate projects and implement strategic plans of action. To help facilitate these services and better serve the students, we encourage everyone to reach out to us at careerservices@polk.edu and we will be happy to assist them.
What are the top services and benefits students receive from your department?
Thanks to Career Services being selected as the focus of our College's Quality Enhancement Plan (QEP), we are fortunate to have dedicated faculty and staff that have worked diligently in the past two years in helping develop programs and acquire resources to help enhance the students' career preparation and build on their skills and credentials as they continue to work on completing the requirements for their college degrees. Some of our services include career assessments, resume writing, mock interviews, job search, internship preparation, industry leaders presentations, and college and career fairs.
What drives you to serve the students?
Working in academia has been one of the most gratifying achievements of my life. Being a first-generation college student, I didn't have any of the resources that students can access today. I ended up dropping out of college during my second semester because I didn't have a sense of direction as to what I wanted to do or a clear plan on how to get there. Students today are able to meet with Student Success Advisors, [Academic] Success Coaches, and Career Services staff to help them get through the first year of college and put some of that uncertainty behind them, allowing them to stay focused and achieve their goals.
Also, for me, as a Latina, I have made it my mission for the past 25 years to work with disadvantaged students from all backgrounds to help them see the opportunities that are available to them and to help them be successful in achieving their educational and career goals. Nothing makes me more proud than when I see our students walk across that stage during graduation and see their faces beaming with pride knowing how much they had to overcome to get to that moment, and that now they are ready to take on any challenge that may come their way.
You are also the advisor for the Únete Club – what is the club all about?
The Únete Hispanic Club is an amazing club that is open to all students on campus, regardless of their ethnic backgrounds, and contrary to popular belief, students do not need to speak Spanish to join, but like I always tell them, it can be more fun if they do!
The club's origin goes back to when Dr. Martha Santiago, Interim Provost for Academic Affairs and Workforce Education, then Provost for the Winter Haven Campus, came up with the idea for the club to help embrace the growing Hispanic student population on campus and provide them with a 'go-to place' where they could come together and experience peer-to-peer support, share ideas, celebrate their cultures and take advantage of leadership opportunities. She then asked me if I would be the advisor to the club, which I was thrilled to be a part of. I was the only advisor to the club up until this year when Gonzalo Gutierrez, Student Success Advisor, gracefully decided to join forces with me and become co-advisor and oversee activities and events at the Lakeland Campus; providing a larger number of our growing Hispanic student population — now at 29% — as well as all other interested students, the opportunity to be part of the club, and enjoy the same benefits it has been offering students at the Winter Haven Campus for the past five years. ¡Los esperamos!
What is your best advice for students?
Stay focused. Ask for help when you need it. Know that Student Services has a great team that's ready to support you and help you with being successful in your academic and career goals. Make sure and take advantage of the many resources and leadership opportunities available to you throughout the College.